Jurgen Klopp has detailed the joyous nature within the playing group to Joel Matip being crowned the Premier League player of the month for February.
The central defender has often shown stretches of excellent form throughout his Liverpool career, but putting it together for a sustained period has been cruelly cut short due to a series of injuries.
After making just 25 appearances combined in the previous two seasons, Matip has well and truly past that figure during this campaign, currently sitting on 31.
In fact he only needs five more appearances to surpass his personal best at the Reds which came in the 2017/8 season (35.).
Speaking at the pre-match press conference ahead of the lunchtime clash with Brighton, Klopp spoke about the high spirits when the good news was given to the group as the Mirror reported.
"That was great when we learned. It's true, everybody was particularly happy about it - so we started training with a meeting about it.
"It was similar to the celebrations after the Carabao Cup, to be honest! It was really cool.Joel is a very, very famous figure in the group, in the team.
The thing that makes Matip so popular among coaches, players and fans alike is that he is so unaffected by being a footballer and everything that comes along with that.
The fact that he stays so grounded is a remarkable thing in itself, however the most important thing is that those among the inner sanctum think the world of him as Klopp underlined.
"He definitely is underrated. I don't like using the phrase underrated often, but he definitely is," 
"Believe me though, if there is one person on this planet who couldn't care less if we all underrate him, it is Joel Matip.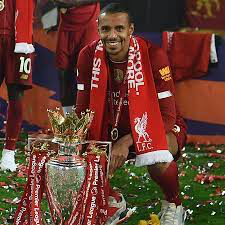 "He obviously (doesn't) get a lot of headlines. I am not too much into individual prizes for football players, but if someone should win it, then I think it makes real sense it is Joel. It is really cool.
"Honestly, he doesn't realise it. He is just happy to be with these boys and playing football.
"He is a really smart person, but not in these kind of things where he thinks 'oh I should have another status,' not at all, that is why everyone was so happy that he got it."
·