Liverpool reclaimed the lead atop the Premier League table with a 3-1 victory over Southampton at St Mary's stadium on Friday night.

In keeping with what has become a habit of late for the Reds, they kept their fans on the edge of their seats until the final 10 minutes of the match to claim the three points and put the pressure back on Man City albeit having played a game more.

When looking at the table before kickoff, you could be excused for thinking that it would be comfortable trip down to the south coast, but it has often been said that there is no easy games in the Premier League and it was certainly the case on this occasion.

The game was one of landmarks for the visitors.
The Saints took a shock lead after nine minutes from striker Shane Long, but that deficit was overturned in the 36th minute when Naby Keita scored his highly awaited first goal for the Reds heading home a cross from Trent Alexander-Arnold.

It stayed that scoreline until deep into the second half with Southampton's time wasting tactics a clear sign they were more than happy with the point.

Liverpool needed a moment of inspiration from one of their superstars and that came when Mo Salah was released by substitute Jordan Henderson to score his 50th goal for the club, becoming the quickest Liverpool player to reach that mark in the Premier League.

It has been well documented that Salah has been stranded on 49 goals for a period of time, but to his credit he has never hidden or dropped his head.

Despite defenders in his presence, it was a glimpse of the Egyptian King at his best as he continued to run at the opposition and fired the ball past Angus Gunn in the Saints goal.

The jubilation and relief was there for all to see as Salah was back on the scoresheet for the first time since the ninth of February against Bournemouth.

Henderson then put the icing on the cake on a fine 30 minute individual performance when he scored his first goal for the season six minutes later converting a superb cross from Roberto Firmino.

Job done it seemed, but as is the modern way, there are always some individuals who are not satisfied and want to see more from the title contenders.

Jurgen Klopp was not having any of that after the game, and stated that he is extremely proud of the team and comparing the Reds with their title rivals is unfair.

Sky Sports reported Klopp as saying:

"The performance was not top level, but it is about fighting.
"People want us to play like Manchester City. 

"We are unable to do that. Why should we do it? We play our own football. It's a nice way, and a really good way.

"We have 82 points now. That is massive in this crazy league, with these unbelievably strong opponents, and everyone is waiting for us. I am really proud. It is incredible.

"Winning here is not easy but we did it - really good.

"We had a few performances not on top level but we were always in the game, it's not about that, it's really about fighting. I'm really proud of what the boys did tonight, it's incredible.

"We had our moments in the first half, we were dominant but they scored the goal, a nice goal - not world-class defending I would say but a nice goal and then we stayed calm, worked hard for the moment, not waiting for it, working for it."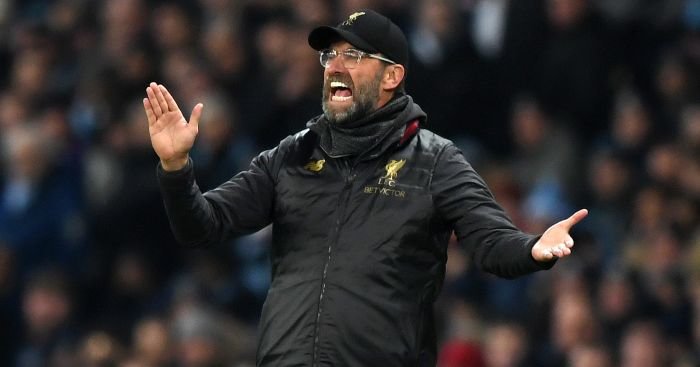 Klopp was very happy for his star man Salah and believed he made the right decision to go it alone for his sublime strike.

"Everyone was probably waiting for the pass to Bobby (Firmino) but he couldn't pass, it was not a good angle, so he finished it off and it was world class."

The Reds are next in action on Tuesday night in the first leg of their Champions League quarter final clash against Porto at Anfield before playing Chelsea at home next Sunday.