Jurgen Klopp has bemoaned some non-decisions by referee Martin Atkinson, but in the main says he couldn't complain about the overall result against Leicester City which finished in a 1-1 draw at Anfield on Wednesday evening.

Naturally on a high after their main title rivals Man City lost to Newcastle the previous evening, the Reds got off to the dream start when Sadio Mane scored the opening goal within three minutes in snowy conditions.

Harry McGuire pegged back the home team on the stroke of half time sidefooting the ball past Alisson after a looping header by Ben Chilwell from outside the box seeming to catch the Reds defenders off-guard.

While there were a few half chances in the second half, Klopp admitted that the result was a fair one.
Sky Sports reported Klopp as saying:
 
"They had chances and so it's of course absolutely OK the 1-1."

However Klopp says that his side could have been awarded a penalty or two throughout the ninety minutes, along with a red card for McGuire for a deliberate foul on Sadio Mane.
"Even when I think everybody agrees that there could have been a penalty, maybe should have been one.

I don't know why it was no penalty and then we have the situation with Maguire.

"It's now the second time in a game where a striker from my team, somebody brings him down at the halfway line and we treat it like it is I don't know where.

" He would not have been alone through [on goal] because Mohamed Salah would have been around him. 

"It's a two-versus [Kasper] Schmeichel situation, if that's not a real chance and goalscoring situation then I don't know.

" But again, Leicester had chances and they had nothing to do with the situation around that.

' It's a ref thing and we now have to accept the result, which is no problem."

Despite not getting the three points which would have seen the lead return to seven points, Klopp was still content with where his side sat at the end of the evening.

"We have a point more than before.

"That's not exactly what we wanted to have but still everything is fine.

"I know at the moment I don't think anybody further was injured, which helps us obviously a lot and now we have a few days to prepare against West Ham and then Bournemouth and we go again and all that stuff.

"That's what we're doing, not counting points and hoping for gaps between us and other teams We have to win our football games.

"That didn't happen tonight and so we are not happy about that. 

"I don't see it like we've dropped points.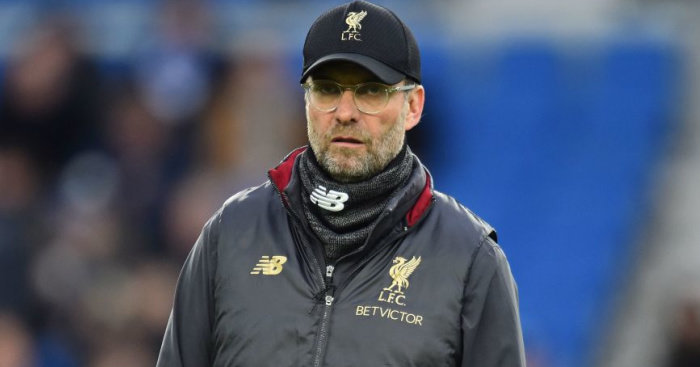 It would have been easy for Klopp to dwell on the negatives of dropping two points at home in the midst of a title race.

But just like he has been through the campaign, the German is looking to keep things on a level footing, not getting too high when we win or too low when the the three points are not secured. 

"We take what we get and tonight it's a point and it's more than we had before the game so that's fine.
Is it that I'm now overly happy?  No, of course not, we wanted to win that game."
 
We all knew there were going to be plenty of twists and turns in the last few months of the season, and this is just the start of it.

Buckle up, because it's sure going to be a bumpy ride.