While every league game Liverpool plays from now until the end of the season will be dissected to the nth degree by fans and pundits alike, don't expect Jurgen Klopp to be overwhelmed by the scenario that lies ahead.

The passion of Klopp is undoubtedly infectious during the 90 minutes of action,  however he is someone who takes a more measured approach away from the gaze of the bright lights.

The German has been through his share of title challenges in the Bundesliga when he was manager at Borussia Dortmund and knows exactly what to expect.

The Mirror reported Klopp as saying:

"I am not a nervous person, so I was never nervous ­before the first title in (2010/11).

"That's how it is. Yes, experience showed me that the way I did it in the past worked. So, I didn't change.

While Klopp admitted that there will be some tense moments along the way which is only natural for a side aiming to win their first league title in nearly three decades, he said keeping things in perspective was always important.

"People are in a little bit of doubt about this and that, and I understand — we were not champions for 29 years. No one thinks like that at City, but it's a different ­situation.

"The people are really desperate. Is that positive? They really want it, with all they have. 

"But there are no guarantees and, again, I am not a nervous person."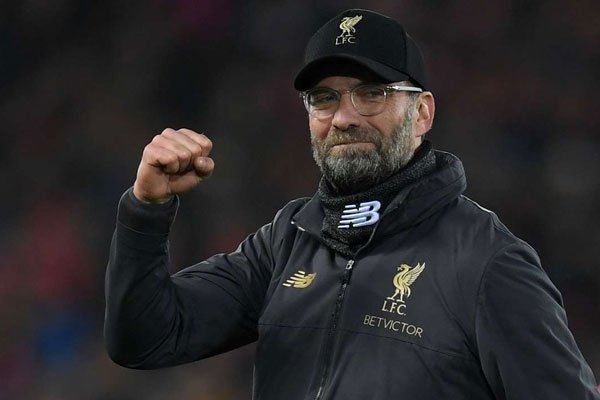 Klopp also said that this current squad has dealt with pressure situations in the recent past.

"Yes, there is pressure. There was pressure last year, a lot of pressure when we played Manchester City away in the quarter-finals of the Champions League — and we dealt with it.

"Will there be nervous ­moments? Yes, for sure. But don't make them bigger than they are, because there were nervous situations last year, two years three years ago."

Klopp says that the players know the situation and they are mature enough to be focused on the task at hand.

"We are first in the table. What do we talk about? We don't have to come in to work every day and point at the table.

"We want to finish the season as well as possible – and it looks like we could do ­something special. But, of course, we don't talk about it. It makes no sense.

"A marathon runner in April doesn't talk or think in the race he is running now about the Olympic Games because he has to run this step by step. Win that race. 

"Try with ­everything you have, and then we will see. Stay healthy, stay fit. Try as hard as possible and then a big smile afterwards.

"We all have to work very hard to win one Premier League game – and that is what we have to do 14 times."

Wise words from a wise man.