Jurgen Klopp says the extreme emotions after the game lead managers to say things that perhaps they would not in normal circumstances.
After Man City's thumping 5-0 victory over Newcastle on Sunday which gave the defending champions a major boost to their title defence after crumbling in the final stages of their Champions League semi final tie against Real Madrid, Pep Guardiola went off on a tangent that can only be described as a bit odd.
"Everyone in this country supports Liverpool, the media and everyone.
'Of course because Liverpool has an incredible history behind them, in European competitions. Not in the Premier League, because they've won one in 30 years."
Despite the intense and captivating rivalry of the two clubs in this era, the public dialogue from both Klopp and Guardiola have been nothing but respectful, complementary and very rarely gone off script.
Speaking ahead of the Reds midweek trip to take on Aston Villa (per Metro), Klopp explained what goes through the mind of a manager after a frenetic 90 minutes of action and did not take those comments by Guardiola to heart saying that he too has been at fault in this sense.
"As manager, and I had this experience recently after a game (Tottenham), we are massively influenced by the game, the situation, I said - would I say it again, no - after the game 'they play like they play and are still only fifth'. It was just my feeling in that moment and I couldn't respect Antonio (Conte) more and what he's doing.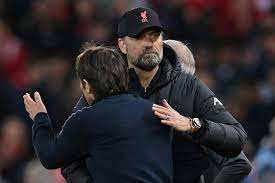 "But after a game like that… I don't know exactly what kind of situation Pep was in, but after getting knocked out of the Champions League, that's already difficult enough to take, but then of course Liverpool made it to the final."
As for the statement that the "whole country" is behind Liverpool to win the title, Klopp was more than a little sceptical.
"I have no idea if the whole country is supporting us, it's not the feeling I get when we go to places, it's actually the opposite. Maybe he knows more about that than me.
"I live in Liverpool so, yes, here a lot of people want us to win the league, that's true, but even here it's probably only 50 per cent."
Despite the blow to their title chances on the weekend, in normal Klopp fashion he is maintaining a positive outlook.
"It's clear it is not over because we both have three games to play and my concern is how can we win our games. We have absolutely no hand in how City play their games but before they are played, we should not add on points. 
"We don't do that and I'm pretty sure City is not doing that. [Until] it's not reachable anymore, why should we stop believing?"