Tomorrow afternoon sees the two best Premier League teams of the modern era clash once again when Man City travel to Anfield to take on the Reds.
While the talent on the pitch is clear to see, it is just as much a fascinating battle on the touchline between two managers at the top of their game.
The Premier League has witnessed some lingering managerial feuds over the years from Alex Ferguson and Arsenal Wenger to Jose Mourinho and Rafa Benitez and plenty in between.
Whenever these two heavyweights clash here is naturally going to be some flash points during the ninety minutes but Jurgen Klopp and Pep Guardiola have a very healthy respect towards each other.
Prior to their current tenures, the two men went head to head in Germany and in keeping with their qualities as top class managers, nothing separates them in their head to head record.
Klopp and Guardiola have met 21 times in all competitions with eight wins, eight losses and five draws a piece.
And going by their words ahead of this encounter, the ability to push each other to new heights has made them the elite managers that they are today.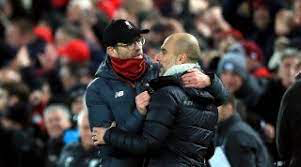 The Mirror reported Klopp as saying:
It's really one of the biggest challenges for all managers in football to face Pep's teams because they are so good.
"I like that because it is one of these games where people say about the Premier League, Bundesliga, Champions League - on this level there is no mercy for mistakes.
"If you make a mistake you get punished, and that is pretty much the game against Man City always. So you had better not make a lot of mistakes because otherwise you will get a knock.
"They have different possible organisations, a clear structure with some changes from time to time. Let's see what Pep does this year. But the main thing is to keep the ball as long as possible - that gives the opposing team no chance to finish any kind of situation."
Klopp is certainly not afraid to bring some talking points to the table in his pre-match press conferences, but he insists it is nothing personal and despite having different personalities, they share a mutual goal to make their team the best it can be.
"I annoy him with things I say in press conferences that are not meant to say anything bad about him or Man City. Somebody on the City staff tells him that 'Klopp said this' and I can see in his conference he gets really angry. Sorry for that!
"No, I respect him a lot. I want to win desperately, he wants to do that, and we are completely different personalities, but nonetheless I like him and I respect him."
"About two years ago we had a few situations where we went together to Manchester for awards, and our families met. And I can tell you that somebody with a family like Pep Guardiola must be a good person, because Mrs and the kids are outstanding and that is what is important to me. So during the game whatever he says and whatever I say; it is not that important."
For his part, the Spaniard believes both teams share a respect due to their excellence over the past few years.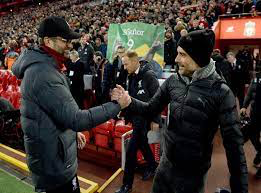 Since I arrived here - maybe not the first year - Liverpool were always there.
"Jurgen Klopp's teams helped me to be a better manager. He put me at another level, to think about it, to prove myself, to be a better manager. That is the reason why I am still in this business.
"The last four years, all the time, we were both there. It's the biggest compliment that both clubs were there.
Man City broke a long 18-year hoodoo in February when they collected all three points in front of an empty Anfield aided in part by some very uncharacteristic mistakes by Alisson.
But with the Reds back to full strength, Guardiola expects a stern test on and off the pitch.
"Hopefully we can handle it in a good way. I'm pretty sure the players would prefer to play with fans at Anfield than without. Everything is more alive, it's more difficult.
"I'm very pleased Anfield is full again and we can go there to play a game. It's nice that the people are back and we can enjoy a fantastic atmosphere there.
"I don't know the reasons why we didn't win at Anfield over the 18 years. Over my five years, it was because they are an exceptional team.It's not about intimidation. It's about the quality of the opponent. When you don't win, it's because they are so good."
A new chapter in this fascinating rivalry is set to be written.