Jurgen Klopp and Pep Guardiola have once again lavished each other in praise ahead of a potential title showdown at the Etihad stadium tomorrow afternoon.
The Premier League has seen many rivalries between sets of managers and playing squads which have become legendary over time.
But while the battle for the top title in English Football is no less fierce as it was back in the 90s and 2000s, a deal of mutual respect has replaced the angst and barbs that have gone before and it is pleasing to see that the headlines come from what actually takes place on the pitch. 
Liverpool and City arguably played out one of the most captivating games of the season to date at Anfield in October when the visitors were by and large the better side on the day but needed a Kevin De Bruyne equaliser ten minutes from time to get a share of the points. 
That was five minutes after Mo Salah rocked the foundations of the iconic stadium with a spellbinding bit of skill that sits comfortably amongst the most memorable moments in modern Premier League history.
Speaking ahead of what shapes as another momentous contest with much on the line as we approach the final stretch of the season, Klopp cited another one of sports greatest rivalries as he was in awe in what these teams produce season upon season and how it has made Liverpool better.
The Mirror reported Klopp as saying:
"Yes! The consistency both teams have shown over the period is crazy. We know it's tough. What has changed in the four years is everybody else thinks it's tough.
"In sport, I think what helps the most is a strong opponent. In the long term, especially. I think (Rafael) Nadal and (Roger) Federer enjoyed the rivalry they had. 
"That's how it is in sport. I wouldn't say I'm thankful City is that good, but it didn't harm our development."
The German also paid his counterpart the highest complement, but just perhaps it was his way of catching Guardiola off guard.
"Pep is the best coach in the world and we all would agree on that. If anybody doubts him, I have no idea how that could happen."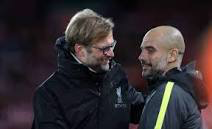 The Spaniard however was having none of it. "I'm not the best. Thank you, but I'm no.
"I would like to tell you here that I'm the best, but I'm not. I didn't become a manager to be the best. If I had success, as I have said many times it is because I was with my staff with incredible teams, with a lot of money like all the opponents like to hear.
It was Guardiola's turn to return serve in the mutual love fest and said that Klopp is his greatest rival in Football ahead of Jose Mourinho simply for the fact that they have met many more times in across Germany and now in England and how barely anything separates them.
"I think Jurgen makes world football a better place to live.
"We play many times, more times,". "Jose [Mourinho] is an exciting manager and we had the rivalry in Barcelona.
"In five years here we have played many times, and all the times we were close. I faced in Munich with Jurgen.
"How we set up the teams here we were close many times. Every season except the year we got 100 points and the year they got 99 we were tight. I will remember by period here, when I'm watching and playing golf, I'll remember my biggest rivals as Liverpool. Absolutely we wouldn't be as good but for them, after 100 points, 98 you need someone to push them."
"The credit I give to both teams is the consistency through the years, it's not just winning one title. This is the most difficult thing in sport and that's why Federer, Nadal and Djokovic and athletes around the world, when they are there every year – chapeau - that makes me the most proud."
These pleasantaries will count for nought come 4.30pm tomorrow when both these combatants are locking horns battling for three vital points.
Remember the days when we as fans looked on in envy as Arsenal and Man United fought for the top prize.
This has undoubtedly gone beyond that battle for ultimate supremacy.
While we unquestionably want to get one over City at any opportunity when this era is over, we will look back and think how lucky we were to witness and be a part of what is a remarkable rivalry, quite possibly the greatest that club football has ever seen.