Curtis Jones is fit and extremely motivated to be a key part of Jurgen Klopp's midfield rotation for the upcoming season.
The 21 year-old had a frustrating 2021/22 season where he showed flashes of his natural talent, but could not really get any momentum going due to a serious eye injury which saw him miss two months of action as well as a bout of bout of Covid.
In all Jones made 27 appearances, 15 of which came in the Premier League and with pre-season action beginning in earnest for the Reds this week with two fixtures in Asia, the England U-21 international told the Official site that his main aim is to make a strong impression that will put him firmly in the plans of the manager.
"I see that every time that I'm here or [with] any chance that I get. So game after game or season after season is big. 
"I'm ready now and I do think I have a bit of a point to prove.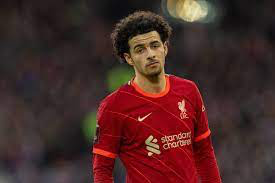 "[Last season] was up and down. There were games when I played and played well, got a couple of goals and a couple of assists. Of course, I want to add to that. 
"But then I was injured with the eye for five-and-a-half weeks and then I came back and got COVID and then picked up a smaller knock as well."
"It was up and down but now I'm ready."
Being a unused substitute on FA Cup final day and missing out altogether for the League Cup triumph has Jones hungry in the quest of more honours in his own right.
"Since I've been around the team, I've always been in semi-finals, finals and winning things, and last season we were in all four – it's perfect, I'd like that again. 
"And on a personal note, to go in the team, take my chance, keep my place in the team and, of course, score and assist more goals."
The addition of the versatile Fabio Carvalho brings more depth to the squad and Jones sees this only as a positive.
"It's competition in midfield but I don't see it as that. I see him more as a teammate – kind of I help him and he helps me and then Hendo helps us or Thiago helps us. 
"It's competition in terms of a space but at the same time, it's like a friendly thing. There's no sort of, 'Ah, he's playing and I'm not and then I need to completely push him out of the way.' 
"It is that a little bit, of course, because you want to go out there and go and play, but I think the competition is alright and it's just a teammate thing."