Liverpool got back to winning ways on Saturday afternoon with a important 1-0 victory against Brighton at the Amex Stadium.

The win reaffirms the Reds' seven point lead at the top of the table although they have played a game more than nearest rivals Man City who take on Wolves on Monday night.

It was one of those afternoons where patience would be a key factor as Brighton are known as a highly organised unit  on home turf and the first 45 minutes followed that script.

While the defence was rock solid despite Trent Alexander-Arnold sustaining a ankle injury in the pre-match  warm-up which he bravely managed to play through, the team needed to be a bit more decisive in the attacking third.

Step forward the man for the big moment in Mo Salah, who won a penalty after being fouled in the box by Pascal Gross five minutes after the break and the Egyptian was able to power home the resulting spot-kick past goalkeeper David Button.

The penalty looked a clear-cut decision and to Brighton manager Chris Hughton's credit he agreed with that call, however he felt a number of the other decisions by referee Kevin Friend did not go the way of his side.
Sky Sports reported Hughton as saying:

"There's no intent and referees have a hard job, but sometimes you feel things go your way and sometimes you feel some of the decisions don't go your way.

" I felt today it was one of those days. No malice or anything towards the referee but I thought the bulk of decisions favoured Liverpool today.

"I feel for Pascal because Mo Salah is probably the most dangerous player once he gets in those sort of positions.

"One-on-one with the pace that he's got. It was difficult for Pascal, but no complaints (with the penalty).

Despite Brighton failing to register a shot on target throughout the ninety minutes, the.veteran manager believed his team was worth some reward for their toil on the afternoon.

"On the balance of play I thought we deserved something.

"They are such a good side and the opportunities they had were when we were trying to get back into the game and put bodies forward and made the game a bit more open. I thought we restricted them to minimal chances.

"Pascal Gross' chance [a shot in the second half] was probably as good as any of their chances. 

"In the latter part of the game we went for it a bit and showed a real intent to get back on level terms and I thought for the feel of the game that we deserved something.

For his part, Jurgen Klopp was thrilled with the patience his team displayed throughout the game.

" I thought it was the most mature performance of the season. It's so important. On a good day, everybody can win a football game.

"On an average day, not a lot of football teams can win football games. On a bad day, pretty much only a few teams can win football games. Today was not a bad day, it was a difficult day for us.

"It was just a difficult game because Brighton is doing really well. 

"We played a lot of times against a 4-5-1 system, but how they do it is different. I'm really happy that the boys took the game like it is."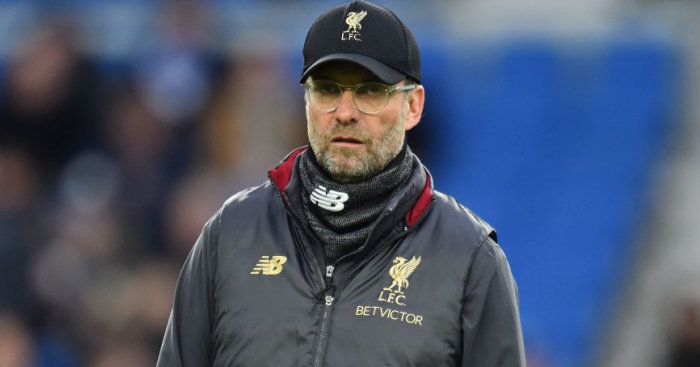 After tasting defeat for the first time for the season in their last league clash, Klopp knew all eyes would be on the Reds to see how they responded.
He knew there was only one way to rectify that.

"If you fall from the horse, the best thing you can do is go immediately back on it.

" Win or lose we never look back, only forward to the next game.

That next game is against Crystal Palace at Anfield on Saturday.