Jordan Henderson says that Winning the Premier League is the perfect tribute for one the clubs greatest players in Steven Gerrard.

Henderson famously took over the captaincy mantle from Gerrard for the 2015/6 season and the pair have stayed close since.

The 30 year-old knew all too well how much winning the League title meant to Gerrard, and felt it was in his personal duty to bring the trophy to Anfield.

The Mirror reported the current leader as saying:

"This one is quite personal for me and definitely to do it for Stevie is quite big – I know how much it would mean to him to win the Premier League title.

"He is so happy for us to be able to do that. 

"I have spoken to Stevie and I will speak to him over the next few days but of course everything that he has done for me and this football club (is so important).

"I was devastated in 2014 that we couldn't get over the line for him but I know that he will be so happy and so proud of this team to be able to bring the Premier League trophy to Liverpool and, yes, to do it for him is big."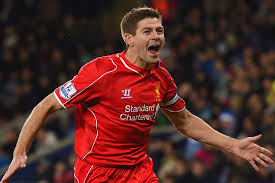 Gerrard sent Henderson a personal message last week after the title was clinched saying saying:
"Couldn't have passed it to a better person...proud of you, mate."

Last year the Liverpool talisman spoke openly about his 'open wound' relating to the infamous end to the 2013/4 season.

"This wound has been open since my experience.

"I am not sure it will close because I can't change that experience and my experience.

"It doesn't affect how I feel towards what I am looking in on now."

However Henderson hopes that is not the case and Gerrard can rejoice in the moment.

"No one will ever replace him. It wasn't even in my mind when I took over the captaincy to replace him, it was just to do the best I could the best for this football club and this team and that is all i ever try to do. 

"In terms of Steven Gerrard, no one will ever replace him."

"This is not only for us as players and the fans but it is also for players like Stevie, Kenny who mean so much to this football club."

Henderson is not one to dwell on personal accolades, despite being the first Englishman to captain his team to Champions League, European Super Cup, Club World Cup and Premier League glory.

"I haven't even thought about stuff like that.

"I'm just honoured to give back the fans what they have wanted so badly."

And he is not finished there.

"There's a lot more to come because we can still do better and still be better."