Whatever happens come the final whistle today there is bound to be emotional scenes as Anfield farewells a player they have truly taken to heart in Divock Origi.
Over the years the Belgian has struck up a truly unique relationship with the Liverpool base at large and especially those regular match goers at Anfield.
Origi was signed from Lille in the summer of 2014 but stayed at the French club for a extra season.
Usually when that happens, it is meant to grow more confidence and experience in a young player before making the big step up.
While he did get plenty of games, being voted by local publication L'Equipe  in the 'Worst XI' of the 2014/5 Ligue 1 Season was certainly not the label that he would envisioned carrying before making his Premier League debut. 
But to his great credit, he did not let that sort of critical feedback define him in his first season and under new manager Jurgen Klopp he struck up a great working relationship which has only blossomed over time.
The great strikers of Liverpool just roll off the tongue over time and it is fair to say Origi is not in the same category as a Rush, Fowler, Owen or Suarez for instance.
While there has been times when the languid style of the No 27 has frustrated fans especially when he is such a physically blessed specimen, every player is different in their make-up.
But it is not the weight of goals that have defined Origi's 175 appearances over seven full seasons,  instead it is what is fondly called as "Big Div moments."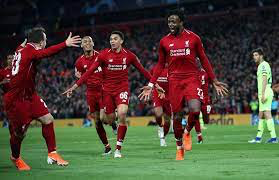 From Borussia Dortmund to Barcelona, Origi has been the player for the big occasion and will be remembered by this generation of Reds fans, players and coaching staff forever more.
Jordan Henderson is one of the eloquent Footballers around, and in today's match day programme (per TThe Mirror) he paid the perfect tribute for his work on and off the pitch.
"It looks like today will be Divock's last at Anfield for Liverpool so I hope he gets the kind of send-off he deserves.
"Actually I know that he will because he has been such a special player for us, but he is also an incredible person who has taken this city and its people to his heart.
"His legacy will be his achievements for this club, but it will also be the good causes he has supported, like the local students he is helping to put through university.
"Today should be a celebration no matter what happens and as club captain I will certainly be celebrating Divock and wishing him all the best for the future. The big fella deserves nothing less."
Trent Alexander-Arnold also wanted to pay his tribute to his long-time teammate.
What a guy, what a man, what a player. Definitely over the course of the stint the manager has been in, he has definitely had the most iconic moments, that will live in the memory of all the fans. He will go down in history. 
"He is always putting in performances, always trying his best, always working his hardest. It'll be sad to see him leave but he is more than deserving of a big send-off and a big farewell on Sunday or in Paris.
Two more games left in this remarkable season, certainly enough time for Div to add to his legacy.
You wouldn't rule it out.
·