Pep Guardiola has paid a level of respect to this current Liverpool side saying that they are the toughest opponent he has had in his managerial career.

After City won the last two Premier League titles which included a captivating battle with the Reds last season, many thought there would be a repeat in the 2019/20 season.

However Liverpool had other ideas leaving every team in their wake as they marched to a first league title in 30 years.

The Spaniard has tasted success at every managerial post he has held but he admits that he has has been tested like never before by Jurgen Klopp over the past two seasons.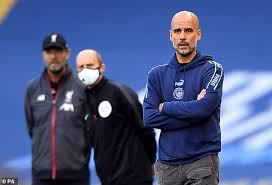 The Mirror (via DAZN) reported Guardiola as saying:

"The toughest opponent I've ever faced in my career is this Liverpool from last year and this one,"

"If you let yourself be dominated, they lock you in the area and you can't escape. When you dominate them, they run into space like no one else. They are very fast going backwards.

"They are very strong strategically.
"Their players have great mental strength. [Klopp] is the rival who has made me think about how to beat him the most."

Guardiola referenced his famous and fierce battles with Real Madrid saying that they made him the manager he is today.

However, he is adamant that no challenge has been greater than the one he is currently facing.

"I have always said that Real Madrid are a very strong team in my career, they helped me to become a better coach with tough matches and competitions with Jose Mourinho, [Manuel] Pellegrini and all the coaches they had.

"If you ask me which has been the most difficult rival for me to face, it has been Liverpool. The first years when I arrived in England, Liverpool were a bit weaker than now and Real Madrid were stronger. 

"Now, this Liverpool are the hardest I have come across in my coaching career."