Pep Guardiola has claimed that winning the Premier League is not the most important thing for his side this season.

In a statement which can be viewed in many ways, the Man City manger has said that winning is not everything in life and not a good message for the community at large.

ESPN reported Guardiola as saying: 

" I think it's not a good message for society, for our kids, for our teenagers, showing them that just the winner is perfect.

" It is not.
"Important is the effort, the commitment, the situation. In football I know we want to win but just win once and the other is disaster?

"It's not, it doesn't work in that way. 

"The only pressure we can have is that we are going to lose the Premier League.

"It's not the first time in Manchester City's 125-year history. 

"I don't live the situation that when I'm going to sleep I'm (thinking), "Oh I'm going to lose the Premier League, what is going to happen?

"That's why I said to the players relax, do your job, we will see in December, January, February, March and we will see what position we are in.

" If the position is far away, OK it's far away. We are going to try again next season."

Guardiola continued his pensive view of the current footballing landscape.

If we lose, we lose. "But I promise you, when I see my team don't fight with no spirit or lack of intensity and desire, I'll say I don't like my team, I don't like the way they play.

"In these three years and half, people can say we play good or bad but give up? 

"That is not going to happen.
"My teams, always we try but I accept that the others can better."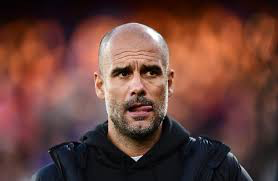 The words by the Spaniard can be seen as a way of taking the heat of his players and indeed himself, as they face a substantial challenge in making it three league titles in a row.

It could also be his way of luring Jürgen Klopp and his players into a false sense of security thinking the title is in the bag.

Nice try Pep, but there is no doubt Jürgen will be well aware of any mind games that his rival will come up with from now until the end of the season.