Pep Guardiola has continued to lay on the charm ahead of Man City's trip to Anfield on Sunday afternoon.

After his comments regarding Sadio Mane last Saturday raised plenty of eyebrows in the Football world and caused Jurgen Klopp to respond in kind with a sly dig of his own, the Spaniard has seemingly gone out of his way to lavish praise on the Reds.

That continued at his pre-match press conference on Friday and this time it was Liverpool fanbase which came in for recognition.

The Echo reported Guardiola as saying:

"Right now it's the toughest stadium to go to.

"I love the atmosphere [...] inside it's perfect, that is why we're involved in this business, to experience these stadiums.

"They are an exceptional team. The stadium is a big influence, it speaks for itself, but it's more the quality of the players, the manager they have.

Guardiola then turned his attention to the world-class full-backs and the Liverpool team as a whole.

"If you play high, they get in behind. They are so fast.

"Alexander-Arnold and Robertson are incredible crossers. They have fantastic headers, they win second balls. It's a real complete team."

"For me as a manager I said last year when we won the league, it was my biggest achievement because we faced my best contender.

"Right now they are the strongest team in the world. 

"We know what playing at Anfield means to them and their rivals.

"We are going to follow our plan."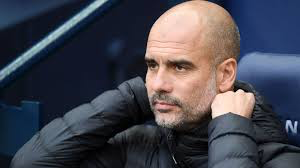 Man City will be looking to end a 16 year wait for victory at Anfield tomorrow and Guardiola discussed how you have to adapt in regards to the quality of your opponent.

"Sometimes when the opponents are as good as Liverpool you have to adapt.

"I was more defensive with Bayern Munich when we went to Dortmund and won 3-0, that was incredibly defensive.

"The plan at Anfield [last season] wasn't like this."