Marko Grujic says that he will do all he can to fight for his Liverpool future despite facing a uphill battle to claim a midfield spot in what has become a very competitive part of the pitch.

Grujic is in the second year of a loan spell at German club Hertha Berlin, having previously spent time in the Championship with Cardiff City

So far this season, he has made 17 appearances and scored three goals for Hertha who are now managed by German legend Jürgen Klingsman.

His last appearance for the Reds came more than two years ago in a 5-1 thumping of Brighton.

The 23 year-old has the physical gifts that you would want as a defensive midfielder in today's game, but too often it has been his body which has let him down just when he seemed on the cusp of a significant breakthrough.

The Mirror via Goal revealed the hopes and dreams of the Serbian international.

"I still hope for that, of course.

"You can't just give up on your goals.

"I know it's going to be tough.

"I'm not stupid. I know that Liverpool right now are an unbelievable team, the best team in the world. 

"So, I know that I have to be at a very high level if I want to have a chance."

"That's why I watch as many of their games as I can, to learn and to see the level. I know improvement is the only thing that can help me."

Despite having a solid first season in the Bundesliga, Grujic knew he was not quite ready for a return to his parent club as there were some things he needed to work on.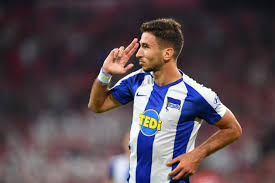 "It's why I could accept that I needed to go somewhere to play regularly this season. 

"I needed minutes, I needed to learn the game, when to defend, when to attack, where to be on the pitch. I want to improve every part of my game.

While Liverpool's front three get a lions share of the accolades, Grujic greatly appreciates the unheralded work by those who pressure and win back the ball from the opposition.

"Defending is a big part, because when you look at Liverpool, they defend like hell! 

"Every player is fighting for every inch of the pitch, which is so impressive. Sometimes I get tired just watching them!

"Jordan, Gini, Fab, Milner – they are all huge role models for a player like me. The job they do is so underrated, and their levels are so high. They play with such intensity, every game. That is what I have to aspire to.

"Next season, who knows, hopefully I am ready to jump up with the team.
"That is what I hope for."