The true beauty of Football is that it often has a number of 'what if' moments. 
What if Luis Garcia's goal in the 2005 Champions League semi final was deemed to have not crossed the line, would the miracle of Istanbul have happened?
If Stevie hadn't had not slipped in 2014, would the league title drought have ended a fair bit sooner than what it did?
Indeed, if Liverpool managed to hang on for that triumph, would there even be an Jurgen Klopp era, or would have Brendan Rodgers have had a distinguished tenure?
We as Football fans, often love to reminisce and think of these "what if" moments be they remembered fondly or with despair as it makes the game as wonderfully unique as it is.
The same thoughts would naturally come into a mind of a player,
An untimely injury cutting short a career, a transfer that happened and didn't work out, or one that could have gone ahead but for whatever reason did not.
Mario Gotze certainly fits into that latter category.
The German international had lived the football dream by the age of 22, winning three league titles (two with Borussia Dortmund and one with Bayern Munich), a Champions League (with Bayern) and scoring the winning goal for your nation in the final of the World Cup.
The great majority of footballers past and present would be delighted with a career such as that but instead of being able to build on that momentum and take his star to another level, in his prime years Gotze suffered from a metabolic disorder which was later found out to be myopathy,  a muscular disorder which affects the fibres in the muscles, meaning they do not function correctly.
It was a cruel setback, and at a time where he was weighing up career options after leaving Bayern for a fresh start, his first senior coach in Jurgen Klopp who he had a great deal of success with at Dortmund came knocking and asked whether he would be interested in joining his Reds revolution.
It is a discussion the versatile attacking player who is now 29 and playing his football with PSV reflected on per the Mail.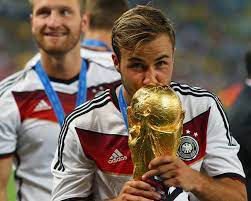 "We spoke back then about me coming to Liverpool.
'But I wasn't in a state of mind where I could consider it, that's why it didn't happen.
'Do I regret it? It's always difficult to look back but if you ask me now then yeah, I should have joined Liverpool for sure. I just made a wrong decision but it's not a regret.
Gotze reflected on his four seasons under his fellow German and like many have said before, he is someone who makes you a better player and person.
'Klopp probably made the biggest impact on my career. He can be very demanding – he can be your friend but also very harsh at the same time. It pushes you to great performances. That's what happened with me back then, and it's happened with Liverpool now.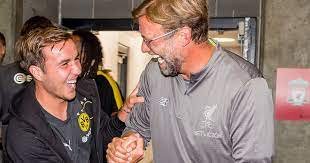 'He is a manager not just for the players but everyone at the club, and then one-on-one he can be a friend as well as a boss. Can I imagine working with him again? I can imagine that, yes – we'll see.
'He's a good coach, for sure.
Gotze has had the honour of playing for the the two pre-eminent managers in Workd Football at this point of time in Klopp and Pep Guardiola.
And he gave an interesting insight into the personalities of both men.
"Klopp's strength is speaking to players in a certain way, helping them.
But if you meet Pep off the field he's a great guy. You can speak to him about family, private stuff, so he's a great person.
'If you play in his team he is very demanding. That's a good thing because he's pushing you a lot but sometimes you need a different angle as a player.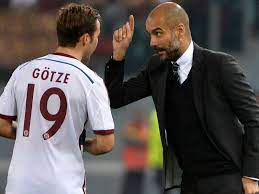 Back then, though, I was used to Klopp and this was my comparison. When I look now, I like what Pep does – being distant sometimes, keeping high-performing athletes together. Maybe I would do it the same way.
'The title race in England this season is great to watch. It looked very different a few months ago but I believe in the end City will do it. That is my guess.'