Cast your mind back as little as six months ago and there would a sense of nervous apprehension any time Liverpool took the lead in a game.
Ridiculous as it sounds, even when the Reds had a two or three goal lead, there was a general feeling of looking at the clock watching and waiting for the final whistle to blow.
As supporters, we often think what the players themselves think of the situation. 
Does it impact their mindset or do they just brush it off and move on to the next game like nothing has happened?
Joe Gomez has arguably been Liverpool's best player in the early stages of the 2018/9 season.
Finally in his natural position of centre back, Gomez has formed a superb partnership with Virgil Van Dijk who along with new goalkeeper Alisson has proven a very tough nut to crack in the heart of the back four.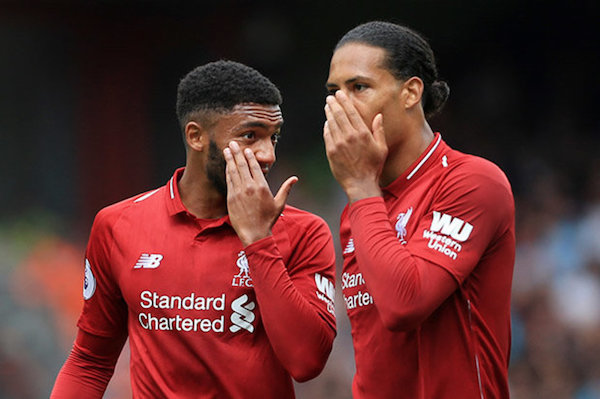 In a terrific open and honest piece with the Daily Mail, Gomez says there were times when the defence was dreading the ball coming back into their area even when they were seemingly in control.
" I remember the Man City game here at Anfield. We were 4-1 up with about five minutes to go and won 4-3.
"They had a header that hit the side-netting and you ask yourself how you would have felt if that had gone in.
"It takes something away from the joy. It should have been easier so it's not always nice after."
The Reds were often viewed as the 'favourite of the neutrals' for the way they played their Football, but Gomez knew there had to be a balance between defence and attack.
 He recalls a famous Reds 'collapse' in Europe as somewhat of an awakening in regards to how bad things had become.
'We had a few games where we let things slip and a team that wants to win the Premier League can't have that.
"In Seville, we needed to manage the game but couldn't keep the ball and got intimidated. I was like: 'What is going on?'
"When that happens it feels like a slippery slope and once one goes in you can start panicking.  It feels like it's out of your control and you are going to concede again.
"Last season we struggled with set pieces and when we lost the ball we could be vulnerable. We would concede a corner and think: 'Please let them not score from this, just don't score here.'
"Maybe it accelerated my learning, we have all had to learn if we are going to improve.'
The versatile defender talked about the change of mentality in regards to this season.
" We are not a less attacking team this season, it's a matter of being conscious of game management and the manager is making sure we stay switched on.
"We take pride in those games now.  He (Klopp) used to yell at the top of his lungs , now he doesn't need to.
'So we have to continue that stubbornness and not think we have to score three or four times to win. 
"Keep the ball better late on and make better choices. See the game out. That is what we need if we are going to challenge for the title.
The competition for positions in the back four this season is fierce with Dejan Lovren and Joel Matip who for the early part of Klopp's managerial reign were the first choice CB's, are now regularly on the outside looking in.
The 21 year-old former Charlton junior recalls a time when that was clearly lacking.
"That level of competition was previously missing,' he said. "We went through a phase that if we had injuries, all of a sudden Lucas Leiva was playing at centre back"
For someone so young, Gomez has had his fair share of setbacks, with his first two seasons written off by knee and achilles injuries, and then with a World Cup spot virtually in his possession, ankle surgery put an end to his 2017/8 season.
It is therefore very pleasing to see the youngster injury free and showing the footballing world his true potential.