Caoimhin Kelleher should look to gain more first-team experience by making a loan move in the January transfer window according to Shay Given.
In this campaign, the Irish international has already made the same number of appearances he made during the whole of last season (five), and received deserved praise for his performances in high profile fixtures against Leicester in the Carabao Cup and the league fixture against Chelsea at Stamford Bridge.
While at only 23, he has still got a lot to learn in his craft, on the face of it Kelleher has a terrific unflappable temperament, something that is all-important for a goalkeeper.
But the truth of the matter is that when fit Alisson is indisputably the number one keeper at the club.
And it is that reason why his countryman has raised the topic of Kelleher needing to look at his options in the short term.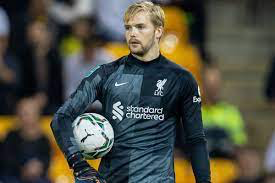 The Echo via Premier Sport reported the former Newcastle, Aston Villa and Man City custodian as saying:
"He's in a bit of a predicament Kelleher;
"He's 23 years old, I'm trying to bring myself back to when I was that age and I'm not sure how many games I would have played, but I think he has only played ten or 11 games.
"He's not a kid anymore, 23 is an age where I think he should be playing regular first team football.
"The biggest problem he has is that. Alisson is ahead of him. Alisson is in the prime of his life and could be for the next five or six years. Does Kelleher sit there and be happy as a number two? They've got Adrian who can sit on the bench and back [Alisson] up.
" For me, it's so important to play games. He has been training there for a few years and signed a new five-year contract last summer, so he is part of the club's long-term future.
"Even from a Liverpool point of view, they need to get him out playing, get him that experience, then bring him back and get him challenging Alisson."
Following on with a similar topic, and Liverpool goalkeeping coach John Achterberg hopes that Loris Karius can find another club in the next few weeks.
Karius currently sits fourth in the pecking order and barring a injury or illness crisis, stands next to no chance in adding to his 49 appearances for the Reds.
Achterberg  basically said that Karius is wasting his career by not looking for a solution.
"In the end it's down to him, his agent and the club to try to find a solution,"
"Hopefully there will be one this month.
"It doesn't help anyone to sit for another six months without the feeling that you are really fighting for something. That's not going to improve him.
"He needs to use his quality to make a career now. Loris has a lot of good qualities. If not he will train with us until the end of his contract.
Achterberg said when it comes to future keeping prospects, there is always hope for them at the club.
"If Loris goes then we will look to bring one up from the academy again... we are always looking for who might be the next one to come up.
"Our aim is to keep creating our own goalies. To do that we need to keep improving both our scouting and our ways of working to find them and then develop them."