Steven Gerrard brought unbridled joy to millions of Liverpool fans all over the world with his ability to consistently produce the goods on the big stage.

The amount of times the talismanic midfielder was able to dig his team out of a hole is way too many to list. However, for all the adulation that football brings you, it can snatch it back in a instant without any questions asked.


For all the heroic moments and achievements, Gerrard is remembered very harshly by some as the player whose mistake against Chelsea cost his team the league title in 2014.


As with all top players, Gerrard is his harshest critic and hard as it may be, he still lives with that haunting memory and admits it may remain with him for the foreseeable future.
ESPN reported Gerrard as saying:
"This wound has been open since my experience. I am not sure it will close because I can't change that experience and my experience.


"It doesn't affect how I feel towards what I am looking in on now.

 I see a support that gave me absolutely everything from the terraces and around the world.


"I just hope for their sake, and mine as a supporter, that come the end of the competition they are victorious. 

But it won't make me or my wound feel any different."


The expectation of winning the title in 2013/4  grew with every passing match, and while the 'slip' against Chelsea remains the moment that is remembered the most, Gerrard tries to look at the bigger picture.


"I don't just look back to that one game [Chelsea] or one campaign," he said. "I don't overthink and drive myself crazy over it.


"At the same time, I have been honest and open, it was such a big year. It was the trophy that eluded me, so of course I am always going to look back and wish it was different.

"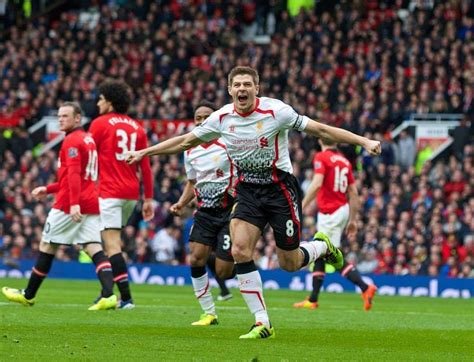 In terms of the modern day squad, Gerrard does not believe in placing any extra pressure on top of what they are already dealing with.

Instead he has told them to enjoy the challenge.


"My advice, having been a player in that team and playing for those supporters for so long, would be don't overthink it. 

"Just enjoy it. Believe in yourselves.

 I think the supporters are very excited, but I think there are some nerves about which is understandable. I think it will be very mixed.


"I think now, in the Liverpool dressing room, they can use experiences of what has gone before to try and help them in the run-in."


There has been a prevailing view that if Liverpool fail to lift the trophy in May, it falls into the category of 'another one that got away' especially as the Reds had a seven point lead at the turn of the year.





However, Gerrard has seen the progression made by Jurgen Klopp and his players, and feels that they will give their best effort from now until the final minute of the season. 


"If that is good enough then it will be fantastic, but if not, they will just have to accept it and move on.


"I think certain people around the world will see it as failure, but there is nothing you can do about that.

 That is football and opinions.


"For me, as a fan, Jurgen has taken the team and the squad forward giant strides. He is doing everything he can.


"Sometimes in football, if someone beats you to it, just, sometimes you have to hold your hands up and say the better team won.


"I hope that is not the case, but I don't think you can be too critical if you have been fantastic yourself and have done ever so well to be in it in the first place."


While Gerrard has moved on to become the manager of Rangers, it is only natural that the Reds remain in the forefront of the mind of the club legend.


 Just like all of us, he will hoping we can go one step further this season.