Steven Gerrard says that he will only take on the Liverpool managerial job if he feels that he is completely ready to do so.

Jürgen Klopp recently mentioned that the club legend is his natural successor, but speaking to former teammate Jamie Carragher, says that there is a lot of water to go under the bridge.

Sky Sports (via The Greatest game podcast) reported Gerrard as saying:

"I wouldn't take the Liverpool job just because of what Jurgen said.

"I am mature enough to know that I have to be ready for the Liverpool job.

"It's very flattering because of who he is, and there is a lot of people out there that naturally think that if Jurgen goes in a year or two year's time, I am next. 

"I don't and there's a couple of reasons behind it.

"I have to go and prove that I can do it, first and foremost at Rangers." 

Gerrard says his record as a player should have nothing to do any future appointment.

"I'm mature enough to know that I have to be ready for the Liverpool job. 

"I'm not daft enough to think I'm going to get it just because I was a good player for Liverpool Football Club. 

"If I got offered it, it's a completely different ball game because you are getting offered the Liverpool job. 

"But sitting here where I am now, doing what I am doing, I am fine. I am calm and happy.

Gerrard who currently has Rangers within two points of Celtic with a game in hand as well as successfully leading them into the last 32 of the Europa League says he is more than happy to remain in Glasgow and continue to evolve and improve as a manager.

"If I stay at Rangers for another two, three or four years I am OK - it means I am doing something right and happy. 

"I am in no rush to try and jump, I am not looking over the fence at anything, I am properly content. 

"If Jurgen stays at Liverpool for another four or five years, brilliant.

"If Liverpool decide there's another guy that is more suited to the job after Jurgen, that is a better candidate than me at that time then fine, no problem. 

"For me, it's lets crack on and be as good as you can.

"If that comes in two years or 10 years, no problem."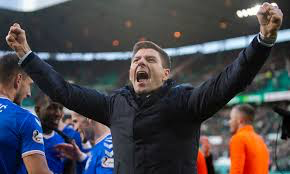 Gerrard says that it is only natural for him to want to test himself at the top level, but he also admits that he will not be a career manager.

"I don't see my managing until I'm 60/70 years old. 

"But I want to experience managing at the top. If that happens in two years, great, if it happens in four. 

"Obviously the perfect situation would be for my team, for Liverpool, but I'm not daft enough to think I'm going to get it just because I was a good player for Liverpool Football Club.

"I have to prove I can do it, first and foremost at Rangers."

Gerrard keeps close contact with Klopp and says he is a fantastic resource for himself.

"I had a conversation with Jurgen when he took the job and he thought he could sort the problems out.

"I'm in his office straight away he's an open book and he'll give you whatever you need. 

"He's not one of those people. He's that thick skinned and that confident and he backs himself so much."