The law of averages says that the modern-day footballer is likely to move clubs at least once in their career, and quite often much more than that.
The ability to settle quickly in your new surroundings is something that changes from player to player.
Some can make it look like a true artform, but others naturally take a bit longer especially when they come from far and wide across the global football landscape
Reds midfielder Fabinho fits into the latter category.
The summer signing from Monaco told ESPN Brasil that he had to learn to be patient for his chance to arrive.
"This moment to adapt, it hasn't been easy - many times you are out, there were many times I wasn't [picked].
"But I tried to learn from all this, tried to give my best during practice. The coaches were very nice to me, they didn't let me get down. I worked to be well prepared".
The Brazilian was naturally eager for his opportunity, but so too were Liverpool fans who wanted to see what value the highly rated defensive midfielder could add to the team.
After some cameo roles, last week saw the 25 year-old make consecutive starts in the Champions League and Premier League fixtures against Red Star Belgrade and Cardiff respectively.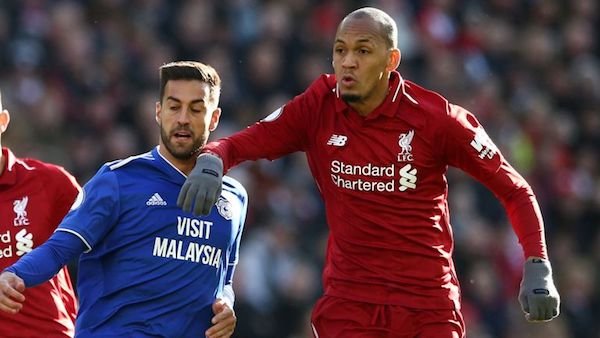 It is fair to say the reviews have been incredibly positive and the man himself is also quietly satisfied while at the same time recognising that competition for places is fierce.
"I got the opportunity last Wednesday, I believe I had a good match, and [against Cardiff] I believe I helped the team in the midfield.
"So I'm very happy, I hope I can keep it. 
"I know the rate here is very high, you have to always try to keep a good performance, and in our team we have a lot of options in the midfield. Of course it's not always possible, but whenever the coach needs me I want to be ready for it."
For foreign players, the physicality and tempo of the Premier League are some of the things they take time to adjust to.
Fabinho is certainly not what you would call lightweight in football terms (188cm/78kg), but he was given an intense physical examination by Neil Warnock's side on Saturday.
"The match was rough," Fabinho said. "We scored one during first half, which was important, but the match was very intense in the midfield.
"Only at the last 10 minutes that we could get an easier game and scored the third and fourth goals.
"This is Premier League, I'm still learning day by day how rough the games can be."
Andy Robertson became one of the stars of the second half of last season after having to wait for his opportunity in the early stages of his Liverpool career.
It is not beyond the realms of possibility that Fabinho could have a similar impact in the latter stages of this season.