The breakthrough season of Curtis Jones has continued with the 19 year-old midfielder winning the PL2 player of the season award.

The PL2 competition was launched a couple of years ago and is for players 23 years of age or younger.

As well as his elite performances at the under-age level, Jones made 12 appearances for the Liverpool senior side in all competitions scoring three goals and picking up a Premier League medal in the process.

Jones claimed the award ahead of Billy Gilmour (Chelsea), Jahmal Hector-Ingram (Derby County), Liam Cullen (Swansea City), Rayhaan Tulloch (West Bromwich Albion) and Nathan Holland (West Ham United).

Speaking to the Official site after claiming the award, it was clear how honoured he was:

"For me it's huge. I've enjoyed a great season with the first team so any time I've come down to play for the U23s I've always tried to give it 100 per cent. 

"I've got to thank my teammates and give them credit as well. I'm buzzing.

Goal scoring midfielders are worth their weight in gold in modern football and Jones discuss that quality that he has developed from the junior ranks and displayed on the senior stage.

"II was always talking about wanting to score more goals and when I was in training I was always working on that. I had that season with Steven Gerrard when I scored a few then, and then I came into the U23s. 

"At first I didn't play as many games as I would have liked but I've got to be respectful to the gaffer and the staff and I've got to thank them for keeping me around the team.
"Last season I got plenty of games and I also felt there was a bigger role on me because there were games when the boys looked at me to see if I could pop up with something, and I think the stats showed I did it when it was needed and I hope there's many more to come.

Jones said he couldn't ask for better coaches in Neil Critchley, Barry Lewtas and Alex Inglethorpe to keep driving him on and help him achieve his goals.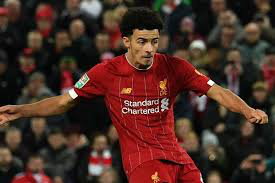 "I think they were the perfect three I could have had at the Academy in terms of keeping me humble and grounded, telling me when I'm doing well and when I need to have a bit of a boost or a kick up the bum! 

"It's been perfect for me to have those three around me and to then know when it was right to push me up through the different age groups. It's been perfect."

On the senior level, working with one of the best nurturers of young talent in Jurgen Klopp is a dream come true for the youngster.

And he described the moment when he graced the Anfield turf last Wednesday night knowing that he was guaranteed a winners medal at the final whistle.

"This season we knew we had a massive chance to win the Premier League. I was hoping and praying to get some game time.
"I think the medal was more in the back of my head at that time and I was thinking more about just playing and getting experience and showing what I'm capable of doing. 

We then boxed off the league and I think at the time I needed three or four games [to qualify]. I know what the manager and the staff are like, though, and if they can give you game time and give you a medal then they will. 

"When I've played for the first team I've scored and played well and when I've played for the U23s my attitude has been good, so I've been lucky enough to get the Premier League 2 Player of the Year. 

"It just goes to show that all the hard work, determination and good attitude pays off in the end. I'm just so grateful to the manager and his staff for giving me that opportunity and I look forward to many more."

Jones said it was a massive shame that the fans were not there to share the moment but said it was something he will always remember. 

"We would have loved for the fans to have been there because it's their support that keeps us going but I think in a difficult time it's only right that we obey the rules and the fans and ourselves stay as safe as we can, so we did it the right way. 

"But it was just unbelievable! Words just can't say exactly how I feel."

Not just are Liverpool focussed on the present, by developing the likes of Jones, Neco Williams and Harvey Elliott through they are casting one eye to the future.

You cannot ask for more than that.