Like many children from South America, Roberto Firmino was football mad from a very young age.

And like many of these children, he was born into a life where danger lurked around every corner.

Basically Football was the truest form of escapism from a life without any luxuries that most of us take for granted.

Firmino was born in late 1991 in Trapiche da Barra, a township in the borough of Maceio which is the largest city of the coastal state of Alagoas.

When you think of Brazil, you think of smooth sand, crystal blue waters and sun kissed residents.

The reality is much, much different.

The neighbourhood of Firmino was situated near a polluted lake in a poverty-stricken shanty town.

Violent crime was a every day part of life. A far cry from playing in front of the Highest Premier League attendance.
Despite this, all a young Bobby wanted to do was kick a round ball in the back streets emulating his hero.

Bruno Barbosa dos Santos a childhood friend of Firmino told the BBC how his mother was very wary of letting the youngster out onto the street'.

"It has always been violent here and Roberto's mother was very protective of him.

"He was football mad, but it was difficult for him to be let out, so he would jump over the wall to come play with us in the street. 

"One time he fell and had to get stitches in his knee. He still has the scar."

The throwing of stones on the roofs of houses was usually the call-out that a game of street football was imminent.

Friends also found a stepladder for Firmino to sneak out without his mother's knowledge.

Another old friend Dedeu, said even in his younger days, Firmino had that trademark grin that Liverpool fans love to see and true determination to succeed.

"He was quiet and timid - he just smiled - but he was football crazy. 

"Even when he didn't have a ball, he'd be doing keepie-ups with an orange. 

"His dream was to be a professional, but where we live it's very difficult to achieve these things. That's why I am so happy for him.
"He deserves all his success."

Jose was a street vendor in the neighbourhood who sold bottled water and it was the only source of income for the Firmino family.

But he said young Bobby had grand plans for his nearest and dearest.

"His dream was to get his mother, father and sister out of here."

The young lad who idolised Ronaldinho and Ronaldo honed his craft on a concrete pitch which was lined with discarded waste.

His headmaster at the Escola Estadual Professor Tarcisio de Jesus, Ari Santiago confessed that the school needed a change of approach, a sense of positivity for youngsters to 'dream big' especially with the violent death of some students.

That was when he started a school football team and as you can expect, a 14 year-old Firmino was at the heart of it.


"He was a very quiet boy, very calm, but always asking for a ball. 

"I remember the balls were only available to the kids at certain times, but he would come and smile and make the sign of the ball with his hands. 

"Sometimes I gave it, sometimes I didn't.

"It was hard to say no to that smile."

The talented Firmino won a contract with CRB (Clube de Regatas Brazil) and the club youth coach Guilherme Farias was instantly impressed.

"What immediately caught my attention was the quality of his game. 

"Roberto was quiet, but the way he struck the ball was exceptional. I took him to the field and within three plays, I stopped him and said: 'Get your papers ready, you're coming to play for us.'"

One of Firmino's true trademarks is his workrate, basically doing what very few forwards like to do.

The unfashionable things like tracking back, tackling and winning the ball for teammates.

This hard work element of his make-up was undoubtedly ingrained in him from his early days where he travelled hundreds of miles for youth tournaments and never complained despite a battered body and also learned the discipline needed to become a deep-lying midfielder.

It was in 2008 at another trial at Figueirense Under-17s where coach Hemerson Maria believed he was in the presence of something special.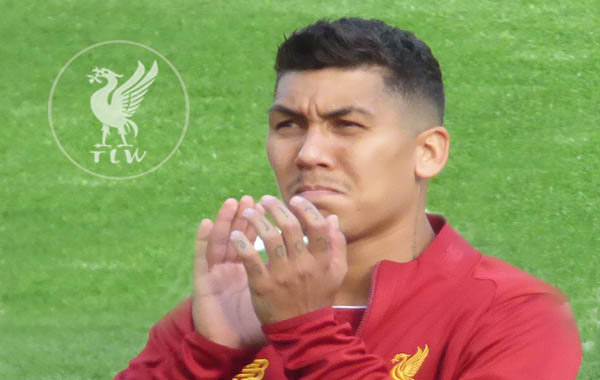 "Generally trials last a maximum of one month, but depending on the player it can be less: two weeks, 10 days, etc.

"Roberto's trial lasted only 30 minutes - he was exceptional.
"He practically did nothing wrong, showed immense technical quality, and to top it off scored two bicycle kicks. 

"Afterwards, everyone was talking about him and I realised we had a very special player on our hands."

It was then where Maria decided to move Firmino closer to the attacking part of the pitch.

While homesick, Firmino was determined to make the trial a success and told friends he will only return home when he was successful.

Despite his talent on the pitch, Firmino was a quiet lad, so much so that Maria was calling him by the wrong name (Alberto) for two weeks and was not corrected.

Firmino's long time friend Luciano Lopes who was the best man at his wedding, relayed a humorous anecdote. 

"Soon after I took Roberto to Figueirense, I got a call from the base coordinator asking if he was mute, because he was so quiet. 

"I called him and said: 'Roberto, you have to speak, ask for the ball, talk to the staff.' 

"He didn't say anything, he just laughed."

While he was shy, on the pitch his talent shone.


Europe, and more specifically Marseille called in 2009 but it was an ill-fated experience.

His journey to the south of France involved a stopover in Spain and it was there where things quickly went downhill. 

Despite the fact Firmino was only changing flights, immigration at Madrid-Barajas Airport accused him of trying to enter the country without prerequisite paperwork and he was deported in tears.

While there was obvious disappointment, Firmino was undeterred and he eventually got his trial with the French club.

However, they refused to pay his 1m euro (£860,000) release clause.

It was a decision which club officials have since said was a clear mistake.

Firmino returned to Figueirense and won a number of personal accolades and got his team promoted from Serie B.

A big move to Europe was finally settled when he moved to German club Hoffenheim where he spent five seasons and steadily improved season upon season and claimed the Best breakthrough player award in the Bundesliga ifor the 2013/4 season.

Those performances led to his Liverpool move for just under £30 million and the rest they say is history, earning a number of individual accolades along with team and international honours since joining the Reds.

He has never forgotten his formative years and in July 2018 he returned to his former school in Trapiche, taking with him 500 food hampers for local families, as well as toys and a trampoline for the children. 

He has also made making monthly financial contributions to a hospital in Santa Catarina, and donated £60,000 to pay a family's medical bills, showing the kind spirit he has in spades.

Despite all this, Firmino seems to be somewhat underrated and understated in his homeland.

For instance in the Museum of Sports at Estadio Rei Pele, among the bronze busts of Alagoan heroes Mario Zagallo and Dida, there is nothing to commemorate the superstar who was, literally, born just down the road.

But in the township where he learned his trade there is no doubt as telecommunications worker Sergio Araujo says:

"Roberto is the best Brazilian player in the world right now,

"He would never say it, but I will: 

"Neymar is not fit to lace his boots."