Trent Alexander-Arnold says that Jürgen Klopp is an genuine individual who treats every player the same, whether you have played a senior game or are one of stars of the squad.

Klopp is renowned for his outstanding ability to connect with players in a football sense as well as a humanistic level.
 
The right-back says told GQ (via the Mirror) that he finds it hard to identify one special quality of the German.

" His man management... as a person, as a manager. Just unbelievable."

And while some people think that his habit of hugging his players on the pitch as slightly over the top , the England international says it is entirely genuine. 

"He's the same person, because I feel as though in those interviews, when you see him on the camera, you can see that he's a loving person.

"You can see that he's someone who cares about the people around him. 

"He cares about his family, he cares about his players, he cares about his staff. He treats everyone as equals.

"He treats the captain the same as he would a young player. 

"People probably have a conception of him as maybe being very emotional, heart on the sleeve.
"Which he is to an extent, but he knows how to control it in ways that are beneficial to everyone around him.

"He knows what needs to be said and what tone it needs to be said in, at the right time."

The 21 year-old has come a long way under the tutelage of Klopp and has a lot to thank him for.

It is just one of the reasons why he couldn't dream of playing for another Football team.

"It's not something I've ever thought about. I've always loved Liverpool.

" I've always supported them. I've always played for them. So, yeah, still now, I wouldn't sit there in my room and daydream about playing somewhere else."

But he does respect the general values of another city, that being Barcelona.

"I'd say my favourite other team would be Barça.
"I feel as though they've got kind of the same values and beliefs as Liverpool.

"In Liverpool, everyone's got the same beliefs, the same drive to succeed, the same hard-work ethic, the tenacity.
"The passion in what they believe in is a massive thing in this city."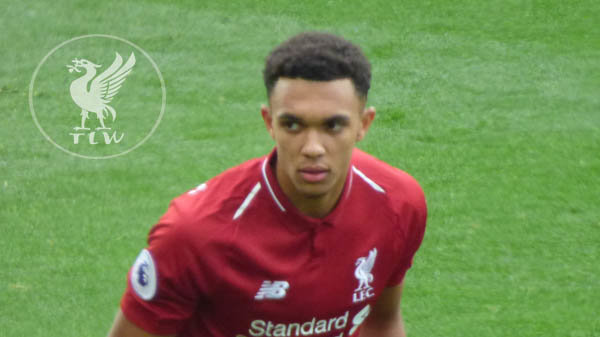 Trent also says another special feature is that Liverpool fans are very quick to make those players who come from other parts of the world as one of their own.

And in turn, the players are able to buy into the culture of the club.

" I think it's well known here that the fans are special and they love the players more than anything, but it's not just about the fans.

"It's whether you fit the city and the environment that you're living in, whether the people accept you, if you feel at home, if the family feel at home. 

"I think Liverpool is probably one of the easiest in that regard, because as soon as you come in you are accepted – you know that.

"So (even if you are not born here) the players understand what the club is about, the history, this tradition, the values of the club. 

"I grew up with it. I understood it from an early age. I was taught it throughout my childhood, whereas they weren't.
"But they get it."