There is a view that you learn a lot more from defeat than victory and how you respond from that setback says a lot about your overall character.

This time last year saw Trent Alexander-Arnold's star well and truly on the rise, impressing observers at large with his level of confidence and overall quality for someone in his first full season of senior football. 

However, the football landscape is one that when you start to make a name for yourself, it naturally gets noticed by the opposition.

They are quick to identify what your strengths and weaknesses are, and then devise a plan of action when they come up against you.

A veteran manager like Jose Mourinho doesn't leave any detail to chance, so when Man United came up against Liverpool in March last year he used a specific tactic involving Marcus Rashford to fine effect, exploiting the defensive naivety of the then 19 year-old.

It was a galling experience for the right-back as Rashford's two goals were the difference between the sides on that occasion.

Nearly a year on, Alexander-Arnold reflects on that time and says that lesson has served him very well in the long run.

The Guardian reported Trent as saying:

"I still use that game as a learning point. That is probably the best thing to do; look back on the harder games you've had, the tougher games, learn what I didn't do well and what I could have done better.

"The Manchester United game was definitely one of those games but rather than let it get me down, or put me down and think that maybe I am not good enough at this level, it was important to use it as a positive and see it as a learning step to improve.

To the great credit of the youngster, he did not take that poor performance lying down.

Instead he looked to speak to one of his mentors in Academy director Alex Inglethorpe who helped put the youngsters' mind at ease and help him focus on the next challenge.

"It was about getting back to basics, not to overthink things and think you are not good enough at that level, that maybe the level is too good for where you are at.

"It is important to put it behind you. Alex helped me with that, the manager as well and also the people around me who support me. I would probably say it was the hardest point of my career up to then. 

"Obviously the Champions League final came afterwards which was tougher than that, but it is something that has helped me learn, progress and move forward."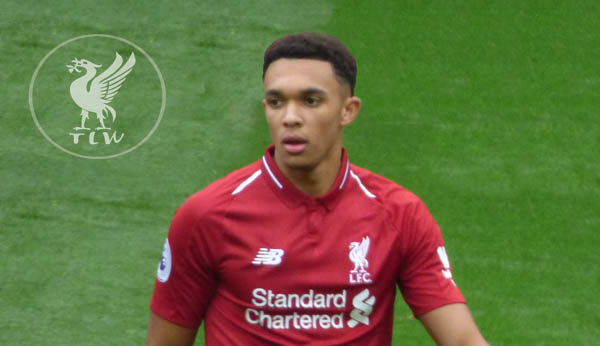 It is clear that Alexander-Arnold has grown in stature both in a domestic sense, and on the European and international stage since that moment.

You needed no greater example of his resilience than the clash against Brighton in mid January when the youngster sustained a knee injury in the warm-up.

While it looked like he could be replaced at any moment, Alexander-Arnold managed to shrug off the obvious pain and play the full 90 minutes.

He didn't realise the full extent of the injury which turned out to be a knee ligament Issue which saw him on the sidelines for the next few weeks.

"It was probably the adrenaline that got me through but after the game the pain got worse and I had to go for a scan."

Tomorrow, Alexander-Arnold will come face to face with his nemesis from that clash 11 months ago in Rashford.

The pair are close mates courtesy of time spent together in the English set-up, a far cry from times past when club rivalries were in the forefront of the Liverpool and Man United players' minds when it came to international football.

The 20 year-old is a big fan of Rashford's game.

"He is a fantastic player and someone who has got bags of potential. 

"If he is not a world-class player now, then he is someone who can definitely reach that level. I think he's going to be a really special player."
 
However, Alexander-Arnold has put the friendship well and truly to one side for this contest.

"There will definitely not be any texts before the game. 

"You focus on your job and on the day there will be no smiles. We will go into battle with them and hopefully come out on top.

It has been a remarkable two years for the youngster and in that time, he has achieved things that other players have struggled to do in a whole career.

Tomorrow shapes as another important step in Trent's development as a player, and hopefully he can put those bad memories well and truly to bed with a starring performance.