Last week, Adrian was signed by Liverpool as a free agent after being released by West Ham in the summer. There was little fanfare as it was expected that the experienced goalkeeper would be a rarely used back-up to Alisson.

Just over seven days later, the Spaniard was the pride of the red side of Merseyside after saving the penalty which saw the Reds claim their fourth UEFA Super Cup after a thrilling win against Chelsea.

The contest against the reigning Europa League winners was an entertaining one with scores locked at 1-1 after 90 minutes and spot kicks were required after the extra time period.

Oliver Giroud had put the Blues in front just past the half-hour mark, but Sadio Mane restored parity in the early stages of the second half.

Mane then grabbed a double with a sublime finish to put the Champions League winners in front for the first time, but just over five minutes later Adrian was adjudged to have fouled young striker Tammy Abraham.

VAR then had a look and went with the on-field decision.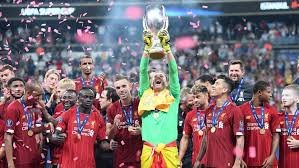 Speaking after the contest, Adrian was honest about his verdict of the incident.

Liverpool Echo (via BT Sport) reported the hero gloveman as saying.

"To be fair I tried to stop. The attacker was intelligent. He was looking for that. I think I touched him and he touched me. It doesn't matter."

When it came to the shootout, neither Adrian or his counterpart Kepa could barely lay a glove on the first nine penalties.

But the decisive moment came when Abraham stepped up to the mark and the Spaniard was able to save his shot with his outstretched legs.

You could excuse the veteran from pinching himself to make sure this was not just a dream.

The charismatic keeper said it had been a week he would not forget in a hurry which culminated with his heroic performance.

"Welcome to Liverpool! It was a crazy week but with [my teammates] it's so easy playing at the back.

"I'm really happy for the team to get the trophy. 

"I'm really happy to play for Liverpool and really happy for the fans because they enjoyed tonight.
"It was a long game but at the end it was a great finish for us.

Whatever he does for the rest of his time at the Reds, Adrian has made a contribution that will not be forgotten by those involved in what was another memorable evening in Istanbul.