After winning the league in 1987 Howard Kendall left Everton to take over at Athletic Bilbao. He managed to get another dig in at Heysel, saying he had to leave as he wanted a crack at winning the European Cup. His continental sojourn lasted just two years and he was sacked after finishing seventh in 1989, returning to England to take over at Man City.
In his absence Colin Harvey had been promoted from assistant to manager at Goodison but he couldn't build on the title success of 1987. That was Heysel's fault though. In 1989 he did lead them to two cup finals but they were beaten in both, 4-3 by Forest in the Simod Cup and 3-2 by Liverpool in the FA Cup. This meant that Everton had become the first team in history to lose two Wembley cup finals in the same season. 
Fans patience was now wearing thin and en route to the Simod final, Everton attracted just 3,703 to Goodison for a game against Millwall, their lowest post war attendance.  Harvey lasted just one more year before being sacked with Kendall returning, coming up with the famous quote of Everton being a marriage whilst City was a love affair. 
The first thing he did was make sure Everton were bonded to the Simod Cup, by now renamed the Zenith Data Systems Cup. Again they reached the final and this time they were humiliated 4-1 by Crystal Palace. This much maligned competition lasted just seven years and Everton were the only team to take it seriously enough to reach the final twice.
By now Everton were eligible to compete in Europe again, if they qualified. But they never finished high up in the league enough so could never prove how wronged they were by Heysel. That was our fault though. 
Kendall took Everton on a slippery slope downwards and the clubs finances began to tumble as he wasted money on shite like Maurice Johnston and Preki. Midway through 1993-4 Kendall asked for funds to buy Dion Dublin and was refused, leading to him resigning.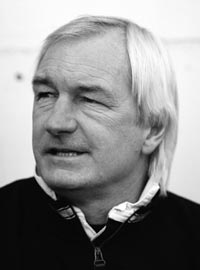 So nearly a Liverpool Legend.  
Damn that Hans Segers!
Mike Walker came in from Norwich and took them to the brink of relegation in spectacular fashion. A run of just 4 wins in 22 games meant they were in the bottom 3 on the last day of the season. They went 2-0 down to Wimbledon and looked doomed, then keeper Hans Segers remembered his little consortium with Fashanu and Grobbelaar and the Blues escaped.
Things got no better in 1994-5 when they failed to win any of their first twelve games. Walker was inevitably sacked and Fat Head Royle appointed. His dogs of war dug then out of the mire and unbelievably they won the FA Cup, beating the Mancs 1-0 in the final, much to the delight of most Reds I might add. 
1995-6 saw their one foray into Europe since the Heysel ban and it ended as soon as it begun They squeezed past KR Reykjavik 6-3 on aggregate before losing 1-0 to Feyenoord. Their defence of the FA Cup began with a 2-2 home draw with Stockport but they scraped through the replay 3-2. They went out in the next round however, 2-1 at Port Vale. 
There was League Cup humiliation as well as Millwall knocked them out, one of a number of embarrassing exits in the competition during the last ten years. 
1995-6 had seen a rare season in the mid table comfort zone when they finished sixth but normality was restored in 1996-7 and they were sixth bottom with Royle being sacked. The Fathead blamed the Echo for his dismissal rather than results and the board promised a world class manager. Arigo Sacchi was mentioned, as was Bobby Robson, but in the end they got Kendall for a third time. 
The whole farce was overseen by chairman Peter Johnson, a one time Liverpool season ticket holder who was doing a great job of blasting Everton into oblivion.   Evertonians tried to put a brave face on Kendall's reappointment but the man recently sacked by Notts County didn't have a clue how to run a team in the new era of the Premier League and player power. 
 Secret Agent Johnson - What a guy!
1997-8 was a disaster and they went into the last game of the season knowing it was either them or Bolton who'd go down. A 1-1 draw with Coventry kept them up on goal difference but if video evidence was allowed they'd have been relegated. Earlier in the season they drew 0-0 with Bolton at the Reebok and television replays clearly showed a Bolton header had gone over the line but the referee had failed to see it.
Despite all these scrapes with relegation, Evertonians weren't too fussed as Liverpool were failing to win the league and they were usually avoiding defeat in their two cup finals every season. But the arrival of Gerard Houllier changed all that. In April 1999 at Anfield Liverpool ended a five year derby famine with a 3-2 win and bitter Evertonians reported Robbie Fowler to police for goading them with a line sniffing celebration.
By now Walter Smith was in charge and although a decent bloke who never stooped to the levels of his fans by trading insults with Liverpool, he couldn't find the winning formula as he had in Scotland. They didn't even have the pleasure of beating us in derbies and in April 2001 both teams squared up at Goodison requiring points for different reasons. 
Everton seemed to have secured a vital point in the relegation fight and dented our Champions League hopes till one Gary McAllister took a free kick from 44 yards. They couldn't even have the consolation of being second best in Merseyside, as three months earlier they had been humiliated 3-0 at home by Tranmere in the FA Cup.
Smith managed to cling onto his job after the Tranmere defeat but a year later he finally got the chop as the Blues stared down the barrel of relegation once more. David Moyes came in and performed yet another Houdini Act as a young sex crazy pie eater from Croxteth called Wayne Rooney burst onto the scene and helped Everton to the FA Youth Cup final. 
During that Youth Cup run he donned a t shirt that said "once a blue always a blue", which made Bill Kenwright (Red Johnnos successor) cry. Never one to keep peoples feet on the ground Kenwright heaped the pressure on Rooney by making sign his first professional contract on the pitch before a Premiership game. 
Rooney then hit the national headlines when he scored his first league goal in the last minute of a game against Arsenal, ending a long unbeaten run for the Gunners. Every hope was pinned on him and Everton reached the dizzy heights of top four at Christmas. Even as late as Easter they had hopes of the Champions League, but a great strike by Danny Murphy gave Liverpool a third straight win at Goodison and put them out the running. 
They finished off failing to even qualify for the UEFA Cup, but had the consolation of seeing Manchester United being presented with the Premiership trophy at Goodison Park.
Since then it's been downhill and in 2003-4 Everton finished in 17th place with their lowest ever points total. Only the total ineptness of Leicester, Leeds and Wolves kept them up. Rooney then did cartwheels in Euro 2004 and realised it wouldn't be much fun always being a Blue and put in a transfer request, despite still being only 18. 
Their fans took it with usual good grace and hurled a barrage of insults at him during a home game with West Brom, referring to his youth cup t shirt. However, subsequent revelations about his antics with prostitutes may suggest they just misunderstood what he meant by blue. Rooney's replacement was Marcus Bent, who is unlikely to sell them many replica shirts. The future isn't too bright for the Blues but as for them going down, there is sadly too much shite coming up from the Championship for that to happen just yet.