After storming to the title in 1969-70 as Liverpool's great 60s side broke up there was a golden chance for the Blues to steal a march on the Reds as we went into the 1970s. But by the end of 1970-1 they had blown it in spectacular fashion and a young Liverpool team were Merseyside's top dogs again.

Everton's defence of the title began very badly when they failed to win the first six games. But they had begun to pick up by the time the Anfield derby came around in November and they were clear favourites as many of Liverpool's side were derby debutants. This showed and it wasn't a surprise when Everton took a 2-0 lead early in the second half. However the Reds staged a storming fightback with Toshack and Heighway both scoring on their derby debuts before veteran Lawler hit a late winner.

Liverpool went on to finish a respectable fifth in the league while Everton were well down the table in fourteenth.
There was no consolation for Everton in the cups that season. In the European Cup they were knocked out in the quarter finals by Panathinaikos, getting their comeuppance for some atrocious behaviour in the second round against Borussia Monchengladbach. This had occurred when the German keeper removed some toilet paper from his area, but Howard Kendall showed a complete lack of sportsmanship to sneak in and score.

A few days after going out to the Greeks there was a chance to salvage something in the FA Cup semi final against Liverpool. Everton were given a clear advantage when the Reds Fairs Cup tie in Munich was postponed and had to be replayed on the Thursday, less than 48 hours before the FA Cup game. But despite leading 1-0 at half time they capitulated in the second half when Liverpool threw everything at them to record a famous 2-1 win, with goalkeeper Andy Rankin gifting us a goal.

Everton then had the indignity of having to play a third place play off the night before the final, after the FA had had come up with yet another hair brained scheme.

The disappointments of 1970-1 continued into 1971-2 when Everton's football reflected Harry Catterick's non existent personality. They won just nine games all season and drew an amazing eighteen. They failed to find the net on nineteen occasions and finished the season with just 37 goals, a statistic that would have been far worse had it not been for an 8-0 win over Southampton. After Sandy Brown's hilarious own goal in 1969-70 there was more to come when two players found their own net in the Anfield derby, which Liverpool won 4-0.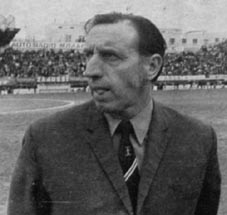 The 'Undertaker like' Harry Catterick

Things got worse in 1972-3 when Everton flirted with relegation till Easter. Despite having four years left on his contract, the board decided enough was enough and moved Catterick upstairs, with Billy Bingham taking over as team manager. Things weren't helped for them by the fact Shankly had moulded another great side at Anfield that were crowned champions. Liverpool had taken a huge step towards the title at Goodison in March, when Emlyn Hughes scored twice to record a 2-0 win.

As the Reds geared up for an assault on the European Cup in 1973-4, Everton competed in the Texaco Cup, where they lost 1-0 to Hearts. In 1974-5 the Blues put in an unexpected title challenge, taking advantage of Liverpool's regrouping under new manager Bob Paisley. With five games remaining they were top of the league but fell at the final hurdle to finish fourth.

Conference side Carlisle were relegated from the 1st division that year but still managed to beat the Blues twice, 3-0 at Brunton Park and 3-2 at Goodison (after trailing 2-0). In the FA Cup there was an embarrassing home 1-1 draw against non league Altrincham. Luckily for Everton the Northern Premier League outfit chose to switch the replay from their compact Moss Lane ground to Maine Road, where the Blues ran out 2-0 winners. The next season Everton fell back into their usual mid table position as Liverpool completed a league and UEFA Cup double.

In 1976-7 they pushed the panic button as the Reds marched towards another league title as well as the FA and European Cup finals. Everton sacked Bingham and replaced him with Gordon Lee, who led them to a first ever League Cup final appearance. In their match programme for the derby, one fan ridiculously said they were setting a precedent, becoming the first Merseyside team to reach the final of this competition.

The final against Aston Villa ended in a 0-0 draw and in the replay Roger Kenyon scored an own goal, becoming the first player to do so in a League Cup final. This ended in a draw too and they eventually lost 3-2 at Old Trafford at the third time of asking.

In the FA Cup they reached the semi final where they lost 3-0 in a replay to Liverpool, but Blues continue to protest that Clive Thomas disallowed a goal in the first game and that everything that has gone wrong since is because of that.

Lee restored some respectability to Everton's league form as they finished third in 1977-78 and fourth in 1978-79. But there was still no upstaging Liverpool, who were European champions in 1978 and league champions in 1979 with a record points haul. Then things went pear shaped in 1979-80 when Everton finished nineteenth, just a place above relegation. A slight improvement in 1980-81 saw them finish fifteenth before Lee was finally sacked and Howard Kendall appointed as player manager.

Without doing anything spectacular Kendall took Everton to eighth in 1981-82 and seventh in 1982-3. But Liverpool kept on winning the league and the Blues couldn't even take comfort from the derby games. The Reds won both encounters in 1981-2 and in November 1982 thrashed Everton 5-0 at Goodison, Ian Rush scoring four.

In 1983-4 Everton sank back into the lower half of the table and there were calls for Kendall's head as crowds sunk to 13,000. On 18th January they were trailing 1-0 to Oxford in a League Cup fifth round tie and defeat would almost certainly mean the end for Kendall. Then an underhit back pass was intercepted by Adrian Heath and a humiliating defeat was avoided.

They won the replay 4-1 and made it to the final, where they faced Liverpool. They lost in a replay but tried to claim the moral high ground as they felt they should have been awarded a penalty due to an Alan Hansen handball.

Buoyed by the League Cup run, Everton took advantage of some extremely fortunate draws to reach the FA Cup final, although they still needed three attempts to get past Gillingham in the fourth round. Further wins over Shrewsbury, Notts County and Southampton set up a clash with Watford at Wembley. Elton John's team were there for the day out and nothing else and Everton comfortably won 2-0, the second goal coming when Andy Gray headed the ball out of the keeper's hands.

1984-85 was Everton's most successful season ever when they won the league and European Cup Winners Cup, but they were still aided by circumstances. Liverpool were reeling by the departure of Souness and a serious injury to Rush early on in the season, meaning they won the title with no real competition.

In the Cup Winners Cup they faced a team of Irish students, an unknown Slovakian side as well as a Dutch side who had only qualified due to Feyenoord doing the Double. Bayern Munich provided the only real opposition before Rapid Vienna rolled over for them in the final.

A treble was on the cards that season too as they made it to the FA Cup final, but despite the first cup final sending off, they still couldn't overcome Man United's 10 men.

The League Cup posed problems too. After knocking Man United out at Old Trafford, they faced the relatively simple task of beating Grimsby. But they couldn't even manage this as they lost 1-0 at Goodison.

The Heysel Disaster denied Everton the chance to have a crack at the European Cup and Blues will tell you that this is even more responsible than Clive Thomas for everything that has happened since. However in 1985-86 they led Liverpool by eight points at the top of the league in February, when they won 2-0 at Anfield. But they still couldn't hold on and a late surge by the Reds meant Everton had to settle for second place.  

There was still a chance to salvage some pride in the FA Cup and in an all Merseyside final Lineker gave them a 1-0 half time lead. The Reds were in total disarray, with Grobbelaar and Beglin coming close to blows at one point. Then two goals from Rush and one from Johnston gave Liverpool the Double.

Despite Heysel supposedly condemning Everton to eternal shiteness they still won the league two years after it happened. Liverpool were comfortably placed in March then lost four on the bounce, allowing Everton to pinch the title. They still complained though that the trophy on offer from the sponsors Today Newspaper wasn't big enough.