The below re-enactment has played out all too many times over the years for the Reds.
'A mistake by Dejan Lovren consigned Liverpool to a 2-1 defeat against (insert team name) at the (insert venue).'
'However in this same match, Roberto Firmino, Philippe Coutinho and Mo Salah missed a hatful of chances between them enough to win three games.
So what is the bigger headline and additionally what frustrates a fan more; the error prone defender making another mistake, or the star attacking players whose job it is to put the ball in the back of the net being wasteful in front of goal?
After all they both equate to the same thing don't they?
In reality the answer is no, as the reputation of the individual has a fair bit to do with it.
Coutinho, Firmino and Salah have won a fair few games in their time at the Reds, so they have a lot of credits in the bank.
While to be honest, it has been more miss than hit for the Croatian, and he has a couple of other teammates in the same boat in Simon Mignolet and Alberto Moreno.
When discussing the trio with fellow fans, you don't get a sign of optimism that they have a next level to go to.
When they actually produce an impressive performance, you then get the reaction of 'well that was what he is supposed to do anyway.'
Don't get me wrong, I've had many moments of angst with each of them, but I personally have a great level of intrigue to see if they can win a level of trust in the overall mind of the supporters.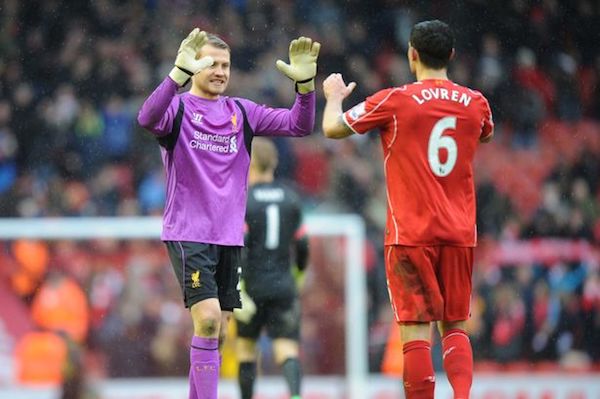 Now, this is not just a Liverpool thing either, every club would have a player or two that drives supporters to despair, but that is one of the glorious things about this great game. You go through a level of emotions, just like you would with matters in everyday life.
Hypothetically speaking, just imagine that this trio were able to strike a sustained run of good form.
Lovren marshalling the back four with aplomb, winning every aerial ball and showing the footballing world that he can handle the pressure of playing for a big club once and for all.
Mignolet managing to command his area with a great deal of authority, giving confidence to his back four in the process.
And Moreno growing in his defensive nous and cutting out the silly areas which has plagued his game.
A bit of a crazy theory you may think?
However, it would be absolutely fascinating to see the reaction to this kind of upturn in form.
Would they be finally appreciated and accepted, or will they forever be thought of as being one mistake away from reverting to bad habits?
In this regard, we actually have seen a case study with Moreno this season
The Spaniard was winning back a deal of faith after some encouraging performances early in the season, seeing off competition from new signing Andy Robertson in the process, as well as being called up by his national side after a long absence.
However it only took one bad half against his old club Sevilla in the Champions League, for the scepticism to return in spades, leading us to question whether what we had witnessed beforehand was too good to be true.
It led Jurgen Klopp to say "He's not the player to blame. I am 100% responsible. I told him I still trust him 100%."
While it might seem frustrating for those who want to see the trio dispatched for good, the German manager should be commended in his loyalty to these individuals as it would be very easy to cast them aside as they have been repeat offenders.
He has looked to give them confidence with his actions and words and make them the best players they can be.
In the modern age, footballers have a fair bit more to deal with than what might be said by members of the crowd on matchdays, as the various social media platforms can have a sinister undertone.
The interaction between players and fans can be a positive thing when it is good natured banter, but when it turns highly personal like what happened to Lovren after the Tottenham defeat when his family were threatened, then that is a completely different story altogether.
You get a sense that the unsavoury abuse and unflattering column inches that some of the squad get strengthens Klopp's resolve towards them.
He takes the role of a 'protective parent,' and one of his quotes stands out when he said ''people don't become a better or a worse person through making a mistake in a football game.''
It raises a great point, as there can't be a comparison made between the footballer and the individual.
In terms of correcting faults in a football sense, it certainly is up to the individual to take it upon themselves to improve and if they consistently neglect their weaknesses it is certainly time they get moved on.
I think it would be wrong to assume that fans do not want certain players to perform well even if they personally do not like or have a level of distrust in their performances.
It has to be said that they deserve to be wholeheartedly praised for their good games just as they should be called to account for their bad performances.
However, you suspect that these three players have a long, long way to go to win the hearts and trust of the greater supporter base.
If they do what is asked of consistently and stick to the basics, then that is a major step in the right direction.
Anything else will be one hell of a bonus.
Jason Harris
@JayHarry80