We are Liverpool. This means more. When the club rolled out its latest marketing slogan to accompany the yearly jersey refresh, I cringed a bit. 'People are going to have a field day with that,' I thought. Nobody does self-reverence like the Reds and, even from the inside looking out, it can be a bit much.
For me, it's like Ric Flair, to this day, walking around saying: "To be The Man, you gotta beat The Man." Well, like Flair, we've had our moments, but we haven't been The Man in about 30 years. 
This means more? Tell that to fans of clubs around the nation for whom very little means more than a crest on a jersey. Sure, they may not have our story – our highest highs and our most desperate lows – but it's friends, it's family, it's work, it's play, it's life. Just like us. No more, no less. 
Which brings us to Palace on Saturday. This is the type of game Kopites have often had to gee ourselves up for, knowing there's little at stake beyond the best-loser award that clears a path to European riches and maybe some new signings. Those games where short-sleeved August optimism has long been replaced by the cold, dark realisation that another year in the trenches beckons. Not this year though.
I've been away for a couple of months, but the anticipation before going into the ground and the nervous energy before kick off and throughout the first half just felt different. Speaking to a mate at half time, neither of us could really get the words out. The clouds had descended; logic and trust had been abandoned. No-way we were getting two in 45 minutes. We'd seen this movie before, dozens of times.
I'm not sure I've celebrated an equaliser that wildly since Xabi slotted the rebound in Istanbul. The sense of relief was tangible, building from the initial cheer into a visceral roar – part joy, part excitement, part acknowledgement that things really could be different this time.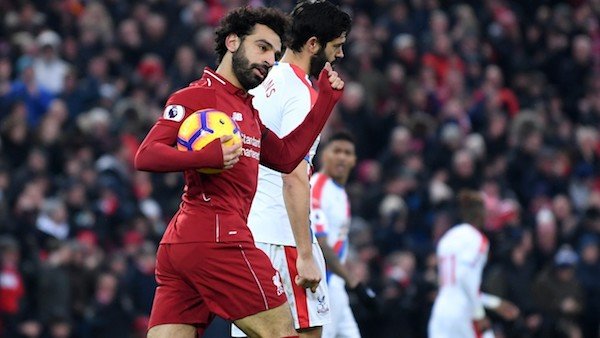 Five minutes later, all bets were off. The belief we'd prematurely abandoned had been fully restored; not over 45 minutes, but in eight. 4-3 at the final whistle. Palace at home in January and we're living and dying on every rotation of the ball. This clearly means more than it has. 
Anfield's a really different place these days isn't it? And I suppose a lot of that is down to Klopp. Not getting to the games as often as you'd like, you notice micro changes on a macro scale. Something that's been building over months is so much more apparent when you've been away for it.
The place is undeniably a fortress again. It's intimidating, it's loud, and it's raucous and it's one. Social media and that fella literally bouncing around Europe with the acoustic guitar helps, but there's more enthusiasm for creating new songs as I can remember and everyone knows the words to them. 
I'm also struggling to recall us having a team where everyone was so damn likeable. There isn't a single member of that squad who seems like he isn't a great lad and, again, that's down to Klopp and the characteristics he looks for in a player. I love them all (even Lovren) and haven't felt this connected to the team since GH and the boys were swaying in front of us, arm in arm at Dortmund's Westfalenstadion in 2001 – seven years before Klopp turned up there and changed everything too. 
Look, there have been title chases before. Those aren't new. People will mention 1997, 2002, 2009 and 2014, which prefaced everything immediately falling apart thereafter. Perhaps as a direct result – none of those felt the way it does today; six whole days before our next game at home to Leicester.
It's become difficult to focus on anything else between games now. The wait between City away and Brighton was agonising. I even surprised myself with the vociferous scream when Mo's pen hit the net. Every game's going to be like that now: Anticipation, crippling anxiety and maybe even a few moments of enjoyment along the way. Another 15 like Palace and Brighton await… each meaning more than the last.
13/14 was different. It was a self-professed "dream" none of us saw coming, rather than an expectation. A wild ride that soared and crashed in such an unspeakably cruel manner I'd resigned myself to that being our lot in life. 
Today, there's both determination and an expectation that we can finally shed this almighty burden, along with the ghosts of 'The Slip' and '4th Place in a Two Horse Race.' Forget the romantic notions. I'm not daring to dream, I'm just desperate to get it done. And if it happens everything before will have been worth it.
So yeah, the club wasn't far off with that slogan after all. Just not in the way it intended. We are Liverpool. This means more.
Chris Smith