I obtained a season ticket when the old Kemlyn Road was redeveloped into the Centenary Stand in 1992, just as Souey's reign was embarking. As Liverpool FC had dominated English football in the 70s & 80s we saw nothing on the horizon that was going to change that. Leeds, Forest & Everton had tried and ultimately failed. Arsenal were the new pretenders. Little did we know as to what was to come. 

King Kenny had taken over following that fateful night in Heysel but domestic success continued. However, a second tragedy for the club with the awful events at Hillsborough took its toll on our manager and by 1991 he needed to put himself and his family first, so sadly, and unexpectedly, he stepped down. 

Old teammate Graeme Souness was seen as the man to continue the success. But a succession of poor buys in the transfer market, bust ups with old teammates, poor results and an ill thought out exclusive regarding his heart op in the S** saw his tenure come to an end! 

So it was that Liverpool turned to old faithful and one of the backroom boys, Roy Evans, to turn back the clock and bring back the good times!
Unfortunately kindly Roy was seen more as a 'father figure' rather than a boss who could rein in the 'Spice Boy' culture that the club had garnished. With just one League Cup to his name and results inconsistent as well as performances and United setting the standard, the club made the unprecedented decision to have joint managers. Gerard Houllier was brought in to co-manage.
Anybody in football that knows anything about the game will state joint managers don't work. It didn't. It was going to end in tears and the loyal, faithful Evans was the one to lose out leaving Gerard in sole charge. 

Houllier was a different beast to Evans with a very different ideology. He was determined to drag Liverpool into the 2000s and a new era beckoned. An array of new signings came in with a very different backroom staff and set up. There was a new way of looking at things. An organisation, a system, a structure, which included diets and fitness regimes.
Foreign players were brought in from a very different culture. They had been brought up in a system used to looking after their bodies, going out for meals with friends and families rather than the British drinking culture. The days of the Spice Boys was over.
Liverpool lined up for games with a presence and a menace. Commentators noted the height in the team as players like Hyypia, Babbel, Zeige, and Hamann dominated the skyline. Owen, Murphy, Fowler and Smicer stood out due to their lack of height. Liverpool's 'Achilles Heel' of defending corners was being addressed with the presence of Kingpin Sami.
Houllier set up a team hard to break down but with the pace of Owen, the muscle and talent of the emerging Gerrard and their dominant height at corners and free kicks. They had a game plan. Game plan A. But only A. Each player knew their job, their specific role. A new Liverpool was dawning. 

It led to uncharted waters as Houllier's Reds claimed a Cup treble in 2001. Birmingham, Arsenal and Alaves were put to the sword. A 'Mickey Mouse treble' claimed Utd fans, but with the Charity Shield and Super Cup being added, surely the good times were back? 
As fate would have it, they weren't! Gerard only added a League Cup win against Utd in 2003 to his impressive early haul. Younger Red fans not familiar with the 70s and 80s dominance had now tasted proper success for the first time. And they were desperate for more. But the Gods were against them as Houllier fell ill at the game with Leeds and emergency heart surgery was required to save his life.
After five months away convalescing Gerard returned much to the fans delight vs Fabio Capello's Roma. The Reds won. All seemed rosy again and surely everything was back on track? 

Unfortunately many inside the club and game felt Houllier was never the same after his operation and near death experience. Maybe he had come back to soon as his passion for the club and his love of the game meant he literally let his heart rule his head.
A succession of poor buys that failed to light the blue touch paper after the promise that they were the next big thing, and failure to land the one prize the fans wanted the most led ultimately to Gerard's time in the dugout coming to an end. His love affair with the club and the fans was over and a new era with Rafa Benitez at the helm beckoned. 

Rafa somehow magically took what was left of Gerard's mismatched signings and led the Reds to an unexpected and unbelievable fifth European Cup. Was he now the saviour the Reds had been waiting for? Despite a Cup success the following year in yet another thrilling final and assembling Liverpool's best team in nearly two decades, Rafa himself failed to prise the one trophy we wanted from the hands of Utd, Arsenal and now Chelsea. He therefore suffered the same fate as his predecessor.
Unfortunately for the Reds fans the sale of the club to two unscrupulous conmen meant that not only did the club nearly go into non-existence, but led to a number of high profile departures and poor signings. The good work and foundations laid by Houllier and then Benitez were now being undone by the appointment of Roy Hodgson and an ill advised prolonged stay by the returning King.
Signing after signing failed, with only the odd gem like Suarez and Henderson unearthed. Liverpool seemed to be going backwards again. Brendan Rodgers, an up and coming manager was given his shot, but like his predecessors, he ultimately failed when it came down to the wire. With his dismissal Liverpool finally made what was their boldest managerial move since Houllier with the appointment of the much coveted Jurgen Klopp - United fans first choice to replace the outgoing Alex Ferguson. The rest they say, is history! 
 
So why was Houllier so important some may ask? Liverpool truly broke with tradition with his appointment. Souness may have literally dismantled the Bootroom, but Gerard actually ushered in a brand new era and laid the foundations for a new way of thinking for the club. We had finally moved with the times and now had the mentality of European teams with how the players were looked after regarding fitness and diets.
Appointments from within were now a thing of the past. Discipline and structure, seen as European and foreign ideologies were now at the forefront. Houllier may have ultimately failed in bringing the fans the Holy Grail, but he brought new, young fans their first taste of success. He brought a mix of local & homegrown talent together with experienced European heads. He gave Rafa, even if it was somewhat disjointed by the time he went through the exit door, a basis and structure to build upon. And though Liverpool nearly pushed the self-destruct button after Rafa's exit, they were ultimately and eventually able to appoint a foreign manager to bring them the success the fans craved. 

At the time the Cup Treble was not recognised with much significance outside of the club, though 99 other clubs that year would desperately have taken it with both hands and swapped places with us. But now, looking back after Gerard's sudden and premature demise, it can be seen as the first small important steps in a long slow journey back to where we belong. 

Thank you Gerard for everything you gave us:
 
Your passion. 
Your kindness. 
Your knowledge of the game. 
Your smile. 
And nearly, your life. 
The memories.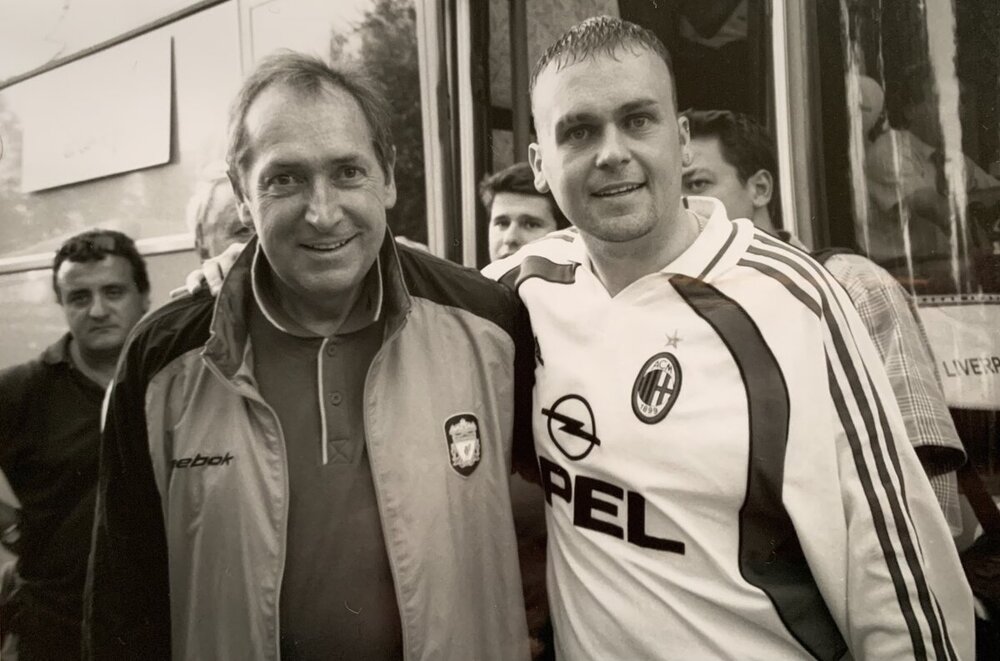 You will never be forgotten by the fans or the footballing world. You are alongside the clubs many legends and we the fans will be forever grateful to you for your efforts and love towards us. RIP Boss. You Will Never Walk Alone. 

 
Ian Evans