So Luis Suarez v Mohamed Salah didn't happen then. Poor Mo still hadn't recovered from his MMA stoppage loss to Sergio Ramos in Kiev, while Suarez may as well have been sat on the bench next to him for all the use he was to Uruguay on the day. 
It would have been interesting to see the Reds current superstar go head to head with the last man to hold that title, but sadly it was not to be. It did get me thinking though. Who's better - peak Suarez or current Salah? It's a tough one. I didn't believe I'd ever see anyone else who would come close to Suarez; certainly not so soon anyway. Yet here we are. 
What Salah did this season compares favourably with anything we've ever seen before. In terms of an individual campaign what Mo did this year is up there with prime John Barnes in the late 80s, Ian Rush's 47 goal haul in 1983 and yes, Suarez in 2013/14. 
Had we won the Champions League it would probably stand out as the single greatest individual season we've had. It still might be, it just doesn't feel like it given how it ended. 
44 goals from someone who isn't a centre forward is ridiculous though. There's only really Lionel Messi who can put up those kind of numbers from a non-central position. Salah was truly amazing this season, not just in the number of goals but the manner of them. 
The dribble against Spurs, the curler against Roma, the juggle in Porto, the postage stamp against Everton and that one against Watford when he left all ten outfield players, the coach, the kit man and Elton John on the seat of their pants before rolling it into the corner. All amazing, memorable moments.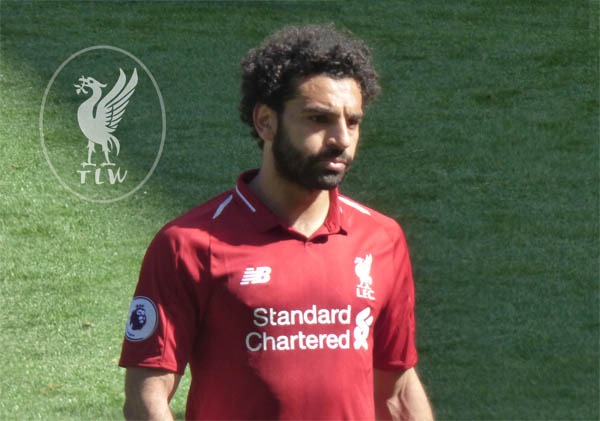 Suarez never managed to reach the 40 goal mark at Anfield, although in his best season he did hit 31 league goals. Had Suarez been playing in Europe that year he may have been somewhere around the same mark that Salah bagged this year, but probably not as Brendan Rodgers' track record in Europe doesn't exactly compare favourably to Jurgen Klopp's.
 
Suarez led us into the Champions League but didn't stick around to play in it. That resulted in the mother of all hangovers. Missing out on the title, Suarez leaving and then his replacement being Mario frigging Balotelli. It was a triple whammy. You don't recover from that easily. 
I took it really badly. I avoided watching him play for Barca for at least 12 months, maybe even longer. I didn't need a reminder of what we had lost, especially given the clown we'd brought in to replace him. Depeche Mode would come on the radio and I'd switch it off. An Adele song would come on and I'd leave it on. What can I say, her words resonated with me at the time. That's the dark place I was in. 
I was in that place for a long time too. Basically until Klopp arrived. I'm sure many of you reading this were in the same boat. Maybe not the Adele stuff, but the rest of it. It was tough getting over Luis. 
The club itself couldn't let go either. All those desperate sounding interviews they ran with him about how he'll always have a special place in his heart for us, he'd never play for another English club and blah blah blah 
Some fans clung to it like a lifebelt, for me it just made me bitter and resentful - shut up Suarez, we don't want your pity and insincere platitudes. 
Liverpool though, they seemed to need it. They wanted to "still be friends" and for the split to be amicable. He even featured in a "Why I love Liverpool" documentary on LFCTV. Spare me, please. 
It may have taken a while but we're all 'over' Suarez now, aren't we? Maybe there's still a few out there pining for him, but most of us have finally moved on and Salah is a big reason for that. There's a new sherif in town, with a cute little smile and a curly head of hair you just want to ruffle. 
There's still the odd moment when we might wonder "imagine how great Suarez would be in this team" but for the most part he is a distant memory and we're more than happy with what we have now. The Kop even chanted last season "if we still had Suarez, he'd be on the bench". Not true of course, but the fact we can joke about it now speaks volumes. 
In a list of our greatest ever players Suarez wouldn't even make the top ten because he doesn't have the longevity of legends like Steven Gerrard, John Barnes, the King, Alan Hansen and others. In terms of who is the best player I've seen at Liverpool though, he gets my vote. 
A bold statement I know, and probably an unpopular one with many of you, but he played at a level very few have come close to and what he's gone on to do since he left confirmed his standing as one of the all time greats. Even on his 'bad' days he'd still do something to get you out of your seat. His ability, his tenacity and his will to win were just on another level. 
I didn't think we'd ever get anyone as good as Suarez again, yet we now have another genuine superstar in our ranks only a few years later. It might be a stretch to claim Salah is better, especially as the pair are so different to each other in style and personality, but it wouldn't be completely over the top either. It's certainly worthy of discussion. 
Salah has a better supporting cast and a better manager than Suarez had when he was here. That's not to say Suarez didn't have quality around him, just that the current team has more. It's natural to wonder how peak Suarez would have fared in this current set up, or how the current Salah would have done in the 2014 team, but the truth is there's no way of knowing. 
My gut feeling is that Suarez would smash the 50 goal barrier in this team but it's impossible to tell because the whole dynamic of the side would change. Suarez might not gel with Salah and Sadio Mané in the way Bobby Firmino has, so it's all hypothetical. Salah would have done well in the 2014 side but I suspect he'd struggle to even reach half as many goals as he got this year. 
Salah doesn't bring any of the "baggage" that Suarez did and he's less likely to break our hearts. He still might of course, it would be naive to think he'll stay here forever while forsaking all others, but if he did go he'd let us down a lot more gently than Suarez did and I'm fairly certain we never have to worry about him trying to force through a move to fucking Arsenal. ARSENAL??? 
I'd like to think Suarez looks back on that with shame and asks himself "what the hell was I thinking?". He probably doesn't though as footballers tend to not think the same way fans do. Besides, on a list of "what the hell was I thinking" moments, Luis has plenty to choose from. 
Numerically, Salah has the edge and he's also appreciated and liked far more by the general football public too. Suarez was hated by everyone else, with good reason, but then that made us love him more. He was a villain but he was our villain. In comparison, Mo is a saint. Usually I'd find that irritating, but he's just such a genuine, lovely fella it's impossible not to love him 
But in answer who is better; sorry, but it's 2014 Suarez. I wish it wasn't, but it is. For now anyway. Hopefully we'll revisit this in 12 months and it will be a different answer.
Dave Usher
@theliverpoolway