This Saturday sees top play bottom as the Reds make the trip to East Anglia to take on Norwich City. Despite their current position on the table, the Canaries have held their own against some of the big hitters in the division.
Video producer for Total Football NR @ben_ambrose23 gives a detailed rundown of their season to date and explains why Daniel Farke is still seen by the fans as the man to lead them up the table.
It has been six months since the two teams opened the Premier League season, so how have assessed your campaign and what has been the high and low point so far?
As crazy as it sounds, I have been genuinely impressed with Norwich this season. If you look at the table you'd naturally assume that I'd be slightly more negative, but for me to assess the campaign so far you have to look deeper than that. 

The performances of the pitch have, in the majority, been excellent from Norwich. You look at games such as Newcastle at home, Man City, Spurs, Chelsea, Wolves and a few more and our performances have been superb. We've played with confidence, created some free flowing attacking moves that are very easy on the eye and scored some fantastic goals. But sadly not enough, which I'm sure I'll speak about more later on.

Beating Manchester City at home has got to be the highest moment of the season for me. How could it not be? 

This was a Norwich City team plagued with injuries, most noticeably with only one fully fit centre back. But, very fittingly, Norwich showed no fear and took the game to a Manchester City side that had just dominated England for two seasons, and quite comfortably might I add. 

The game was the best atmosphere I've ever been a part of at Carrow Road. Norwich set-up to play on the counter, but with style, and they absolutely nailed the plan. Obviously there was some luck in Man City wasting a couple of decent chances, but it was a fantastic and deserved win.

For me, the lowest point was losing by a goal to nil away at Aston Villa.  The game came towards the climax of what was a really unlucky spell for Norwich where we would take the lead in games, but not see it out.

Of course, in that game we created some fantastic chances in the first half, some of which leaving me scratching my head as to how we didn't lead by three or four at the break; again, much like the games prior and a few following. 

Given where Villa were at the time, it made it hurt more as it was a sign that we couldn't even beat the teams around us.
 
Fans closely dissect decisions made by their manager on a game to game basis, so how would you view Daniel Farke's performance across this season and has he maintained the faith of the supporters?

If there's one thing 99% of City fans agree on, it's that we love Daniel Farke.

The guy has come into this club, and worked absolute wonders with his colleagues on and off the pitch. His style of football, for me, is the way every team should strive to play, consisting of being brave with the ball and playing through the opposition, rather than over.
 

That said, he's not immune to criticism, of which there's one piece I and a few others continue to give which is his substitutions.

For me, he leaves them too late. If you look at the context of some of our defeats this season you'll notice that we concede in similar periods within the second half, which has been costly this season.
To address this I think Daniel needs to be looking to make more proactive substitutes to prevent this from happening, rather than reactive subs in the 80th minute and sometimes even later.

You could argue it's because of a lack of depth due to our financial situation, as well as the injury crisis that I've already alluded to. But every manager is open to criticism.

Overall, Farke has our full support and will continue to for a very long time..

Can you talk about some of your players, which have greatly impressed the Canary fanbase in adapting to Premier League Football, and perhaps a couple who you need a lift from?
 
There's a handful of players that have impressed. 
You've got the likes of Emi Buendia, Teemu Pukki, Tim Krul, Ben Godfrey, Todd Cantwell and Max Aarons. 

I'll pick out Buendia & Pukki as the two for me, for the same reason. That being they're two fantastic footballing minds.
They might play in different positions, but the way they read the game is something that I haven't seen with my yellow glasses on for a while. Their movement on and off the ball is what has been fundamental to the scoring of goals both this season and last season. 

Buendia is definitely up there as one of the best dribblers in the league, when you see him with the ball at his feet you get the sense that the man is destined for greatness. It's almost crazy to think that he's still only 23 years old. If he could add finishing to his game a little more, he'd be one of the best attackers in the league.

Players who I think need a lift? That's a tough one. 
 
Onel Hernandez would be one, and also Marco Stiepermann.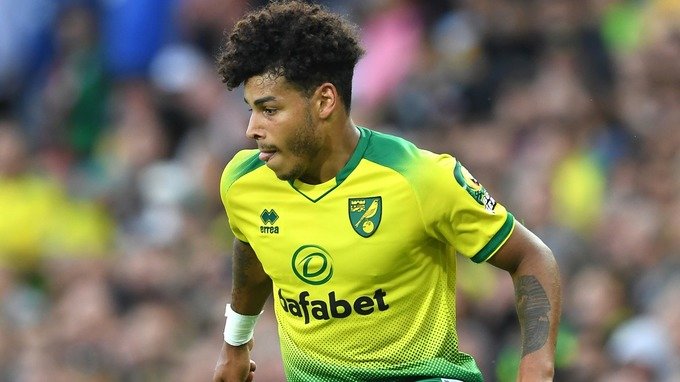 It's tough to say that as they're both players who were so important last season and two of my favourite players coming into this season. But that said, it's just not really worked out for them this season. 

Both play with little confidence, which shows on the pitch as they don't look to offer the team much at this point. However, it can be argued that neither have had a fair run in the team, as well as enough time to be able to adapt to what is the biggest step up in football.

Is there an opposition team that have impressed you more than anyone else this season and if so, what made them stand out?
Well, I could take the easy road and say you boys; that I shall not and will instead opt for Sheffield United.

Chris Wilder has done an unbelievable job and it's important to stress that it's no fluke either. For the past two or three years they've been knocking on the Premier League's door and they finally find themselves here and my God they are taking advantage of it.

Some of the business has been key this season, but it's worth noting that before the season started most would've called Wilder crazy for some of it! You look at £15m on Mousset, who'd never scored in the Premier League and Oli McBurnie who was bought for £22m after a decent season in the Championship. But they've proven to be decent signings.

Although, the most impressive aspect of their team has to be the players who've been kept in the team from the championship and done so well. John Fleck, Dean Henderson, Ollie Norwood, John Egan, George Baldock. 

It's a credit to both themselves and the manager for finding a way to, not only adapt, but to thrive in the Premier League and I genuinely wouldn't be surprised to see them finish in the top six by the end of the season.

Any promoted team will testify to how difficult life can be in the top league. So in saying that, how do you view the performance of Sheffield United and do you think they can be the template for teams coming from the Championship on a seemingly low budget compared to their rivals?
I wouldn't say Sheff Utd have a low budget, as they have splashed out on a few aforementioned names, but they're definitely a team to study and to learn from.

I'd look at the way they play instead, in that their speciality is not conceding which at any standard is vital; especially in the Premier League.

Wilder quite clearly focused on that in the season, which saw them promoted, and they are reaping the rewards of it now. They have a clear no-nonsense approach to defending, which is as simple as the fine balance between clearing the ball and playing your way out. It's as simple as that. 

It was then a matter of if they could add goals and with a few decent signings, they have.

Currently seven points from safety, is there a belief among your fans that Norwich can produce the great escape?
'The great escape' is a phrase ringing around Carrow Road both in the mouths of those with genuine belief and those who mock the idea.

Football is a funny old game and it would be naive to just write Norwich City off, despite no team ever coming back from this position before. Although it's worth mentioning back in the 04/05 season Norwich almost pulled off the unlikely in the PL until we got battered on the final day of the season at Craven Cottage.

However, given our consistent conceding of cheap goals I think it's fairly unlikely, although that said if we were to take a few more of our chances, which is easier said than done, then I couldn't see why we wouldn't have a good go.
What are the games left on your fixture list that you have earmarked as potential 'six pointers?
Every single game for the rest of the season is a must win, given our position. 

It's as simple as that.
 
While many would see this fixture as an insurmountable challenge for Norwich, it can also raise a team to inspirational heights. What you you like to see from your team and from those supporters wearing yellow and green colours inside Carrow Road on Saturday evening?
 
From the team, I would love to see bravery on the ball, much like we saw at Anfield, back when the sky was more blue than grey. 

From the fans, I'd like to see relentless support through a fantastic atmosphere. Of which is a given. Norwich's support at Carrow Road over the past two seasons has been the best it ever has. 

I genuinely believe we'll see another fine display from the fans in the ground, as well as a performance to match it on the pitch.

Best of luck to you guys for the rest of the season, you deserve everything that you're going to win this season.