This season TLW will give the readers a look into the opposition camp as we progress through what should be another thrilling season. The opening game against newly promoted Norwich on Friday night is the perfect launching point for this piece.

Connor Southwell (@cjsouthwell1902) and Anita Byrne (@anitajbyrne) from @NorwichCityMFW give an insightful viewpoint about what it means to be back in the Premier League, the impact of their impressive manager Daniel Farke and who their key players are to keep an eye on throughout the season. 


Before we look ahead, belated congratulations for your return to the Premier League. Can you talk our readers through what it means to be back in the top tier of English Football and perhaps a personal highlight or two from your outstanding Championship winning season?

CS: Thank you! The majority of the Canary nation would proclaim that the feeling is one of profound sweetness. To contextualise, you have to rewind two seasons previous, where Daniel Farke had just been installed, and the club felt like it was in somewhat of a slump.

Disconnect between the players and the supporters became fractious with the general perception of underachievement because of the highest ever wage budget Alex Neil oversaw.

The last two years have proved transformative.

Sporting Director Stuart Webber has instigated the most significant culture change the club has ever experienced, with a lower budget being embraced and youth were provided with a chance. The bridge between the first team and the academy has been non-existent for a while.

From there, it was all down to Farke. He'd experienced a tough first season which was put down to the transitional state of the club. Recruitment was a key factor, but the German deserves all the praise for sculpting a side to play football that was aesthetically pleasing but equally effective.

The combination of youth and entertaining football made for a season that will be confined to the history books forever. That underdog spirit was something special and, at times, Carrow Road was a cauldron of noise.

In terms of highlights, there are two that stand out in my mind. That win at Elland Road where Norwich schooled Marcelo Bielsa's men and tactically outthought them. That was the night many Norwich fans became believers and then Blackburn at home, the game that secured promotion.

It's good to be back, but now they need to prove they deserve to stay there. 


Can you give an insight into your manager Daniel Farke. From an outsiders point of view he has come to the club, assessed what needed to be done and went about it in a methodical fashion, much like what his countryman Jurgen Klopp did for the Reds. What has impressed you most about the man and his methods?

CS: I think there's an assumption about every German coach who comes to these shores that their methodology and philosophy is identical to that to Jurgen Klopp because of the impact he's made at Liverpool.

The influx of German coaches with Farke, Wagner, Siewart, Stendel and Hassenhuttel (although Austrian) has altered the dynamic with fresh ideas and a style of football that places entertainment at the forefront of the game. Spanish possession and tika-taka have been developed with ideas of pressing.

However, with Farke, Norwich has seen a more Thomas Tuchel approach whereby it's all about being the protagonists in-game and using that possession-based approach to create overloads with an emphasis on attacking phases. The full-backs occupy high positions, and the wingers become number tens. It's all about locating space between the lines.

His ability to get an extra percentage out of players has been a massive strength.

Players like Moritz Leitner, who was on the bench for Borussia Dortmund in the 2013 Champions League Final and have lost their way slightly, he's managed to rejuvenate players careers on a shoestring with a style suited to the Premier League. He's proven himself to be an adept and pragmatic operator.

What's impressed me more than anything is his temperament.

Regardless of the club's fate or situations, he always remained level headed. After a 4-0 defeat to Millwall, he was calm and rational, and equally so after the game that sealed promotion. Football is an emotional game, but it shows his composure.

For fans all over the footballing landscape, the new season breeds plenty of hope especially in terms of a newly promoted club.  Some promoted clubs like Huddersfield and Cardiff see the first season almost as a free hit and a true adventure, whilst others like Bournemouth, Burnley and Wolves seemingly have a structure in place to have a long term stay.

Of course there are plenty of variables to take into account throughout the course of a season, but do you feel the club have a strong structure in place to become an established Premier League club? 

CS: The structure has been built over the last two years.

I don't see anything dramatic changing, particularly. They are ahead of the curve in terms of their long-term project to become established. They've developed the training ground and also have several assets on the pitch in terms of young talent so relegation wouldn't be harmful in that sense.

Naturally, the aim is to survive and prosper in the Premier League, but it's about cultivating that underdog spirit and thriving off it.

Every pundit, predictor and supporter outside of Norfolk will undoubtedly have Norwich in their bottom three, that's what Norwich have developed momentum from. That attitude of overcoming adversity and proving people wrong. The group they've constructed has been designed purposefully to have the characteristic of being on the football rejection line.

That culture they've installed is due to stand the test of time, regardless of who occupies the dugout. So in that regard, Norwich won't alter their core beliefs irrespective of the league they are in.

There was a point where relegation was feared, now, because of that strong structure, if they go down, then there is a belief they'll come back. If they stay up, then the potential is there to sustain themselves.

AB: Norwich have not changed our squad significantly or spent big money in the transfer market, which has targeted the club for some negativity and accusations of "lack of ambition" and "naivety." However, if you look at Fulham and its spending last season it doesn't always amount to success. 

We have a team we don't have individuals that think they're bigger than the club. The camaraderie and bond has extended itself to the fans, which in return has increased atmosphere, it's a double-edged sword. Any players that would come into the club would have to buy into its philosophy. Also making too many changes could alter that balance, let's reward our players that got us promotion. Some of our players proved they are worth more than our rival teams are spending. 

Talk us through some of your squad. Who are some of your key players that Liverpool need to keep a close eye on and who do you feel have the qualities needed to thrive at this level?

CS : Teemu Pukki is going to be a primary protagonist for Norwich's survival mission. His 30 goals in all competitions were bettered only by James Norwood in the EFL. In terms of free transfers, he has to be one of the best in the club's history: a natural goalscorer but an intellectual mover who can finish from all angles.

Another is Emi Buendia, a name that I'm sure will be accustomed to all come May.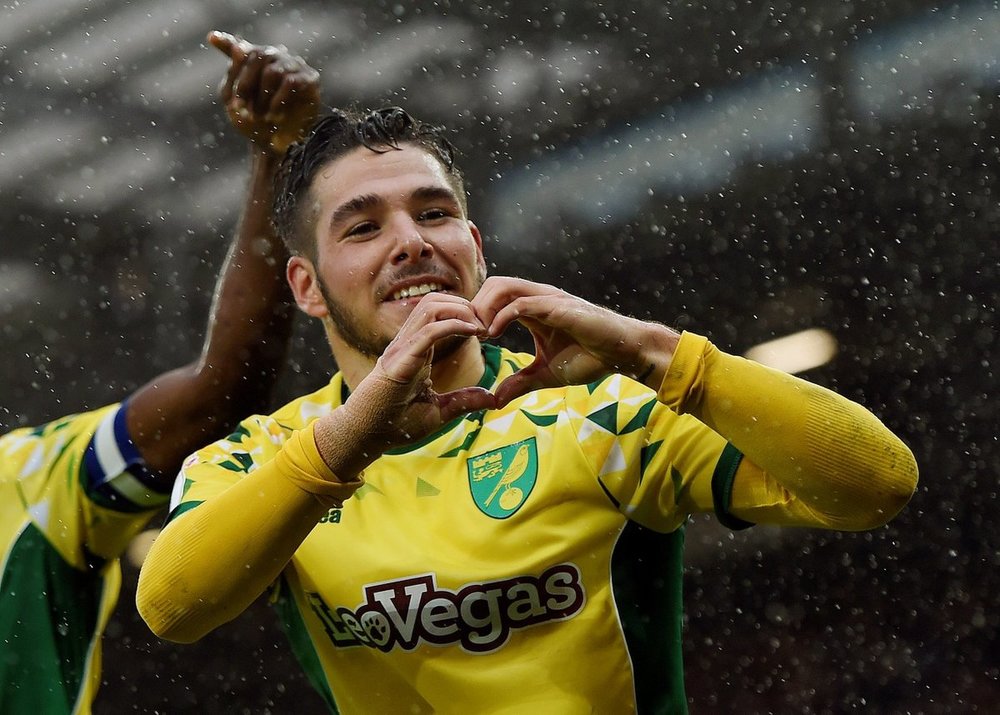 The Argentinean is one of those footballers capable of provoking emotion with his creative style. His ability to impact games and produce moments of genuine quality excites the Canary faithful. Buendia can unlock doors that many can't. His temperament is a concern, and his relentless graft often becomes aggression.

Another intelligent operator, Buendia's game, is reliant of locating those spaces between the lines and turning on the half turn. He's a technical footballer whose ceiling is way beyond his current level — one to watch.

Then, of course, there is a plethora of young talent at Farke's disposal. Max Aarons and Jamal Lewis, the two full-backs, have been pivotal for asserting Farke's possession-based philosophy. Their dynamism and physicality are vital to providing width and an out ball when the space in the central phase is condensed.

Which of your summer signings have impressed you most in the pre-season?

AB: Man City winger Patrick Roberts (pictured below) who has joined on a season long loan is a player I could see getting some valuable minutes on the pitch, lets hope he can reproduce his success at Celtic. Injuries have hampered him and our coach has already got the best out of players who feel they need a second chance and got it all to prove. This could also apply to former West Ham and Leeds right back Sam Byram.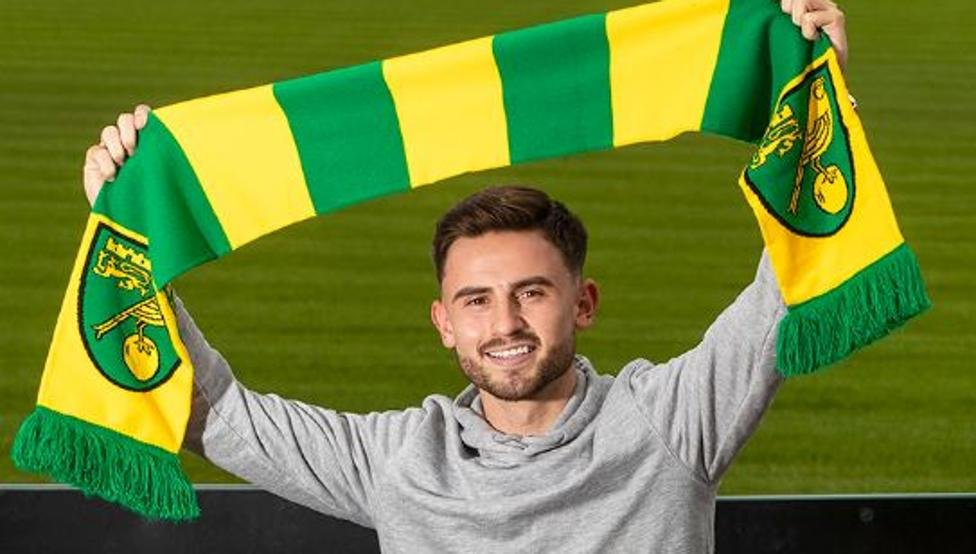 Just as being the first match on centre court for the Wimbledon Championships or facing the first ball in a Lords test match is a massive occasion, there must be great sense of pride for the club to be involved in a stand-alone season opener under the Anfield lights?

AB: In my eyes Anfield is the best way to kick off our start in the top flight of football. Klopp v Farke, two German coaches both from Borussia Dortmund, with mutual respect. 

Klopp was known to be following the Canaries results closely last year having worked with Moritz Leitner, Mario Vrancic and Marco Steipermann in the past. First game against the champions of Europe, a huge stage to start on. I would love Farke to become as successful as Klopp, there is no doubting how both have won the hearts of their fans. 

CS: This is what the players worked so tirelessly for last season, for nights and opportunities like this.

Without pressure, they can go and showcase themselves on one of the most famous sporting backdrops in the world. There is pride, but Norwich has a group who will travel to Anfield with a desire and belief that they can win.

They don't fear anyone, nor will their natural inclination to be to put men behind the ball. Norwich will come to Anfield believing they can return with three points, of course, they won't possess the same amount of the ball, so it'll be interesting how they approach it but, of course, it'll be an uphill battle.

Thankfully for the Canaries there is no Luis Suarez in the Liverpool lineup. But in an opposition fans' opinion, who are the key men that Norwich need to contain in your quest to get a result?

CS: Haha! Thank goodness for no Luis Suarez!

Whoever Liverpool deploy will ooze quality, so dismantling the Reds system and nullifying the supply line to that potent front three is key. 

What Liverpool possess is a game that doesn't provide respite, whether they are on or off the ball or in transition. It's going to be an uphill battle for the Canaries…

Mo Salah, Sadio Mane and Roberto Firmino are undoubtedly the operators Norwich to somehow contain but reducing Liverpool's time in possession and attempting to stop the ball as it travels through the thirds is the challenge.

It'll be a counter-attacking performance at Anfield from Norwich; I think that's the case for every team who finds themselves in the opposing dressing room.

I'm intrigued to see how it pans out, but that front three is mortifying for every team in the division. With their extended summers for varying reasons, hopefully, they have a rare off day come August 9th.

If money was no object who is the one player which current Liverpool player would you love to have in your lineup?

AB: Without hesitation PFA player of the year... Virgil Van Dijk would be the player I would jump at having in our line up. He must be one of or if not the best Centre back in the world. 

He has it all! Good on the ball, pace and can even use his head. A defender who is as equally great in both boxes, hard working and still young enough to improve. Worth every penny of his huge transfer fee, not something us as Norwich fans could ever believe we could spend under our current module. 

CS: The obvious answer would be to say any of the front three. That would be tremendous fun to consume every week.

Instead, I'll apply it to Norwich at the moment; the goalkeeping situation is still not fixed, so Alisson would be perfect for occupying that spot. 

With the youthful exuberance in the defence, then an assured, positive influence in goal who can win points singlehandedly, that could be a massive asset in the bid for survival.

One of the best goalkeepers in the world, you can't turn your nose up at that!

So what is your score prediction for this fixture?

CS: I think it'll be an exciting game with a curious dynamic, but I'll be pragmatic and go with a humbling 3-0 defeat. As long as it isn't humiliating, then Norwich can dust themselves down and go again.

And in broader terms where do you think you will finish in 2019/20?

AB. Survival is crucial this season for us to then learn and build the following season. I would be happy with 15th however if we could finish above that i would class that as a huge success. Watching Nuno's Wolverhampton proves that a club can come up from the Championship and build on their success, let's hope Norwich can do just that.