The latest in TLW's Opposition series takes us to the North East to speak with Kyle Thompson from @NewcastleFansTV. Kyle talks about the impact that the much-loved Rafa Benitez had on the Magpies along with the long running dispute between the fans and club owner Mike Ashley and a trio of attacking talent to keep an eye out for on Saturday.


Liverpool and Newcastle supporters share a mutual love of Rafa Benitez. Can you talk about the impact he made at your club?

Rafa Benitez joined NUFC under very difficult circumstances. We had just been beaten at home by newly promoted Bournemouth under Steve McClaren. There was serious discontent around the fan base and it was even becoming toxic as we thought a second relegation in nine years was on the near horizon.

Rafa was appointed manager and all of a sudden from the get-go the fanbase was united again. Behind this man Rafa, the impact was unbelievable as Liverpool fans can relate. Managers and players come and go but you don't get many that "get it" and Rafa got it from day one. He understood what the club meant to the people of Newcastle. 
He didn't need to, but he helped the local community through the NUFC foundation, Wor flags and the Newcastle foodbank. Off the field all Newcastle fans saw a humble, classy and brilliant man. And on the field, even though we got relegated in his first season, we all had high hopes of things to come. And throughout his tenure at the club, Newcastle fans always had the thought that if the board backed him what could be….
Is there one lasting memory you have of Rafa's tenure. It can be a particular game, a signing he made, a piece of tactical brilliance or just the way he conducted himself as a whole?

There are so many!!! But if I was to say one.  It would be the 2-1 win against Man City in late January of this year. It was a special night, after 30 seconds we were 1-0 down. And you get that feeling of "this could be a long night" but the fight back from the players that night was unbelievable. Despite the gulf in class, the money spent on players and everything like that, it was Rafa's Battlers that came out on top courtesy of a Matt Ritchie penalty. 
The atmosphere was special, it was an unbelievable experience as a fan. We don't do trophies and cup finals, so this is up there with the best performances I've witnessed as a NUFC fan. To just show what kind of achievement it was, Newcastle are still the last team to beat Manchester City in the Premier League. It just sums up how special that performance was.

Under Mike Ashley's reign, he has seen fit to recycle veteran British managers with Steve Bruce being the latest man in the hot seat. Despite his years of experience, it is debatable whether he has been at a club at such a turbulent period in their history. In terms of Bruce winning over the fanbase, is it as simple as winning games or is it more complex than that?

I think winning games will keep the fans content but never truly happy. The only way Newcastle fans will be truly happy again is when the cancer that is Mike Ashley is rid from our club. I don't think the majority of the fans problem is with Steve Bruce, it is more the fatigue and war of attrition against the owner for the last 12 years.

Do you agree with the fan boycott of home games that is currently taking place or can it be counter-productive to the success of the team?

The main boycott throughout the summer was #BoycottArsenal on the opening day of the season. I and the channel I represent partook in the boycott that day despite being season ticket holders.

That being said, the boycott was a complete and utter failure. The attendance was around 47,000 for the day, which was really disappointing. As the hype built on social media, you had a sense that the crowd could be around 20,000,but it wasn't the case.

A fan boycott can affect the team, but the way fans look at it, Mike Ashley has affected this club since 2007 when he bought the club, and that won't change until he finally leaves our club. 

As a supporter, what would you view as a bigger success this season: A top 10 finish and a strong run in the FA Cup, or Mike Ashley selling up?

A legend of both Liverpool and Newcastle Kevin Keegan once said this:  "Newcastle will go nowhere under Mike Ashley I promise you that."
One Season would change nothing for me even though it would be an amazing feat for Newcastle. However the day when Ashley is finally gone from the club, the scenes in Newcastle would be truly amazing. If you remember the feeling of what every city was like when we all thought it was "coming home" last year, then times that by about 200 and you'll get the sentiment of Newcastle fans when Ashley leaves.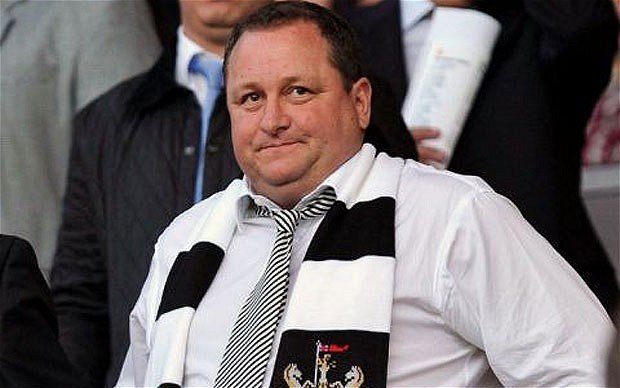 Putting all the off-field drama to one side, which players in your current squad excite you the most and can cause Jurgen Klopp some headaches on Saturday?

As tough as a game it will be for us, I believe we have a couple of players that could potentially cause Liverpool some problems. I think our front three of Almiron, Joelinton and Allan Saint-Maximim are capable of threatening any team in the league. They are very quick and deadly on the counter attack. This is going to be a defensive game for Newcastle. So any chance to get forward we will be heavily relying on those three.

Steve Bruce has had more success coming up against Liverpool than any other top six team in his managerial career. How would you like him to set the team up for the game?

We set up very well against Spurs in our win away at their new ground a few weeks ago. I would like to see a similar set up to this. A 5-4-1 system with a pacey but direct counter attack. With the players Liverpool have, I think it is possibly the only way to set up. Norwich showed how much of a bad idea it is to try and attack at Anfield.

Is there a Liverpool player that you admire and would love to see in the Magpies line-up if money was no object?

Sadio Mane, I think he is so under rated. The pace he has, finishing ability and his work rate. He is the perfect player for the Premier League and I'd love him in a Newcastle shirt.

Have you got a score prediction for Saturday?

I say this with gritted teeth but I can't see anything more than a Liverpool win to be honest. We've historically been atrocious at Anfield. If Newcastle do get anything, it would be one of the best days of my life.