It seems like only yesterday that Liverpool's fearless leader Jordan Henderson was doing his customary shuffle on the podium when lifting the Premier League trophy. 
It was a culmination of a truly fantastic two years, which has seen the Reds crowned Champions of England, Europe and the World. However with a new season on the horizon we now look forward to see whether Jurgen Klopp"s men can reproduce that outstanding consistency yet again. 
First up in the title defence comes an intriguing clash with newly promoted Leeds, a team who haven't graced the top flight in over 15 years, yet remain one of the iconic names in English football. 
In that time they have had countless managers, players and false dawns. After coming heartbreakingly close to a return in 2018/9, they eventually conquered the mountain last season and are ready to resume hostilities with some of their great rivals, including Liverpool.

Alfie from the @LS11LUFC fan hub may have not been around to see the glory days of the Yorkshire club, but he knows all too well about the hard yards they have done to get back to this point. He talks us through that time as well as why he thinks they should attack this clash with a lot of confidence.

 
Congratulations on your promotion and it is nice to see an old rival back in the Premier League. Can you talk our readers through what the last 15 or so years have been like as a Leeds fan? 

The last 15 years have differed in experience from fan to fan. For me personally I was only four when we were relegated at Bolton all those years ago, so for my generation we've known only misery and the League 1 days are the first solid memories I have of supporting Leeds playing teams like Stockport County and Hartlepool every week. 
Then the last decade has just been constant mediocrity with very few bright moments. Poor ownership brought a constant string of sub-par managers who couldn't do anything to stop us finishing anywhere outside of 13th-15th every season. Since 2016 it's become far more interesting and Garry Monk was the first manager I saw who actually got us playing decent football but fell short. Then after a frankly embarrassing 17/18, Bielsa came in and has just turned the club (not just the team) completely around.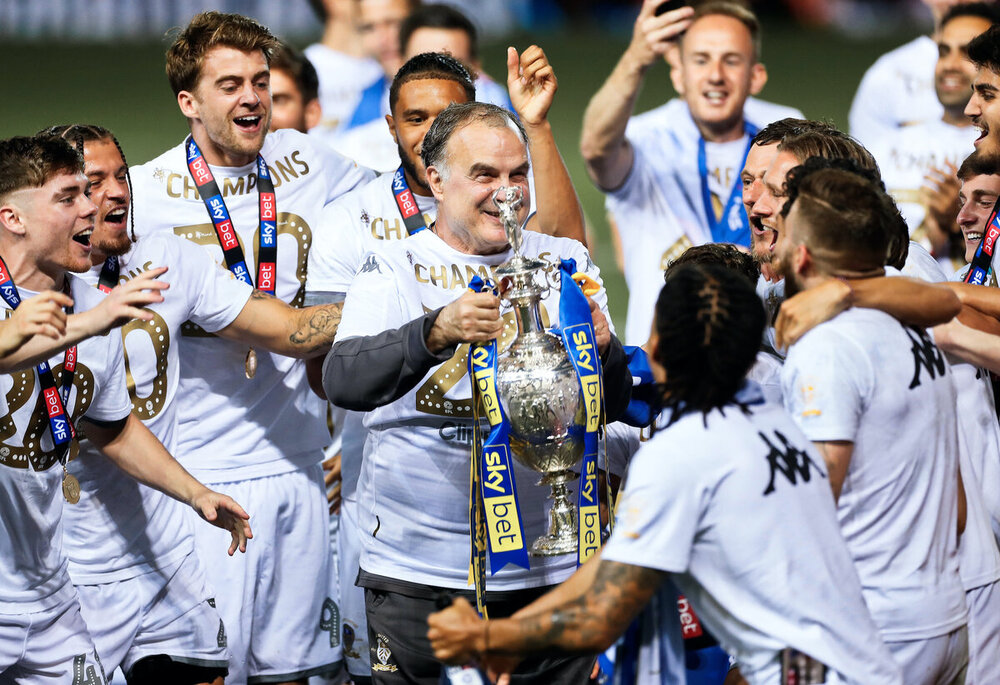 Jurgen Klopp coined the phrase "mentality monsters" to describe Liverpool's ability to overcome hardship and keep striving to achieve the main goal.  After the heartbreaking end to your 2018/9 season, who do you believe was the catalysts to push the team to greater heights and overcome the wobbles that inevitably come during a gruelling Championship campaign? 

It's a tricky question and there are many answers! I think it was a mix of improving the squad in key positions, slightly adapting tactics and working hard on changing the attitude. Pontus Jansson was a great player for us and will be remembered as a cult hero, however he was a huge disruptive influence in the dressing room and is likely part of the reason we fell at the last hurdle in 18-19. Bringing in Ben White was a master stroke, a humble young player with far better defensive and passing skills than Jansson and who allowed us to fully execute our playing style. 
Also in Bielsa's first season we always seemed to go full blast for 90 minutes and be looking to score more and more, often leaving the back exposed. However last season we were able to go toe-to-toe with physical teams and grind out results when it mattered, often riding our luck with poor performances, which is what champions do. A gritty 1-0 win at home to Barnsley in the last game we actually played before being promoted and crowned champions who were bottom at the time summed this up. The mentality changed where no player ever got ahead of themselves and talked about promotion or trophies or anything, it was always on to the next challenge.

Leeds had a long list of unsuccessful managers during your spell in the lower leagues, so the arrival of Marcelo Bielsa must have been a gift from the gods. Can you explain the impact that the Argentinian has brought to your club? 

It was a strange one because I can't lie I'd never heard of the bloke before he came to us! However in hindsight how we got him to replace Paul Heckingbottom must be one of the best upgrades in football history. He has just created a winning mentality throughout the club from the players to the fans at home it just feels good to be a Leeds fan and we have a club we are properly proud of again. 
He instils an air of humbleness in the players, stemming from making them pick up litter around the local area in one of his first training sessions to make them appreciate how hard fans work to buy a ticket. Also there just seems to be a sense that we are an elite club again - we are fitter than anyone else and we play more stylish football than most. Couple that with his mysterious nature and being able to keep a respectable distance from the playing squad It is not far fetched to say that he is genuinely seen as a god around these parts.

        
Of your current squad, who do you think will thrive in the Premier League spotlight and what makes you come to that conclusion? 

To be honest I think they all will! We have a well-drilled side who know how to play this system and after the performance of our reserves against Arsenal in the Cup last season, we fear no one. 
But to choose a few, I think the new lads (Spanish international) Rodrigo and (German defender) Robin Koch will do well of course, and in terms of the players we already have, I think Pablo Hernandez will have something special up his sleeve, 
I'm excited to see (Mateusz) Klich's shithousery in the top flight, but I think the biggest expectations come for Kalvin Phillips (pictured below). He's our best player and pivotal to our style, as well as being a lovely lad and now an England international as well! He has the skillset to rocket to the top and hopefully it's with us.
Regarding the expectations for this season:  Would the fans be satisfied with just surviving the drop for the first season, or do you think you can replicate your bitter rivals Sheffield United and push for a top 10 finish? 

We would be satisfied with anything but the drop, but seriously I think we have the players and the system to push for the top 10 it just depends on injuries and if we're lucky with them we can do something special - I'll say 9th.
Is there a certain opposition that you cannot wait to play at Elland Road this season? 
A few! Just to have the big teams back will be great. Newcastle, Arsenal, Chelsea, Spurs, Liverpool, Man City and of course the Man U game will be huge!
 

Your return fixture to the Premier League couldn't be a tougher challenge at the home of the Premier League champions. What is your opinion of this Liverpool team? 

True! But also it couldn't be a more exciting curtain-raiser. Klopp is a fantastic manager and I've always liked him even at Dortmund so to see him succeed at Liverpool is fantastic. I see a lot of similarities in Liverpool and us in the passion of the fans and the big history so I don't think there'll be much bad blood. The team are worthy champions and it was a shame not to see them smash City's record right at the end but let's face it they were by far the best team in the land last year. The players you have with the system makes it almost impossible to play against Liverpool on a good day with how hard they make teams work to even play against them.  
Bielsa is studious in his preparation for any opposition, so do you expect any surprises in line-up or formation for this clash? 

 Unsure. He changed system last year so he might do the same this year and it's anyone's guess! It might be too soon to see the new lads in but we will have to see - if we have Koch and Rodrigo in the side we will look far more competitive.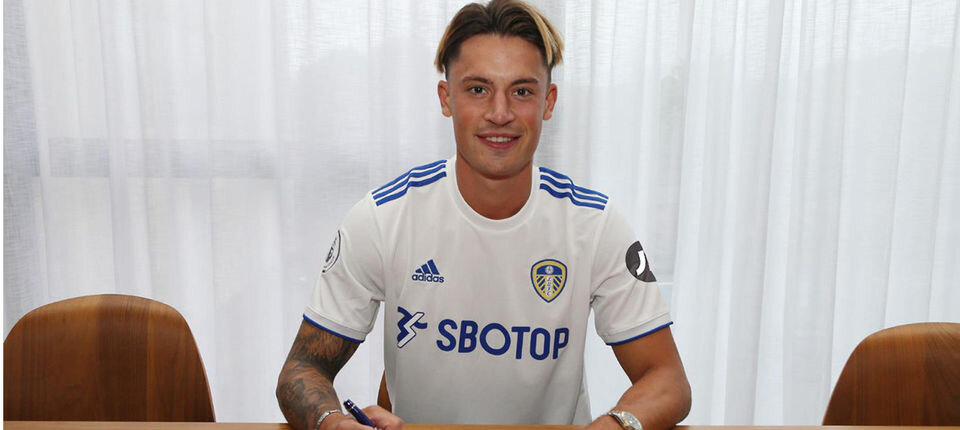 While fans are unfortunately not allowed inside grounds for the time being due to COVID-19 protocols, where will you be taking in proceedings and what will your emotions be like? 

Either at home or in the pub! My emotions will be excited and nothing more! It's a chance to show what all Leeds fans know we can do against the best team in the league and just to see my team in the premier league is enough for me.
What is your prediction for this big clash? 
I've thought long and hard about this and I'm going to be bold! We won't fear anyone not even Liverpool and Bielsa will have done his homework. I think it will be a cracking game as both teams will go out there to attack. We will surprise a lot of people on Saturday, 1-1.