Saturday sees Liverpool and Everton clash for the 203rd time in domestic league action. This fierce rivalry that divides a city has had many fascinating storylines over the years and this weekend shapes as another intriguing chapter.
Much of that has to do with the fact that Everton have started the new campaign in fine form, winning their first four games and scoring plenty of goals in the process.  
Now led by Carlo Ancelotti who is one of the most astute managers in all of Europe, belief is rapidly rising amongst the Goodison faithful that he can lead them to something special. The major hurdle that stands in their way is the reigning Premier League champions and this week marks the 10 year anniversary since they last claimed three points in this fixture.
While that is a daunting record to overcome, Andy Costigan from the @grandoldteam website explains why this Everton team is cut from a different cloth in comparison to those who have tried and failed in the past.
It appeared for a time that Everton were a club without an identity switching between managers and philosophies every 18 months or so. Good managers take their time to assess what needs to be done before developing an action plan. So what do you believe Carlo Ancelotti has been able to alter the most?
Without question, the mindset within the first team squad and elsewhere too.
The sceptics thought that the Italian had joined Everton simply for the payday, rumoured to be in the region of £9 million a year, but he simply doesn't come across as someone looking for a easy ride and bumper pay out when the wheels come off. 
He's a vastly experienced manager and with a fantastic pedigree of improving and developing players to suit the tactics he devises. He took his time to evaluate the strengths and weaknesses of the squad he inherited from Marco Silva, and wisely, didn't go gung-ho in the first transfer window available to him.
His most telling comments came at the end of last season when he suggested to the players that they should go away and come back to training with a different outlook and desire... and to be fair to the players, they did and have done.
Sure, he's signed some top quality players to boost the squad, but the difference in the mindset of all the players still here from last season is noticeable, they look like they want to be Everton players, look like they want to perform to their best and look like they want to be huge parts of the Ancelotti evolution of the new Everton.
When a new manager arrives at a club he regularly identifies a 'project player' he believes he can take to the next level. That player for your club seems to be Dominic Calvert-Lewin. What have you noticed that has changed in the striker's game since Ancelotti's arrival?
DCL has patently been listening very hard to both Carlo Ancelotti on his positional play and Duncan Ferguson on how to play with more physicality, to be stronger on the ball. The real marked difference in his play is he's playing between the posts much more rather than drifting wider, and his first touch is improving with every game he plays. 
DCL has all the attributes associated with traditional English centre forwards in that he's tall, is good in the air and not afraid to mix it with opposition centrebacks. But it's his positional play and first touch that has come on leaps and bounds since last season, and his mindset is probably the most improved since the arrival of Carlo Ancelotti.
On the other hand, the form of Jordan Pickford is regularly up for debate despite being first choice for the national side. What do you think he needs to work on to silence the doubters once and for all?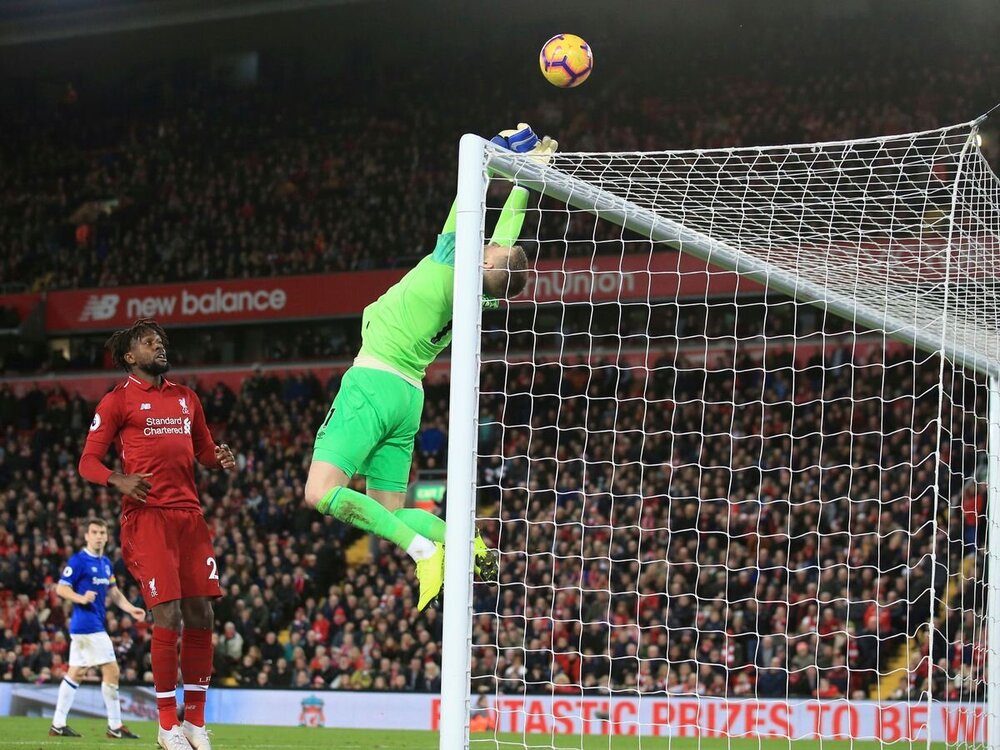 Pickford needs to improve some of his decision-making but his concentration most of all. When he was with Sunderland he was continually involved in the game and as such his concentration level needed to be high at all times, and it was. His form for Sunderland earned him his England call-up and the big money move to Goodison. 
His first year as a Blue he was kept pretty busy as well and his good form continued. Then the side struggled under Silva and so too did Pickford - he lost concentration and it showed in his game. He allowed outside influences to get to him, most notably in a game at St.James's Park where the Geordie crowd barracked him mercilessly and he reacted. 
As Ancelotti has looked to strengthen the Blues defence, Pickford is now not quite as involved in the action as he might like to be and it appears when he's not busy, his concentration levels drop and that's when errors creep into his game. He needs to work on that most of all
All the great goalies have played behind solid defences that offer the kind of protection the Everton defence is now beginning to afford Pickford... he needs to reward their work by being the last line of defence they have faith in and can rely on.
While Calvert-Lewin and James Rodriguez have taken the main plaudits for your unbeaten start, is there an underrated player or two that you feel deserves their share of praise?
Three immediately spring to mind... Allan, Doucoure and Richarlison. 
Allan has given us a genuine ball winner in the midfield, something we've lacked since Gana Gueye left for PSG except Allan is better. Doucoure has brought a real 90-minute engine to the midfield, he covers so much ground and yet appears to do it effortlessly. And I include Richarlison for his all-round contribution. He's a real threat and someone opposition players target  but, he's growing up fast. He's cut out the theatrical reactions to being fouled and his willingness and ability to get back and help out defensively demonstrates a real team ethic within him.
If I look back to the Everton of the mid-eighties, Allan, Doucoure and Richarlison are our latter day Peter Reid, Paul Bracewell and Trevor Steven.
In terms of the league, what do you think is an obtainable goal for Everton this season?
Don't laugh... to be Champions. 
For years, we got tired of hearing David Moyes say the first target was 40 points to guarantee Premier League status, we've had flirtations with Europe that the fans enjoyed and supported massively but, the way to make us regulars in Europe is to win something and as you've asked about the goal in terms of the league, then it has to be to win it.
Toffee fans have been naturally desperate for that elusive victory over the old enemy, but that expectation has become a heavy burden to carry especially at Goodison. So do you think playing in front no fans on this occasion could actually be a benefit by giving the players a sense of freedom?
That's an interesting question, as I think there are a number of teams who appear to be better without having their home crowds on their back when things don't go well right from the start. Look at the difference with Aston Villa and West Ham for instance. 
Whether our players feel a sense of freedom with us not being inside Goodison, I'm honestly not sure... I'd like to think that with the start they've made, that they actually cannot wait to have us back there supporting them.
While giving glowing praise to a bitter rival is difficult to do, what makes this Liverpool team such a stern challenge to overcome in your view?
We're under no illusion that this Liverpool team is a very strong side, well organised and disciplined in the manner that Jurgen Klopp wants them to play. The pace that the Liverpool side has is impressive and in Mane and Salah, two clinical finishers. 
The high press that Klopp employs appears ideally suited to your team but, I wonder sometimes if he hasn't put all his eggs into one basket... the nature of that defeat at Villa suggests his Plan B isn't up to scratch.
Do you feel Ancelotti will stick to what has served you so well this season in terms of his setup for this fixture?
We've played four league games and we've been slightly different in each game. We dominated a disappointing Spurs, we overcame setbacks to comfortably overrun West Brom, we battled toe-to-toe to beat Palace and we beat Brighton playing counter attacking football. 
To me this demonstrates that Carlo Ancelotti genuinely knows more about his players and their attributes and capabilities to adapt to different game scenarios than any of us can imagine. 
I'm confident that however he sets Everton up to face Liverpool on Saturday, he will get 100% from every player in the game and if no, when he does, the reward will be three more points. 
What is your prediction for this big clash?
I think we can all safely say that this 'derby' will not be a boring scoreless draw, the two teams have goals a-plenty within them. I want a clean sheet for Jordan Pickford and if he gets that, then Everton win because I think our attacking options will create scoring opportunities that Liverpool will struggle to contain. 
As for a score line, I'd like 3-0 but, I'll settle for 2-0.