Saturday evening sees the Reds travel to West London to take on Brentford. It has been 32 years since the two teams met in a competitive fixture which was in the sixth round of the FA Cup and Liverpool won 4-0. And you have to go all the way back to 1947 for the last league fixture which adds a special sense of occasion to this encounter.  
Thomas Frank's side have looked anything but overawed by making the big step up to the Premier League  so far and their fans are bound to be in fine voice at Brentford Community stadium.
Dave Lane from @Beesotted Brentford gave TLW an insight into their unerring belief and how a Liverpool academy graduate has turned into a Bees fan favourite.
It is always good talking to fans of clubs who haven't been in the top flight for a long period of time and learning about their journey. Can you talk a little bit about the ups and downs of your journey as a Brentford fan and what the moment felt like when you were finally promoted to the top flight after 74 years and that first Premier League game against Arsenal?
Getting promoted at Wembley was one of the most euphoric and surreal moments in out Brentford supporting lives… after so many failed play-off attempts there was a part of us all that never believed we'd witness it. That's all behind us now, but it will never be forgotten. The build up to the game against Arsenal was amazing too, maybe more of an event than a match, but to be back in the stadium with our mates, and surrounded my likeminded Bees, was special… so was the atmosphere and result. It has given us belief and we know we aren't out of our depth at this level.
Can you tell our readers about Thomas Frank. To a outsider he looks like a typical new age manager with clear methods and Football philosophy as well as a figure who can connect to fans and players alike How is he viewed by the Bees fanbase?
Thomas Frank is the perfect fit for Brentford and such a nice guy too. He's certainly not an old school football manager and his relationship with the players shows how much they respect him, the perfect man for a young and promising set of pros, he keeps them grounded and focussed, as well as believing in them when things aren't always going to plan. Frank has had his doubters, even as recently as last season, and he's only ever a couple of defeats away from that element to start sharpening the knives again. Frank is the club's most successful post war manager and the vast majority of supporters hope he's at Brentford for many years to come.
Quite often new sides to the Premier League find the step up in standard quite daunting and the defence is extremely overworked. However for the Bees it has been remarkably resolute with three clean sheets from five games. Who are the key players behind that impressive statistic?
You're right, so far we have been solid and well marshalled at the back, Pontus Jansson and Kristoffer Ajer in particular have been immense. Sergi Canos, although not a 'natural' right-back has risen to the challenge, and Rico Henry is, in my view, England standard at left-back. David Raya in goal has ironed out the more erratic edge to his play and is a proper sweeper-keeper with excellent distribution and reactions.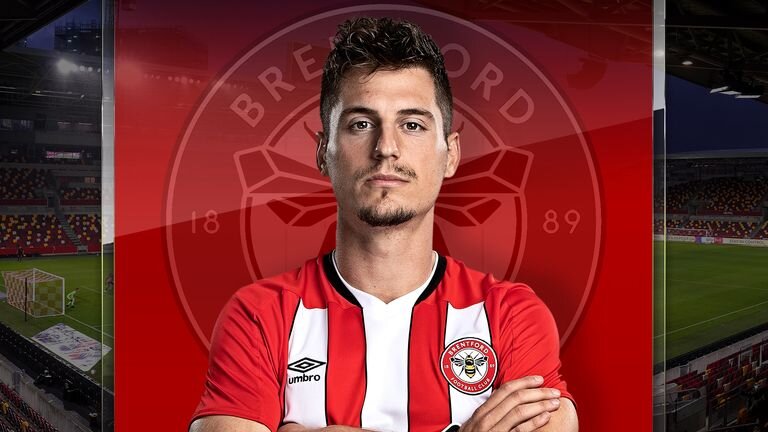 One of the longer-term members of the Brentford squad is a former Liverpool academy graduate in Sergi Canos. How important has he been to your progress over the years?
Sergi is another perfect fit at Brentford and as previously mentioned has stepped up this season and relished his chance in the top flight. After his initial loan period from Liverpool, he chose to move to Norwich, but he was soon back in West London where he has cemented a place as a modern club legend. He spent a long time out injured with a knee ligament injury and there were question marks as to whether he'd fully recover his speed, but his versatility and infectious enthusiasm are pivotal in the system we play. He loves Brentford as much as Brentford loves him.
We know that London is a crowded market for Premier League football teams. Is there one particular team that Brentford fans would love to beat or are they all in the enemy camp?
This season's all about establishing our place at the top table and we will take our wins anywhere and against anyone, however, I'd be a liar if I didn't want us to beat Chelsea as West London bragging rights over them would be immense. Without Fulham and QPR in the same division, though, a win is a win this campaign at least.
We touched on the clash against the Gunners at the beginning, how much are the fans looking forward to taking on one of Europe's elite teams on Saturday evening?
Liverpool coming to Brentford is one of the jewels of the fixture list plain and simple. The players will want to prove themselves and the fans will want to savour every moment. Liverpool fans will be welcome in all our pubs and it should be a great afternoon on and off the pitch. Can't wait!
Is there one Liverpool player that you admire the most?
Liverpool are a class act, Mo Salah, Sadio Mane, van Dijk, Diogo Jota, are all world class, and there's a player in every position that will push us to the limit. But that's why we are here, to test ourselves against the best. You'll have plenty to contend with too.
How do you think your manager will set up the team for the big clash and who is the Brentford player that needs to lead from the front to claim a result? 
Thomas Frank won't change things at all in my view, we play our 3/5 at the back football the same whoever the opposition and we will go toe to toe, which may not work out in our favour after 90 minutes, but that's our mindset. We will create big chances, but we have to take them when they come our way.
Have you got a score prediction?
My head says 3-1 Liverpool, my heart says 2-1 Brentford. I'll go with my heart every time! COYB.