In TLW's ongoing series focussing on our upcoming opponents, next up is Arsenal at Anfield on Saturday evening. Dave Seager (@goonerdave66) of gunnerstown.com was able to give an insight about what to expect from our North London rivals.


Two wins from two, you must be happy with the solid start to the season?

Yes delighted. Neither victory has been pretty but when you are waiting for stars to return from summer international duty, as well as blending in new signings and youth players, that is to be expected.


In addition to that, you must be delighted with the business you did in the summer on a somewhat minimal budget?

Oddly, we did end up with a net spend of around the rumoured figure but with spread payments on the purchases, obviously a loan and many players leaving who were surplus to requirements, we did exceptionally well.


Who of all the new signings have impressed you the most and what has made them stand out in your view?

We have only seen two cameos from (Nicolas) Pepe but enough to know we have an exciting talent to give us the pace and trickery on the flanks we have lacked. (Dani) Ceballos however, with a full 90 minutes last weekend looks a shining gem of a player. It remains to be seen if he stays at 10 or drops deeper as we progress but his ball retention and speed of thought will be vital against high pressing teams like yourselves. He reminds me of Santi Cazorla and that is high praise. David Luiz raised an eyebrow or two, but at £8 million he brings a winning mentality and will assist us in playing out from the back.


Which members of your first team squad do you think can progress to the next level this season?

I am looking forward to seeing (Lucas) Torreira's second campaign, now he is fully adjusted to the league and I am perhaps not in the majority but feel the sky is the limit for (Matteo) Guendouzi. That said he will face a stern challenge from young Joe Willock (below) who now seems ready to challenge.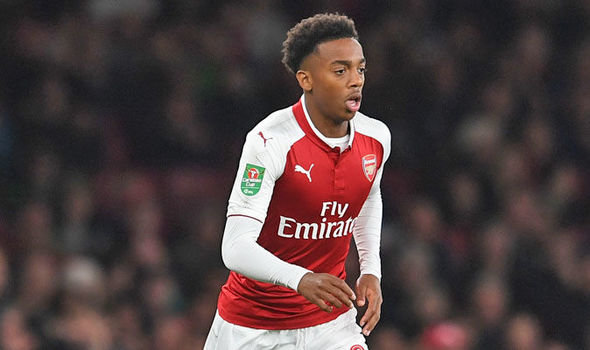 The first season at a new club is a tough one for any manager, let alone someone who is coming to a foreign league and taking over from an iconic figure such as Arsene Wenger. How do you think Unai Emery has adapted to the club and what would you like to see him improve on in his second season?
 
I think that most are wiling him to succeed but he lost a few supporters as we tailed off at the end of last season. He now has a large majority of his own squad and has been well backed by the club, so we need to see not only an improvement but also what his style of play is. For so long under Wenger we had a style and I am not sure we yet fully know what Unai's is. I hope that having Edu and Ljungberg in and around the coaching set-up will help him.


Arsenal has enjoyed some memorable moments at Anfield over the years, but it has been tough going of late. What are your thoughts heading into this fixture on Saturday evening?

I suspect Emery will go with an alternative approach and play cautiously at the outset with three at the back and wingbacks. He will hope to stay in the game and play on the counter, exploiting space left by your advanced fullbacks. If we are in the match in the second half I think he will add pace from the bench. I would be happy with a draw.


Where do you think Liverpool's strength lies and conversely, do you believe there an area that Emery can expose?

Liverpool's obvious strength is the front three, fabulous fullbacks and well-drilled high press. If there are weaknesses, as I said above it is when the fullbacks bomb on they leave gaps and your midfield is not overly creative, whichever three Klopp selects. I am not sure of the stand-in keeper either.
 
If there was one Liverpool player that you could put into the Arsenal line-up who would be and why?

VVD for obvious reasons, given our defensive frailties.

Do you have a score prediction for Saturday?

Goals for sure – 2-2 would be what my heart says, but my head says 3-1 to LFC.