In the days leading up to Liverpool's Champions League Round of 16 match at home to Bayern Munich, the German giants' boss Niko Kovac sang the hosts' praises, claiming that being paired with Liverpool represented "the most difficult draw. There was one element of the coming clash, however, of which the Croatian was particularly confident.
"Tomorrow we probably won't see 0-0," Kovac predicted. "I can't imagine that." As we seek to make sense of an unlikely goalless draw at Anfield, these five takeaways reflect five additional elements of the match that would have seemed as likely as a 0-0 result before kickoff.
Bayern Munich Fail to Register a Single Shot on Target, while Robert Lewandowski Manages one Attempted Shot. 
Over two months ago, when Virgil van Dijk earned a booking for a lunging challenge on Dries Mertens, the Dutch colossus' subsequent suspension seemed a surprisingly underreported element of Liverpool's otherwise triumphant victory over Napoli. While the result sent the Reds into the Champions League Round of 16 for the second straight year, I shuddered at the thought of Liverpool playing the first leg against a European giant without the man I believed to be not only our most important player, but the player of the year to date in the Premier League.
My fears only grew as Liverpool drew Bayern Munich, Joe Gomez underwent surgery on his broken leg and Dejan Lovren struggled to regain fitness after a hamstring injury. Fourth-choice Joel Matip and midfielder-by-trade Fabinho seemed the obvious choice at the centre of defence, but with Lewandowski leading the line with a record of six goals in his previous three European matches, Kovac's prediction appeared a safe bet. 
Instead, Matip burst out of the gate with an uncharacteristically physical challenge near midfield, and from there he and his Brazilian partner set about aiming to replicate the impact of their absent teammate. Both Matip and Fabinho were guilty of a few errors you'd never expect from van Dijk – most notably when a bizarre Matip backheel (after a poor ball out from Alisson) gifted the ball to Kingsley Coman in a dangerous area and when an error from Fabinho played in Serge Gnabry on the opposite side of Liverpool's box.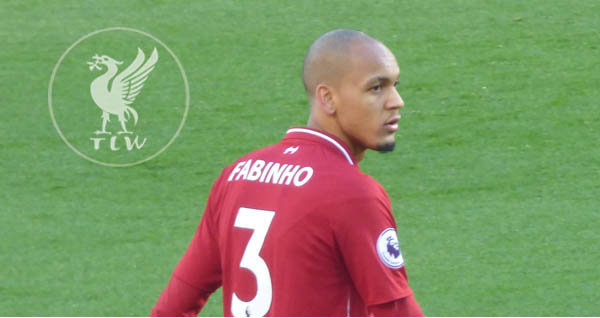 However, both defenders were instrumental in holding the Bavarians to the lowest attacking output seen at Anfield in European competition since 2015. Both centre backs were called into action to deal with the threat of Gnabry down Liverpool's left flank. Matip slid across to prevent the German from capitalising on Fabinho's error, before stepping in front of the German's dangerous cross late in the first half, while Fabinho cleared out for a corner after Gnabry burst past Andy Robertson in the second half.
But the most van Dijk-esque moment of the day belonged to the Brazilian, whose sliding challenge against Lewandowski inside Liverpool's six-yard box was perhaps the most vital contribution in securing the clean sheet. Van Dijk's return will be eagerly anticipated as Liverpool head to Old Trafford – and to Munich next month – but his deputies can pat themselves on the back after a job well done in his absence. 
Serge Gnabry Poses Bayern's Greatest Attacking Threat, with Three Shots and One Chance Created. 
Between Lewandowski's sparkling European form and the absence of van Dijk at in central defence, it was the Polish striker who featured most heavily in my pre-match nightmares. And while Bayern's pacy pair of Serge Gnabry and Kingsley Coman were sure to keep Liverpool's fullbacks on their toes, I felt confident that Andy Robertson would shake off a few recent subpar performances to contain Gnabry as effectively as he's done so many other wingers during a sparkling campaign.  
Instead, while Fabinho and Matip helped to keep Lewandowski quiet, it was the German winger who provided the sternest test for Liverpool's defence, getting the better of Roberston on a handful of occasions. Gnabry repeatedly burst past the Scotsman into dangerous positions, and Robertson was fortunate for the aforementioned cover provided by the centre backs, as well as the company of Jordan Henderson and Naby Keita, who repeatedly tracked back to deal with the threat of Gnabry. Kovac's men will surely aim to attack Robertson in Munich – where Gnabry will be able to count on much more support from Joshua Kimmich.
In the meantime, however, Roberston should count himself fortunate an uncharacteristically poor showing went unpunished. One of Liverpool's best players this season, the Scotsman steps up his game more often than not in the big matches, and he'll need to return to form quickly in order to avoid counting on fortunate to keep Manchester United off the scoresheet on the weekend. 
Jordan Henderson and Naby Keita are Roundly Applauded by Liverpool Fans and Pundits.
The Liverpool Captain has divided opinion across the club's fanbase for years. Some supporters appear determined to accept nothing less than Gerrard-level production and temperament from the midfielder, lampooning Henderson's conservative pass selection while aiming to place the smoking gun behind any Liverpool setback squarely in the hands of our square-jawed skipper.
On the other side of the Henderson Fault lie those who echo the man who first gave him the armband in waxing poetic about the midfielder's character, while glossing over the player's limitations in and out of possession. 
While Naby Keita's career – and the arguments about its merits – are much younger than those of his fellow midfielder, the battle lines have been drawn over recent weeks as fans debated the Guinean's place in the side. While many preached patience, drawing comparisons to Robertson, Fabinho and Alex Oxlade-Chamberlain as examples of recent acquisitions whose extended bedding-in periods payed dividends when the players hit their respective strides, others appeared adamant that the diminutive dynamo was an overpriced foreign flop. 
In contrast to the other entries in this article, neither player's performance was itself a particular surprise. While one or the other would surely have started the match on the bench had Fabinho remained in his natural midfield role, both players performed admirably alongside Gini Wijnaldum in Liverpool's three-man midfield.
Henderson was near his best in possession, quickly shifting the ball out wide to set Liverpool on the counter and creating one of the best chances of the game when his defence-splitting longball found Mohamed Salah bursting in on Neuer's goal. Offering much-needed penetration between the lines, Keita was at the heart of much of Liverpool's best attacking play, bursting through midfield and popping up around the box. His 33rd-minute blast, blocked by Sule, fell kindly to Mane for perhaps the game's best scoring opportunity. 
In addition to their exploits on the ball, however, both midfielders chipped in defensively to help secure the clean sheet. Both players made decisive contributions while tracking back, as Keita supported both fullbacks, retreating towards Liverpool penalty area and offering much-needed support to Alexander-Arnold against Coman in the first half. Similarly, Henderson can be credited with helping the reserve centre backs cope with the Bavarians – most notably when he rushed into action to dispossess Gnabry inside the box after a poor turnover from Mane. 
While the duo's contributions – alongside Wijnaldum, who was typically solid, if a touch below his recent sparkling form – were crucial in preserving the tie, more will be required of them both if Liverpool are to achieve their aims this season. Both will likely be called into action more on the defensive side of the game in Munich, as the hosts will be sure to attack with greater numbers than those with which the Reds dealt comfortably at Anfield.
At the other side of the pitch, with the Reds seeking at least a goal to stave off penalties, Liverpool may well need greater cutting edge in midfield – particularly from Keita, whose final ball was lacking in the first leg – to support the front three. For now, at least, I'll savour the rare détente amongst Liverpool supporters – that is, until the debates begin on who should make way as Fabinho returns to midfield to face United. 
Manuel Neuer Attempts more Passes, with 62, than all but Two Liverpool Players.
While much has been made of Liverpool's stylistic changes this season, they remain one of the most potent pressing sides in Europe, and it's on these European nights, with the Anfield crowd in full throat and adrenaline coursing through the veins of his charges when Jurgen Klopp seems most inclined to turn the Reds' tactical volume back up to "heavy metal" levels.
So it was on Tuesday, as Klopp's men – including an ailing Roberto Firmino – pressed and harried, often deep inside the visitors' penalty area. While Bayern Munich – with "sweeper keeper" extraordinaire Manuel Neuer, flanked by a pair of fullbacks in Kimmich and David Alaba who are as accomplished in possession as they are out of it, and supported by Mats Hummels, who made his passing range known to Liverpool in the Europa League classic at Anfield – would be a tough nut to crack, one need only recall Salah's switft punishment of an error by accomplished ball-playing 'keeper Ederson last year to conclude that no player is immune to the Liverpool press. 
Sixty-two attempted passes later, at a near-70% success rate (according to @natefc) and one can't help but wonder if Neuer is the exception to the rule. Led by their 'keeper, Bayern dealt comfortably with Liverpool's press as the German #1 calmly surveyed his options – at times from within his own six-yard box – before successfully finding one of them, more often than not.
In Munich, the Reds will likely need to play a bit more conservatively, particularly as Kimmich and Alaba are likely to venture much farther up the pitch – meaning the visitors may need to look to more traditional methods of chance creation. But even away from Anfield – and even with Neuer marshalling the Bavarians' efforts to break the press, I wouldn't count out Firmino and Company from nicking the ball back in a dangerous area.  
Liverpool head to Munich for the Second Leg with a truly Blank Slate. 
The biggest – and most consequential – surprise of all lies in the scoreline, which pits Bayern Munich as slight favourites as they prepare to host the all-important second leg. While Bayern's defence – which tackled and intercepted well and often deep in their own defensive third – deserves a great deal of credit, this feels a missed opportunity for Liverpool.
Liverpool took fifteen shots (to nine, according to @natefc), yet put only two on goal. Liverpool registered 2.2 expected goals (to 0.5, according to @Caley_graphics) and of course ended up with a goose egg on the scoreboard. Liverpool's attack – the irresistible driving force behind last year's run to Kiev – failed to capitalise on a host of chances and were unable to create the types of clear-cut opportunities upon which they've feasted for much of the past two years.
Sadio Mane was particularly wasteful and while Firmino was bright, dropping deep to link play and creating opportunities around the edge of the box, Salah was unable to shake free to the deep-defending Germans to add to his collection of European tallies. 
The result is far from calamitous; having not surrendered an away goal, the Reds need only a score draw to advance, and while the prospect of visiting the Allianz for a European match shouldn't be underestimated, Liverpool's attackers will likely find at least a bit more room in which to operate than they did in the first leg.
With van Dijk returning, the visitors can hope to replicate the clean sheet they achieved at Anfield, but keeping Lewandowski quiet will be a different proposition with the home crowd baying and the likes of Kimmich, Alaba, Thiago and James playing much farther forward in support, while the result may rest on the ability of Liverpool's front three to create and finish the game's decisive chances.
As Liverpool supporters, there's not much more we can ask for than to have everything to play for – in the League and in Europe – over the final three months of the campaign, three months that will be filled with a host of surprises and perhaps one or two pieces of silverware. 
Joel Tracy