When Steven Gerrard decided to take on the extremely daunting challenge of being manager at Rangers, he made sure to take some familiar faces north of the border with him, one of them being Liverpool academy graduate midfielder Ovie Ejaria.
Ejaria is a player who seems to have been on the scene for quite a while, but the former Arsenal junior is still only 21 years old. 
Having spent the second half of last season on loan at Sunderland where he played 11 times, he has already made double the number of appearances for the Glasgow giants (25).
In the latest instalment of our 'A view to the future series', Jason Harris caught up with lifelong Rangers fans David Brown (@sharpdiv7) and CJ Novo (@CjNovo992) to discuss in depth the impact Ovie has made in the SPL so far. 
What were your first impressions of Ovie Ejaria when he arrived at the club?
DB- When Ejaria arrived at the club it was exciting. He was young and coming from a great club, but many times Rangers have loaned young players from top clubs in England and been let down so there was still a lot of doubt with the fans.
We had heard he was a creative midfielder with good dribbling skills and he would be able to breeze through the Scottish league, but like most players Ovie found this wasn't the case and in his first 3-5 games he really underperformed. He spent way too much time on the ball and gave it away persistently, but Steven Gerrard kept playing him. What I noticed though was even when playing bad by 85 minutes he was still fresh and the fittest on the park. 
It goes without saying that when you put on a Rangers shirt a lot of expectation goes along with it. How has Ovie dealt with that pressure and adapted to the Scottish Premiership in your opinion?
CJ - I think the big man handles it well and seems to thrive on it. Every kick or late push he gets he seems to relish it and even sometimes welcomes the contact as he holds off players. He's been kicked a few times now and every single time he gets up and gets on with the job, his temperament has been really impressive.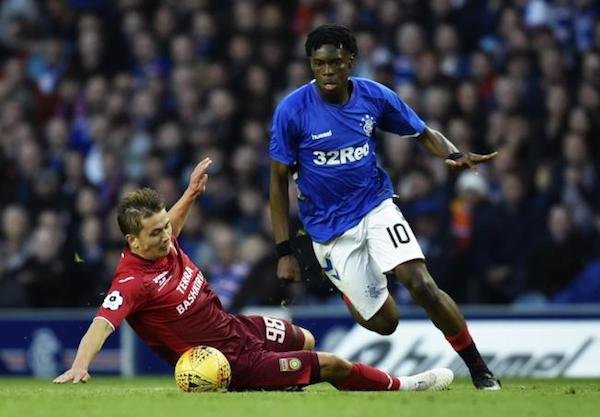 Along with regular first team action in the league, Rangers are battling it out on the European front. How has he performed under the bright lights of Ibrox in the Europa League?
DB- One game in particular comes to mind. Rangers went over to Russia to face FC UFA knowing avoiding defeat would allow us to progress to the group stages of the Europa League. In the first 15 minutes he unleashed a curling effort from outside the box to put us 1-0 up away in Russia. Ultimately this goal put us through as we went on to concede later in the contest.
In other matches he has been immense. He was a key player at home to Rapid Wien in a 3-1 victory. He gives Rangers a different dynamic, a composed midfielder who can dribble past players making them tired as they chase after him. He has the ability to play the killer pass and links up very well with Ryan Kent. 
What is the one key part of Ovie's game that you really like?
CJ- His biggest asset is definitely his strength on the ball his ability to pick the ball up in tight areas and hold off a few opponents. He reminds me a little of (Mousa) Dembele at Spurs in the way he welcomes the challenges and looks to hold off people as he moves with the ball.
In your opinion, what is the one main improvement he can make?
DB- He has to keep his concentration levels high and track runners. In our 1-0 defeat to Celtic he is seen letting Oliver Ntcham run off his shoulder on a Celtic counter attack and ultimately score the winning goal. He has also said that he must get more assists and goals.
Is there a performance by Ovie that stands out for you so far this season?
CJ- I think his best performance so far for me was against UFA in the Europa league group stages. Playing away to a hard working team was always going to be difficult, but Ejaria really made a statement scoring a thunderous shot from outside the box bending it brilliantly into the top corner to set us on our way
Constantly being on loan can end up having a negative impact on a young Footballer. With that said, how important for Ovie is it to have familiar faces like Steven Gerrard and Jon Flanagan there to keep his morale up during any difficult moments he may have during the season?
DB- It is very important for him to have familiar faces around him. Flan, Stevie and Ryan Kent are key figures, but I also think he is a lad who would take great guidance from experienced pros who have experienced a lot in their careers. For example Allan MacGregor or Scott Arfield who has had Premier League experience with Burnley in the same position. 
He will learn from these players and I think he has gained more experience than Liverpool would have thought at this stage, because I don't think anyone thought Rangers would get through four qualifiers to get into the Europa League group stages. Ovie will be fine and I believe he will come back to Liverpool and try his very hardest to break into that senior squad.
We regularly see Premier League clubs send their young players into the Championship to gain first team experience. Do you think it is a clever move by the Liverpool hierarchy to send prospects to a club like Rangers where you have to have a sharp focus as every game is like a cup final for your opponents?
CJ- I really do. Playing for a team like Rangers every performance is crucial, every game especially these days is vital to win in the league, fighting on all fronts that is what the supporters demand. So I think its a great move by Liverpool instead of sending him down to the Championship, he gets to come up and feel that pressure and demand from the fans, whilst also experiencing European football which will make him and (Ryan) Kent better players in the long run.