Continuing our View to the Future series, we make a trip to the continent to see how Marko Grujic has been getting on at Hertha Berlin.
Since signing for the Reds in January 2016, the young Serbian international has only made a handful of first-team appearances for the club. Grujic has had loan spells at his original club Red Star Belgrade, Cardiff and currently at Hertha.
Undeniably talented, Grujic has a frustrating ability to pick up an injury just when he is reaching his peak level of form.
After being widely been praised for his terrific performance last weekend against Eintracht Frankfurt, he has since picked up an ankle injury in an innocuous training incident, which will see him on the sidelines until after the New Year.
It is his second significant injury of the season, after initially spending close to two months out of action earlier in the campaign with a Capsular rupture to his opposite ankle.
TLW's Jason Harris asked Jack Woods from the U.K. Branch of the Hertha Berlin supporters club his thoughts on the progress of the Defensive midfielder.
What was the feeling among the fanbase when it was announced that Hertha had signed Marko on loan for the season?
To be honest, signing anyone on loan from a PL club is great, first team experience or not. It was obvious he'd been loaned out to get game time and it's great to see him get so many minutes and have such an impact as he's had. There's always a bit of a buzz when the two leagues interact with each other as so many exciting young prospects are now heading to the BL for game time. 
Marko had his fitness issues in the past so suffering an (ankle) injury so early in his spell was untimely. How has he performed since his return?
He's been a fantastic asset to the starting 11, never mind the squad. His experience coming from a massive club like Liverpool working with world-class players (and a manager like Klopp) really shows.  You can see he's a step above everyone else and his winning goal Saturday shows just how good he has been!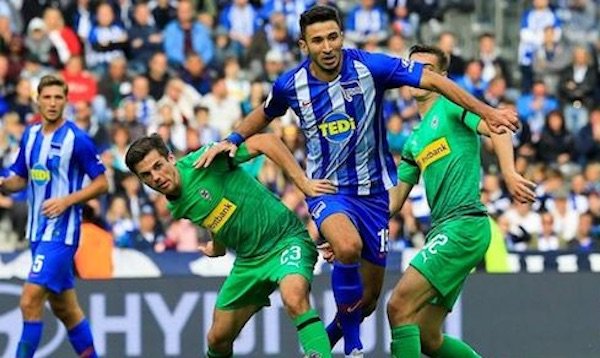 What has caught your eye in terms of Marko's overall game and is there any improvements you might like to see?
His controlled aggression is a huge part of his game and he's not one to shy away from a challenge or two and he can pass a ball (simple or through the eye of a needle) with ease. He's also so versatile, he has shown he can play anywhere across the midfield and is the player we've been searching for a good few seasons.
Is there one particular stand out performance that sticks in your mind?
MOTM performance against Frankfurt last weekend summed up perfectly with Pal Dardai's follow up comments that Grujic is the best midfielder he has seen in his 22 year stint as player/manager at Hertha. He was all over the game and it was topped off with his winning header. 
Looking at Hertha's record for this season, you are unbeaten when Marko has started (Four wins and two draws).  In your view is that a sign of his importance to your side?
I think with stats like that it's always a teller that he's clearly an integral part of squad - pinning those undefeated games purely down to Marko are maybe a bit of a stretch but it adds values to that undefeated set of results.
Marko spent the second half of last season at Cardiff in the 'rough and tumble' of the Championship. Now he is playing a more cultured league like the Bundesliga, do you think that spell in Wales would have helped his overall game?
 I think hats off to any young player that ventures down the lower leagues for experience and game time. No disrespect to the Championship but it's a level lower than the PL/BL technically but physically it can make or break a player. Perform in the Championship and keep up with the physicality of the game there and all that's left to do is hone in on the technical part of his game. He's certainly got the physical side of his game down to a tee and although still raw, is a hell of a talent. 
As you touched on previously, Hertha manager Pal Daldai has been absolutely glowing in his praise of Marko. What (if anything) have you noticed that Pal has worked on with the midfielder in their time together?
 I think it's probably a combination of working with Klopp and Pal that Grujic has managed to tone his game down to having the right balance of aggression and control mixed together. Pal seems to be exposing him to the right amount of game time whilst trying to keep his feet on the ground. 
Jurgen Klopp is renowned for displaying a great deal of loyalty to his players. Given what you've seen so far, do you think he can have a future at the Reds or indeed another Premier League club?
Ideally I'd love it if we tied him down in Berlin. He's got the right attitude and fight to become a top, top player, be that in the BL or PL. With Liverpool's packed midfield at the moment he's doing the right thing in getting game time under his belt in a top European league against good competition week in, week out. 
We have constantly seen the Bundesliga become a great nurturing ground for young footballers. Why do you think that is so, and what can Premier League clubs learn from your model?
I think the whole culture of the Premier league is different to the BL. Aside from Bayern, the BL finances are nowhere near what the PL draws in from TV/sponsorship and I think this is a massive reason why most BL clubs nurture young talent and develop players from academy through to first team instead of paying through the nose for bang average players.
Some of the signings in the last transfer window in the PL just goes to show the market has gone through the roof. If you have the talent coming up through the academy, then why not put your all into getting those players into the first team.