Continuing the series looking at the Liverpool youngsters who are aiming to become household names in the years ahead, we look at Doncaster Rovers loanee Herbie Kane.
It is fair to say that the 19yo midfielder has made quite an impression on the Rovers faithful with a number of their passionate supporters stating he is already one of the top players in League One.
Doncaster season ticket holders Mark Railton, Scott Hibbett, George Kefali and James Carlyle shared their views on the encouraging progress that the youngster has made at their club so far. 
TLW's Jason Harris asks the questions…
What were your first impressions of Herbie Kane when he arrived at the club?
MR- I wasn't sure if (Doncaster manager) Grant McCann had done the right thing in taking a chance on a young midfielder for such a tough division, especially when a lot of teams go for big strong central midfielders. I was pleasantly surprised by how easily he slotted in and for me he would now be the first name on the team sheet every week. He has been outstanding since arriving and if he could add goals to his game he would be the best player in the division.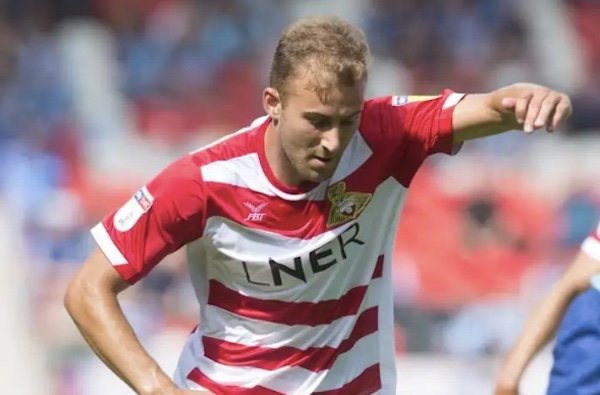 Have you seen steady improvements in his game from the early part of the season to now, and if so what are they?
MR- His ability to hang onto the ball in tight situations. He never flaps and always seems to wriggle free and release his pass. Think since he has come in, he has grown in stature and confidence and has now got the belief that he can do anything he wants when in possession of the ball. He's also not shy at putting his foot in either. 
What is the one key part of Herbie's game that you really like?
SH - He always seems to have so much time, he is always wanting the ball in tight spaces or with the opposition on his back and for someone at such a young age, that is impressive. He rarely gives the ball away and is not afraid to put his foot in and win back possession for the team. So far this season he is the leading player in that category in League One.
GK- I just love how technical he is. He's a standout player in this league for how quickly he can make a decision to pass or dribble on, his quick feet and determination really don't get the credit they deserve.
MR- His calmness in possession of the ball. Herbie never panics and 90% of the time makes the right decision.
In your opinion, what is the one main improvement he can make?
SH- Herbie is not fully-grown yet so he has the opportunity to grow a few more inches in the next year. Like most players who make it at the top level, it's pace that they need. While Herbie is certainly not you would define as slow, if he can add an extra yard, it will be very handy.
What he lacks in pure speed, he makes up for with his ability to shield the ball which was very similar to (former Man Utd junior) Richie Wellens when we had him in a couple of stints a few years back. I think those players who are nurtured at top clubs learn to do that well - learn to use it and shield the ball under pressure. Those qualities really stand out with players who drop down from the Premier League into the Championship or League 1.
JC- The one improvement he can make is probably scoring more goals. He just needs to keep doing what he is doing. Keep progressing and working hard because it is showing in his performances that he is working hard on the training field. I have no doubt at all if he continues this he will make it into Liverpool's first team. 
Is there a performance by Herbie that stands out for you so far this season?
JC- I think the first few performances took everyone by surprise as we weren't expecting him to be that good and now the performances he puts in are fantastic. However, even though we lost to Sunderland 1-0, he controlled the game for me. We all know what Lee Cattermole is like, and Herbie had him in his pocket all game. You would have thought Herbie was the experienced pro and not Lee.  
GK- His standout performance this season has to be Chorley away in the FA Cup 1st round. Bagging the only 2 goals of the game, including a peach from outside the box to save our managers arse in all fairness. That and he drew a very nasty foul which led to an opposition red card which I still can't believe wasn't given as a penalty but a free kick.
Who does he link up well with in the Rovers team, and do you think his presence has made you a better team this season?
GK- I think there's no doubt that Kane's presence has sparked something in everyone else and as a central playmaker he's at the heart of most of our play. With being so technically gifted, he's exactly what we need to play possession football. He links up well with both (Thomas) Rowe and (Ben) Whiteman beside him in the midfield in passing and movement along the pitch.
How do you think Grant McCann has worked with Herbie so far this season?
GK- Grant McCann seems to praise him a lot and I believe he would be interested in a season long loan extension for Herbie too. 
Taking the first step into professional ranks can be difficult for any youngster, so what do you think makes Doncaster a good club for players from Premier League youth academies to spend time at.
JC- I think if you look at other professionals who have been here in their younger days and you look at them now, they have all gone on to play at a higher level. Jordan Mutch, he was on loan here and he ended up playing for Crystal Palace and QPR in the Premier League.
The majority of the time when people leave our club, it is for better things. Richie Wellens, he left to join Leicester, George Friend left to join Middlesbrough, James Husband came through our youth team, he went to Norwich. So I think it does show we treat our younger players well and hopefully put them in good stead for their careers.