When Trent Alexander-Arnold first appeared in and around the first team squad, I saw flashes of the teenage Steven Gerrard in him. I may have even written it once or twice (albeit hesitantly), but generally I steered away from making any comparisons.
After all, there's a strong case to be had that Gerrard is the best to ever play for the club, so even mentioning anybody else in the same breath seems like lunacy, no matter how carefully chosen the words are.
Nevertheless, having watched Trent coming through the Academy sides, there were times when he reminded me of Stevie. He wasn't a carbon copy of course, but every now and then he'd do something that would make you think "there was a bit of Gerrard in that". It might have been a crunching tackle (one against Spurs in a League Cup tie at Anfield springs to mind) or a raking cross field ball. Sometimes it was just the way he carried himself. Just little things that reminded me of the young Gerrard who first came into the side playing right back.
Like Gerrard, Trent was a midfielder who initially could 'do a job' at full back. Unlike Gerrard, Trent looks like he might actually stay there. I still feel as though there's a world class midfielder in there should Jurgen ever decide to unleash him, but he's so special at right back there's no rush to move him, especially as the full back position in this current team is massively important. More important than it's ever been in fact.
I'm not saying that in the past you could just throw anyone in at full back, but it was certainly the least important position in the side. You could 'make do' and we often did. For example, we nearly won the league in 2014 with Aly Cissokho and Jon Flanagan sharing duties at left back, and with Glen Johnson underachieving like only he could on the opposite flank. Djimi Traore was left back in a Champions League winning side. 
Now, the style we play under Klopp, it's a whole different ball game. The two full backs need to be skilled footballers and terrific athletes because the way we play demands it. Not only do they have to defend, but they need to provide the creativity from wide positions because the wingers play inside. Traditional full backs just won't get it done in this set up. 
That's why I'm no longer as convinced that Trent is going to end up in midfield, at least not any time soon. He'd be incredibly difficult to replace at right back because of the quality he has and his knack for creating goals.
Like Andy Robbo on the other side, Trent is essentially doing the job of two players. They're both doing it incredibly well and earlier this season L'Equipe hailed them as the best full back pairing in the world. Credit to them for noticing that, because you rarely hear anyone else pointing it out. 
They are the best full back pairing in the world and I don't even think it's close. Who else would even be in the discussion? They're part of the tightest back four in Europe so there's no weakness defensively, but look at what they're doing at the other end. It might be unprecedented actually. 
Look at the assists leaders in the Premier League. Trent (with 12) is equal third with Christian Eriksen, behind Eden Hazard and Ryan Fraser. Robbo is fifth, with just one assist fewer. Two full backs in the top five, having created more goals than the likes of Sterling, Sane, Alli, Pedro, Ramsay, Pogba, the Silvas, De Bruyne, Willian etc…. I don't think enough attention has been paid to that. The last pair to make playing full back so cool were Cafu and Roberto Carlos.
Trent added another four in the Champions League, giving him 16 assists from right back. It's almost unheard of. Admittedly, unlike Robbo, some of Trent's have been from set pieces, but even that is credit to how special he is. How many full backs are entrusted with taking their team's free-kicks and corners? He's a top player in just about every way. The only thing lacking is a few goals, but that's not really his job, and besides, it's only a matter of time before he's chipping in with a few.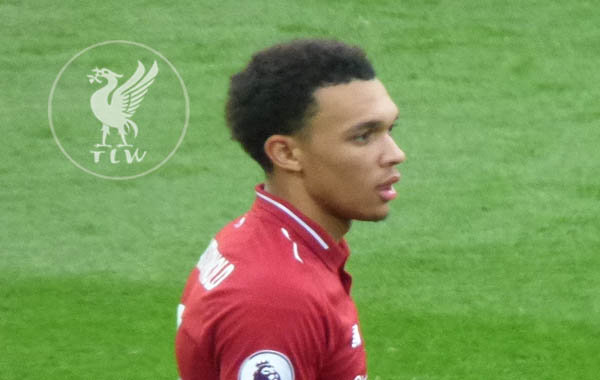 So now, a little over two years later, I'll have no qualms about mentioning Trent in the same breath as Gerrard because 20 year old Trent compares favourably with Gerrard at the same age. Yes, Stevie was brilliant even at 20 years old, but so is Trent. Whether Trent goes on to become anywhere near as incredible a player as Gerrard went on to be doesn't matter. He might, he might not, but I'm saying that, right now, at 20, he's in the same bracket.
I'm aware that's a bold statement but the body of work stacks up. By the age of 20 we knew Gerrard was special and was going to be a great player. We didn't know that he'd turn into Superman and carry the team for several years, or inspire the greatest comeback in football history to clinch our fifth European Cup. We don't know what Trent will do either. We do know what he's done so far though, and like I say, it stacks up with what Gerrard had achieved at the same age.
Trent was named in the 'Team of the Year' and played in his second Champions League Final in consecutive seasons. He is a key player in a side that has just collected a club record 97 points and won a European Cup. He's not just a part of the team, he's a vitally important player in it. A genuine difference maker. From bloody right back! How many right backs are true difference makers?
It's often been said that had Gerrard stayed at right back he'd have been the best in the world. I agree with that because he'd have been phenomenal wherever he played. He didn't stay at right back though, he was moved into midfield because that was a more important position and he became the best in the world in that position instead. 
Trent, on the other hand, has been left where he was and is well on his way to becoming the best right back on the planet. He might be already. I don't watch enough European footy to know, but I do know he's already the best in the Premier League and will only get better. 
The belief back then was that Gerrard would have been wasted as a right back and a part of me thinks maybe Trent would be too. But then, as previously stated, being a right back in this Klopp team is unlike playing there for most sides. There are no restrictions on going forward and the full backs see plenty of the ball. I imagine it's a lot of fun playing full back in this Liverpool team.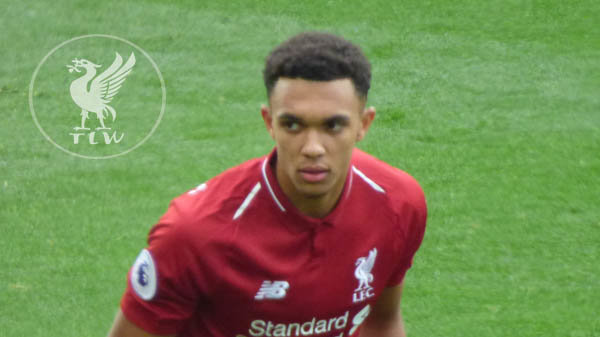 Besides, Trent's attributes are different to Gerrard's anyway. He doesn't tackle as fiercely, his long range shooting doesn't compare yet and he seems to be a calmer, less aggressive type of character on the field. He's not as rash as Gerrard could be and is far less likely to land himself in bother with refs. Maybe his skillset is better suited to full back than midfield, time will tell on that.
What we do know is that in the two full seasons we've had from him at right back, it's impossible to have asked for more from him. He's ended this season in sensational form, creating goals on a weekly basis. He had an understandably slowish start to the campaign though due to reporting back late following the World Cup. It had been a long season anyway but his inclusion in the England squad meant he had virtually no summer holiday. 
Nevertheless, despite his lack of a pre-season he was in the line up for the first game and was an ever present until Klopp took him out of the line up for a couple of games in October. One of those games was against Manchester City, and he was then left out at PSG a month later. He was also on the bench at Old Trafford and for the trip to the Nou Camp, which could be co-incidence or it might point to a tendency from Klopp to go with a less 'adventurous' option in the most difficult games.
His creativity was badly missed in that game away at United though and the point was emphasised a few days later when he claimed a hat-trick of assists against Watford at Anfield. It's interesting to look back over the season at his assists, because prior to that Watford game he only had three. He had none for the following month and then went nuts in April and May when he had ten. TEN!!
His performance level in the closing months of the season has been staggeringly good. Ten assists in two months from right back is nuts. Just think about it for a second, it really is astonishing, especially given the pressure of the games and the high quality of the opposition, such as Spurs, Porto & Barcelona. 
The rest of his game has been top drawer too. The effortless way he just sprays it around. Whether it's the crossfield balls to Robbo, the fizzed passes into the feet of Bobby and the midfielders or the pinpoint knocks into the channel to Mo running free, he can do it all. And we saw with that quick corner kick against Barca just what a great football brain he has. Only special players produce that kind of thing. It was Gerrard-esque.
Defensively he's been solid too. That side of his game isn't as spectacular as when he has the ball at his feet, but he's already very good and will only get better, as that's something that comes with coaching and experience. 
That's why it was laughable hearing Martin Tyler question whether Trent is good enough defensively for international football. The standard of football in the Premier and Champions League is way higher than international football. If Trent can cope against Man City and Barcelona, I think he can handle Serbia and Malta. 
And on top of all that, he's a local kid. I don't think any of us really care where our players come from as long as they're good enough and give us their all, but it's also fair to say that there's something special about one of our own coming through the ranks to establish themselves in the team. Especially now, in this era when it's so difficult for local kids to make it due to the incredibly high standard of players at the top clubs.
It was difficult enough in the 80s when the club were generally only signing players from this country, but it's nigh on impossible now when you look at the competition for places. Youngsters have to be something very special to force their way into squads that are heaving with world class players from all around the globe, but Trent has managed to do it and there's something heart warming about that. 
A kid who has been a fan his entire life, who was a ballboy at Anfield and has been at the Academy since he was six, is now a mainstay of the first team and one of the best players in the world in his position. And he's only 20 years old. 
The sight of him whipping in crosses for his brothers on the pitch after the Wolves game showed you everything you need to know, as did the emotional scenes in Madrid when went to celebrate with all of his family. He's just a young Kopite living the dream.
Dare I say it, just like Stevie.
Best Moment:
The corner against Barca. That's an iconic goal that will be remembered for decades, and it will be remembered as much for Trent's quick thinking and perfect delivery as it will for Divock Origi actually finishing it off.
Worst Moment:
Tough one this. It would have been the handball on the line at St James' Park had Christian Atsu not got him off the hook by burying the rebound and sparing the referee from having to produce a red card. Conceding a penalty and being reduced to ten men at that point may have been immaterial now with the benefit of hindsight, but at the time it would have been devastating. And besides, the last thing any of us want is Newcastle's moronic hordes singing about costing us the league for the next couple of decades.
Getting skinned twice in ten minutes by Mendez-Laing at Cardiff wasn't Trent's finest hour either, but that lad has Olympic sprinter speed so it's pretty difficult to do much about it when it comes down to a race.
So in short, I can't really think of a 'worst moment', which shows just how good he's been. 
Rating 9/10: 
Same rating as last year, but I wouldn't bet against him getting higher this time next year, considering the rate at which he's progressing.
Please note, this is a free article but the rest of the 'Season Report Cards' will only be available to TLW  subscribers. Subscriptions are just £2 per month and can be purchased here.