---

0730:  Kerry Dixon alarm clock goes off and 'Blue is the colour' gets me up and at the world.
0735:  Look at humongous forehead in bathroom mirror.  It never gets any easier.
0810:  Get a call from Joe, says he's hiding in a bush in a park with no clothes on again; something about getting another hiding and doing a runner.  For such a likeable lad he seems to be unlucky like that.  I agree to pick him up on the way to training.
0930:  Got into training and that new lad with the stupid name was giving me evils.  I said to Frank we could call him Boula-loser and we laughed.  Stupid foreign people with stupid names.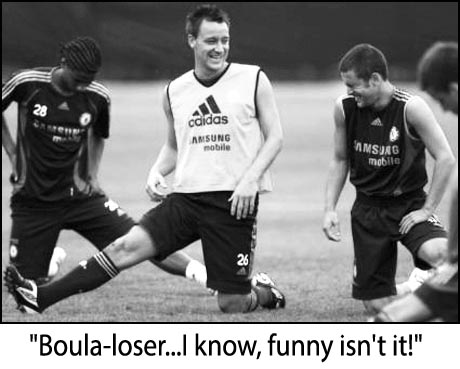 1045:  We did some set pieces today and about fifty percent of the bibs got torn from all the grabbing and tugging; the gaffer wasn't happy.  We'll have to make sure a lot more get ripped next time or someone's for it.
1130:  Moved onto free-kicks and Frank was amazing again.  Joe managed to get three deflections and in but Lamps is up to an average of about five.  You can't defend technique like that!
1200:  Lunch.  Jose still only lets us have Jellied Eels as a Friday treat so we had to make do with Bolognese again.  A few of the lads were laughing when I got it everywhere…that never happens with fish and chips.
1229:  Sneaky trip to the toilets for a quick gel re-apply.  Gotta look your best if you're a superstar you know.
1400:  Midway through the afternoon session Petr came in to do some weights.  The gaffer said that the doctors were really worried about him when he got to the hospital after that smack in the head cos he looked really distant and had a this simple smile on his face, apparently they felt better when Jose told them that's how he always looks.
1530:  I fell over the ball in the 5-a-sides and had to wear the "worst player" dunces bib the rest of training whilst everyone took the piss.  I miss Glen Johnson.
1700:  Get home and watch a re-run of the last England game.  Croatia was a terrible place; poor people everywhere, ignorant fans, terrible pollution.  It didn't seem to bother McLaren and Downing too much though; they seemed to think it was lovely.  Strange.
1845:  Popped Sky Sports News on and it had the gaffer's press conference before Barcelona on again.  My favourite bit was his joke about Eidur not diving when he was with us; the press didn't get it though, they're not too bright, that lot.
1930:  My agent gives me a bell.  He said that there was a rumour going about on the internet that I'd said something racialist to Ledley King when I got sent off the other week.  He said it might be time to do some PR work to make it go away and asked if I'd seen Madonna on newsnight.  No idea what he's on about, I can't sing at all and there's no chance I'm doing a sex book.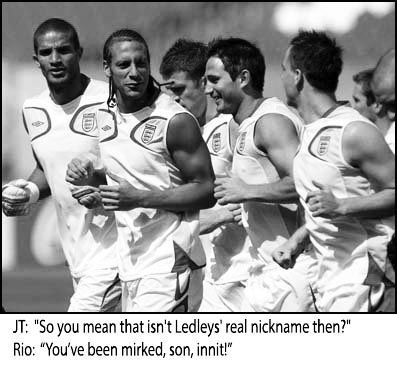 2000:  The missus gets home from a hard day's shopping and cooks tea, I would have done it but she won't let me use the cooker whilst she's out after the whole fire thing.  My favourite:  potato smiley faces and chicken dinosaur shapes!
2030:  Get some time to add a bit more to my Autobiography.  My agent says we'll have to make it good cos they gave us a seven figure sum for it.  It's going to be good alright, it's got a wizard and a dragon in it!
2200: Go to run a bath.
2245: Settle down to bed and get out Stevie G's book, good of him to give me a copy.  Can't believe that all he's doing is writing about himself, that's some ego there.  Gave up on it after ten minutes; it's a bit high brow if you ask me.
2330: Went to sleep, it's been a big day.
0030: Missus wakes me up screaming and calling me a moron, the flat is flooded cos I forgot about that bath.  Bollocks!