---

0730:  Rule Britannia alarm on my phone goes off; time for another action packed day.
0732:  Walk past my Chopper Harris poster in the hall, he's my idol.
0739:  Have a shower and a shave. Cut myself with those shitty King of shave razors again. Make a mental note to call my agent and shout at him for not getting me the Gillette gig.
0743: Called to the missus to see if she wanted a brew, keep forgetting she's in Dubai. It makes me sad and I worry about the kids as I've heard Africa is dangerous.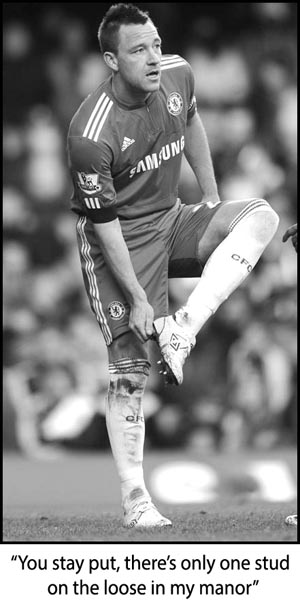 0902:  Got to the training ground and there were reporters everywhere. It's really starting to piss me off. Think I might have bumped into one of the security blokes coming through, cos' he fell over and shouted at me, but I pay his wages, kind of, so he should stop moaning.
1045:  Nicolas showed me a text today: "If Didier Drogba falls in a forest and nobody sees it, does it make a sound". Nic was laughing but I didn't get it. He's an odd one that Anelka.
1049: Showed Frank the text that Nic forwarded, he loved it. I told him I didn't get it and he said it's because he always screams like a girl so of course you could hear it. Frank's well smart. Me and Joe saw him reading a book once so Coley likes to call him the professor.
1130:  I can't catch a break at the moment. Ray Wilkins heard me doing the Addams Family tune as he was coaching the kids and then Ancelotti walked in on me doing my Godfather impression for the lads: "You think I'm funny? Funny how? Funny like a clown?"  The lads were in stitches but the gaffer wasn't pleased.
1145: Lamps was saying to me how he thought Deco looks proper shifty. He said that he looks like the kind of bloke you wouldn't leave your missus with. I think I looked a bit uncomfortable and then he realised why. It was a bit awkward.
1200:  Lunch.  I was sitting down with some of the lads and the guy who looks after the kit came and had a word. He said that he knows I keep taking the captain's armband home and that wearing it all day every day isn't acceptable. Jobsworth. Frank stole my pudding while this was going on; you can't trust anyone these days, even your mates!
1220: Popped out to the car park to meet a couple of blokes I know through my agent. I showed them my official club parking space and gave them a goody bag filled with a signed picture of me, a picture of Lamps (also signed by me), one of those little Chelsea flags we give out for the European games and some razors. And all for just three grand, you can't argue with value like that. 
1320:  Joe got put on my team in training and we were up against Malouda who Coley doesn't like. He whispered to me that Malouda was in trouble and he didn't even know it. Sure enough, the first fifty-fifty they had Joe made out that he'd been caught really badly and Malouda got a big telling off from the gaffer. That'll teach him.
1345: Alex was practicing some free-kicks but the gaffer told him to stop. He said that three broken goal frames, a concussed youth player and a downed police helicopter was quite enough damage for one session.
1440:  A reporter cornered me in the car-park as I was leaving training and asked me about that handshake thing with Bridgey. I told him that I didn't want to shake his hand anyway because I might have caught something. He gave me a funny look and left.
1530:  In the car driving home I clicked why he looked funny at my comment; probably the sex stuff with his missus and the DDTs you can catch. Called my agent and told him to bully the paper. Hopefully it won't get printed. It'll make me look dumb, which is not on.
1730:  Got home and put some fish fingers and alphebites in the over for tea.  Put the telly on and X-Factor was on. Got me thinking and I sent a text message to that Cheryl, after all, it's not like her and Ashley are together anymore is it? "Ash iz well out ov order doin dat 2 u. Giz a ring. Lolz." 
1732: Ashley rang to ask why I'd texted their landline and what that message was about. Managed to blag him pretty well though. Phew, that was a close one.
1845:  Got a call from Jose's agent saying that they were looking into the idea of Mourinho TV and would I be interested in coming on as a guest. He said it'll be 24 hour wall to wall Mourinho where he'll do the news, host chat shows and test out some sit-com ideas he's got. I said if the money's right then I'm in. Funny smell in the house, can't put my finger on what it is.
1955:  The fire brigade finally leave. If I've done that once I've done it a hundred times. I wish the missus was still here. Order some take away. Avram gave me a leaflet for a great Thai place he goes to a while back, I'll have to try them one night.
2000:  Had a quick look online and it said that Ferdinand was injured, checked the story and it was Anton, rubbish.  We're never going to win the World Cup if you've got a bloke that's played for West Ham leading you, that's obvious.
2030:  My agent calls to tell me my autobiography is coming along nicely. They stopped me doing it because I wanted a wizard in it, so Harry Harris is doing it now.  I told him that he should change the bit about me missing that penalty in the Champions League because people like a happy ending; he said he'd think about it.
2200: Check to see how those tickets are doing on Ebay. Not too shabby at all. Saw I got an e-mail about an interesting business opportunity in Nigeria, might run it past Mikel in the morning, could be a nice little earner.
2245: Went to sleep, it's been a big day.
0330: Got woke up by a text message from Bridgey, just had a picture of Dubai. I thought he was a mate? What an arsehole!