In a Liverpool FC world of Jürgen Klopp, you can't help but feel upbeat about the road ahead. Yes, it might all end in bitter recrimination and disappointment, just as the reigns of so many of his predecessors have, but this certainly feels like a new dawn. It feels like we actually mean it this time.
I mean, he's Jürgen Klopp for f***s sake. 
Jürgen Klopp. 
He's seemingly picked us out, might well shake us up. Maybe he could turn us around, turn us into someone new? Five years later on, we might have the world at our feet. Success might come so easy for us.
Time will tell, but the 'Klopp Effect' exudes positive energy from word go. Take that beaming smile for instance; I've not seen a smile that big, that wide since Bingo from the Banana Splits was on TV on a regular basis. 
I knew that we'd find a much better place, either with or without him. 
The 'him' in question here isn't Jürgen Klopp however. The 'him' in question, is Steven Gerrard. 
Of all the notions floating around about who will and who won't be playing a part in this brave new future, a future we stand before, blinking and rubbing our eyes in partial disbelief, it is the notion of Steven Gerrard returning to the club in a coaching capacity that is the most unsettling one for me. It simply shouldn't be considered. 
I love the fella, absolutely love the fella, but bringing him back would not only have the sticking point of his LA Galaxy contract to contend with, it would also be an error of judgement. 
There are several reasons why Steven Gerrard should be kept at arm's length. The simple fact that he isn't a coach is the most black and white reason, but it's more multi-faceted than that. Even if LA Galaxy were amenable towards his availability it is something the club shouldn't pursue, for both parties sake.
Liverpool FC and Steven Gerrard need a cooling off period. I fully believe they should be reunited one day, I fully believe they will be reunited one day, but I don't believe that day should be any time soon. Maybe offer him a location to train and stay fit during the MLS off-season by all means should he require it, but he really needs to embrace a fresh odyssey before coming home.
Carry on playing for a few more years; maybe do what David Beckham did when football closed down stateside. Take a couple of months out with an AC Milan, or a PSG. Broaden those horizons and learn a few new tricks. Steven Gerrard could be brilliant for Liverpool FC again at some point in the future. At this point in time however it is time to let other people be brilliant for Liverpool FC. There has to be a period of detachment for all concerned. 
We stand on the brink of a new era. It is only right that this new era should be allowed to make itself float without the weight of such a recent ghost on the wall as Steven Gerrard not just looming, but potentially looming by invitation. 
Jürgen Klopp made all the right noises during his presentation about looking forward. If we brought Steven Gerrard into the equation now then we'd be guilty of looking back. The image of him walking from the pitch at Stoke City in May, shoulders slumped after that 1-6 reversal still needs exorcising both for him and us. He visibly aged over the course of his last 12 months at Anfield. The lines on his forehead, the pained look in his eyes, the appearance of an exhausted man who had given his all to move the mountain and bring us the league title we more often than not unrealistically craved, even demanded. 
Steven Gerrard needs to recuperate from Liverpool FC before he can return to Liverpool FC.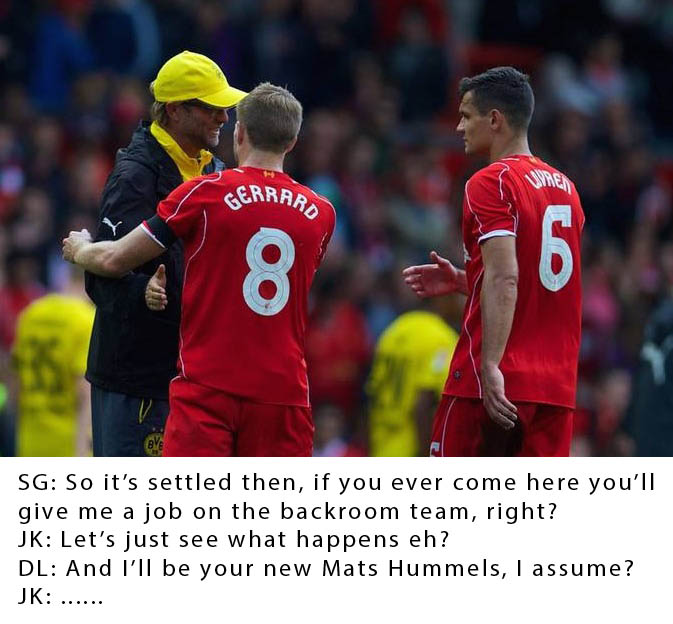 For our part, we need to move forward without him. Jürgen Klopp arrives at Anfield as the first manager not to inherit Steven Gerrard and Jamie Carragher as first team players since Roy Evans took up the job over two decades ago. Steven Gerrard and Jamie Carragher were the megaliths that carried the club for a generation, but we need a team now, not a small number of metronomic figures to shoulder the burden. I've had enough of Liverpool FC post-1990 being the Manchester United of the 1970's and 1980's. I want something new. 
Brendan Rodgers tried to create that 'something new' and he failed. Yes, he came so, so close to winning the title, but 2013/14 was a stand-alone endeavour rather than being part of the bigger Rodgers picture. In 2013/14 we had a team, not a squad; we had a singular target, not a multi-competition assault. From 2014/15 onwards we started afresh with a new mission, not a continuation of that mad, mad title challenge. That new mission failed. 
Jürgen Klopp is blessed that he walks into a club that welcomes him with open arms. A club that had fractured into countless shards, but a club that now seems set to bind together once more simply because of his very arrival. He is also blessed that he walks into a club that no longer has the defined deities of recent years, and that is something he can thank Brendan Rodgers and the relentless march of time for. Jürgen Klopp enters stage left with an infectious enthusiasm and the good will of everyone that loves the club. 
Jürgen Klopp also walks into a club with many of the ingredients he will need already at his disposal. Despite everything that has passed since the end of last season we actually have a set of players that can be moulded into something special. The prospect of him adding to what he inherits from Rodgers is genuinely exciting. 
Whereas Brendan Rodgers tried to build his Liverpool from front to back and eventually saw it consume itself while in reverse, Jürgen Klopp can build something beautiful in a more traditional manner from back to front with what he finds at Melwood. It is for the best however that Steven Gerrard isn't one of the components he has inherited, nor is it the time to bring him back.            
Steven Scragg
@Scraggy_74