---
Michael Owen was the best young player I have ever seen, and it's not even close.  He was absolutely incredible in his teenage years, in fact I'd go so far as to say that despite everything else he went on to achieve in his career, that was when he was at his electrifying best.
I first saw him as a barely turned 16 year old playing for us in the FA Youth Cup.  He'd been given time off from the National School at Lilleshall to come back and play for us in the showpiece tournament for youngsters, despite being three years younger than some of his team-mates.  He was incredible, he scored twice in that first game I saw (against Sheffield United at Anfield), and followed it up with a hat-trick in the next round against the Mancs at Anfield. 
It wasn't just the goals though, it was the way he put the fear of God into the opposition.  He'd just pick the ball up and run right through them.  Teams completely shit themselves, he was devastatingly quick and he had ice in his veins in front of goal.  I'd never seen anything like him before and have not done since.  He wasn't just incredibly talented, he was absolutely fearless and also had a maturity about him that you don't normally see in kids of that age.
He bagged another hat-trick in the 1st leg of the semi-final against Crystal Palace at Anfield, and when we ran into trouble in the 2nd leg and ended up in extra time after blowing a big lead, Owen came to the rescue again with two more goals.  10 goals in four games, playing three years below his age group.  Some going that.
He missed the first leg of the final through international commitments, but was back for the second leg and scored in front of over 20,000 people at Anfield as the Reds lifted the trophy.  There were other good players in the team, including Carragher, Thompson and Jon Newby who all went on to play for the first team, but Owen was just something else.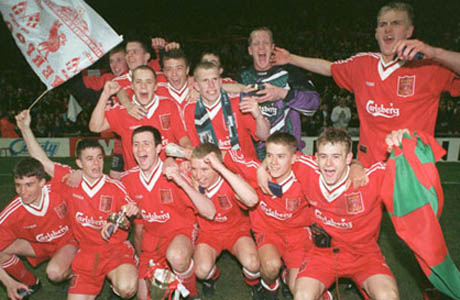 The next season he was in the reserves and the goals continued to flow until eventually Roy Evans could ignore him no longer (I thought he should have made his debut months before he eventually did).  He scored minutes into his debut and the rest as they say is history.  
His all round game improved over the years, to the point where he was even named European Footballer of the Year in 2001, but injuries took the slightest of edges off his searing pace and although he was still exceptionally quick, he couldn't do what he was doing as a teenager and adapted his game to compensate.  He worked on his left foot and his heading to the point where he became pretty good with both and began to score all manner of different goals.
Michael was a great player for us, greatly respected, admired, liked... but he was never really 'loved' in the way all of our other great strikers have been. His biggest crime was that he wasn't Fowler.  Robbie was the scal from Tocky who we all related to, he wasn't clean cut and middle class, he was one of us. He would get himself into little bits of trouble but we loved him for it, he was a slightly flawed genius if you like.  Michael on the other hand was seen as "Mr Goody Two Shoes".
Robbie would go out bevvying in town, often getting himself in bother whilst Owen would be in bed at 6pm with a mug of Horlicks, living the life of the model pro.  Yet it was Fowler who we rooted for the most.  Michael Owen was Bobby Ewing, Fowler was JR.  Everyone preferred JR to Bobby, even though logic dictates we probably shouldn't have.  
I didn't blame Michael when he left for Madrid, he owed us nothing and he was true to his word when he said he wouldn't leave on a Bosman in the way McManaman had.  Of course £8m for a player of his talents was only a small step up from a Bosman.  In fact it was £8m plus Antonio Nunez, so nearer to £6m!  But no matter.  That money went towards bringing in Xabi Alonso so it didn't work out too badly when you look at how the next few years unfolded. 
A year later Michael was desperate to come back but he dropped a bollock by bottling it over possibly losing his England place by being stuck on Madrid's bench.  He should have just refused the move to Newcastle, even if it meant sitting tight in Spain for another six months until Madrid accepted our offer.  There was no way we were going to match what Newcastle offered for a player who had left us for £8m 12 months before.
I felt sorry for him when he was taunted with "where were you in Istanbul?" by the Kop on his return.  If he wasn't there as a fan then no doubt he was at home, cheering us on.  And let's not forget, without his goals the previous season we wouldn't have even been in the Champions League that year.  He deserved better than that I felt.
Hell, I didn't even mind too much when he signed for United.  Once again he'd been desperate to come back here and waited for an offer that didn't come.  He could have turned down United and said "I can't do it out of respect for Liverpool fans" but that's just not how he's made up, 'Brand Owen' was never going to look a gift horse like that in the mouth, he went to a lot of trouble designing that brochure to make teams want him, so when Ferguson came calling he probably couldn't believe his luck.  When the alternatives are Stoke and Everton, those aren't alternatives at all really. 
So I was generally ok with him joining United, but I wasn't ok with the way he reacted to it and the things he said.  He could have said "I hope Liverpool fans understand that this was just too good a chance to turn down at this stage of my career" and at least tried to smooth the water.  Instead he came out with some bollocks about how it was always his dream to play for United or something.  It wasn't true, he was just trying to ingratiate himself with the United fans and he didn't give a toss if it upset us.  It wasn't the last time he'd do it either, you could have been forgiven for wondering if he'd ever played for us at all, let alone spent something 15 years man and boy here.
That's my only real beef with him, the lack of respect he showed us after joining United.  I didn't like it, but it's not enough to wipe away the good memories I have of his time here.  On a scale of Love and Hate, I'd be sat near the middle on Indifference, leaning ever so slightly towards Love.  
And I hope to one day again see a kid in the youth team that terrified the opposition like the 16 year old Owen did back in that Youth Cup run.
Dave Usher