I'm never quite sure what to make of the 'On this day in history' concept. Part of me likes it, part of me doesn't. While I love kicking back now and then to wallow in a bit of nostalgia, it can also be annoying to be reminded of just how good we used to be and how far we've fallen.
A lot was made last week of it being 27 years since Ian Rush returned to Anfield from his year at Juventus. Now I remember this well. I can also tell you exactly how I found out. The 14 year old version of me was marooned in Girona airport, waiting to board the delayed flight that would end a two week family holiday with my parents in the moped infested Spanish mainland resort of Fenals, near the sunburnt Brit magnet that was, maybe even still is Lloret De Mar.
With time to kill and football on the mind, I took an idle stroll to the news-stand to see if there were any extortionately priced, day old British newspapers, in the hope of there being a match preview about the impending Charity Shield revenge mission against Wimbledon. I picked out a copy of the Daily Mirror, flicked it over to the back page and just stood there, open mouthed, winded by an unexpected piece of transfer activity.
Rushy was back.
I'd only just forgiven him for going in the first place.
As an irrational teenager, I properly hated him for leaving. I even revelled in him struggling to make a significant impact in Italy. It had served him right for idiotically leaving the greatest football club in the world. Why would anyone leave Liverpool FC by choice? Thank god people don't re-act to outward bound transfers like that anymore eh?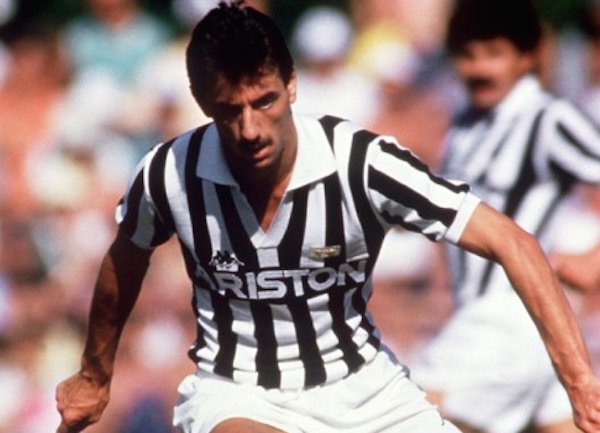 Over the course of the days, weeks and months of the mind altering 1987/88 season this militancy towards Rush eased off. The slow process of forgiving him for his departure was made more fluid thanks to the hypnotic attacking trinity that was Barnes, Beardsley and Aldridge.
Back at Girona airport, I darted off to tell my dad of this monumental transfer news. Once the surge of adrenalin and initial rush-of-blood (pun truly unintended) to the head subsided, a sickly feeling in my stomach kicked in.
John Aldridge. What was to become of John Aldridge in all of this?
While Rush, all Italian fashioned up, was smiling from the photo's which dominated the five pages of analysis and reaction to what was billed as a 'Transfer Bombshell', I couldn't help but worry what it all meant for Aldo. Yet, deep down I already knew it marked the end for him. Scanning across the second double page spread, there it was, in a short, narrow column that smacked of 'and finally'. The newly crowned champions of Europe, PSV Eindhoven, had made the first enquiry about the availability of Aldridge.
I was gutted and delighted in equal measure. Rush was back, but it was going to be at the expense of Aldridge. Surely Rush would make the best strike force in the country, possibly in Europe, even better though? The Liverpool mantra was that if a player became available who was better than one we had, then we went out and got him. On the opposite side of the coin however, you don't fix something that isn't broken and our forward line certainly wasn't broken.
It would have been a brave decision, but Liverpool could have stuck rather than twisted when it came to the Rush card being played. Kenny Dalglish, Peter Robinson and Liverpool FC were left in a catch 22 situation when it came to re-signing Rush in August 1988.
In August 1988 we didn't actually need Ian Rush. We didn't need a new first choice striker at all. A young upcoming prospect or an experienced older hand brought in as cover would have been fine. Paul Walsh had left mid-way through the 1987/88 season for regular first team football at White Hart Lane and Craig Johnston, having operated as an effective makeshift striker here and there during the run-in to the title, had thrown a curve-ball by announcing his premature retirement from the game. So while yes, we needed to bring someone in, we essentially over-dressed for the occasion.
The £2.7m we spent on Rush meant that other more pressing needs went unaddressed. Mark Lawrenson's persistent Achilles injury pushed him into an enforced early retirement and Alan Hansen had been ruled out long-term with a knee problem. We were crying out for a new top of the range centre back. Added to this it wasn't long before Gary Gillespie succumbed to the series of niggling injuries which would blight his last three years at Anfield.
During the 1988/89 campaign Gary Ablett was relied upon to be the cornerstone of our defence. He basically played alongside a revolving door, partnered by a litany of team-mates. From Gillespie through to Jan Molby, Kevin MacDonald, Nigel Spackman, David Burrows, Alex Watson and finally the returning Hansen.
You didn't need foresight in August 1988 to see it was risky to go into the new season with nothing but inexperience and makeshift options in central defence beyond Gillespie. In fact when the press conference to announce Rush's return was called, the rumour circulating the city was that we were about to sign Gary Pallister from Middlesbrough.
Throw in the need for a new left back, with no sign that Jim Beglin would be able to return from the horrific broken leg he'd sustained at Goodison Park well over a year earlier, and the concept of blowing the money on a position we didn't need to strengthen seems borderline ludicrous now.
The money however was spent in a way we didn't need to, yet it was still a transfer we couldn't refuse. As statements of intent go, it was way up there as a frightener to our rivals. All of whom were splashing the cash in a bid to challenge us.
Rush couldn't have fallen into the hands of a rival.
It was claimed that Rush returned to Liverpool as a better all-round player. I've often seen this sort of claim upheld as an excuse for him not being as prolific as he was in his first spell. Yes, he was certainly a better all-round player, but it took the edge off his hunger for goal a little bit. For years we operated with a gimlet-eyed greedy bastard up front. From David Johnson, to Rush, to Aldridge, their prime responsibility was to put the ball in the oppositions net.
By August 1988 we played in a very different style to the one Rush had left behind 12 months earlier. From the centrally delivered through balls of Dalglish and Molby, to the more varied and expansive style that swept all before us in 1987/88.
The increased wing-play wasn't a natural fit for Rush and illness and injury or not, it took him some time to adjust technically. It was a simple, but inescapable fact that Aldridge suited the new Liverpool better than Rush did. While Rush did eventually click with Barnes, he never quite linked so comfortably with Beardsley. The return of Rush didn't just see off Aldridge, it eventually saw off Beardsley prematurely too.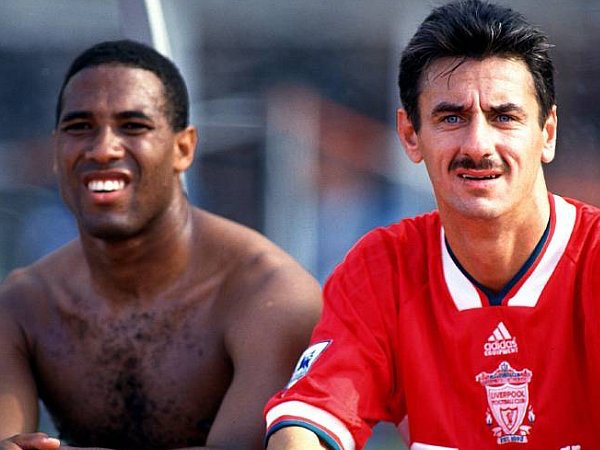 In many ways there was another British striker playing abroad that might have suited the new Liverpool better than Rush. In the summer of 1989 Gary Lineker moved to Spurs for just £1.5m, linking up with Paul Gascoigne. While Aldridge and Rush shared a facial resemblance, it was Lineker that Aldridge could be described as a score-a-like to. Lineker for Aldridge in the summer of 1989 would have been a more seamless swap.
I'm not saying Rush should never have come back, but I am saying it wasn't the right time. It was a year or two too soon and it would have been better had his Juventus sojourn lasted more than one season.
One of the biggest ironies is that in the summer of 1988 Dalglish is said to have wanted to sign Gascoigne from Newcastle United, asking him to wait another 12 months before he came in for him, because of the Rush expenditure. Gascoigne, who would have supplied Rush with the sort of centrally delivered through balls he thrived on from Dalglish and Molby during his first spell at the club, wouldn't wait for his big transfer and instead opted for an immediate move to Tottenham Hotspur instead.
It was around this time that Liverpool forgot the art of evolution. Seeing things a season or two in advance, just as Bob Paisley had done so effectively. We should have been preparing for a defensive life after Hansen and Lawrenson, instead of buying a striker we didn't really need. We took our eye off the bigger picture in August 1988.
Since the titles dried up at Anfield we've often been accused of buying the right players at the wrong time. In August 1988, Ian Rush was arguably the first of our right players at the wrong time.
Steven Scragg
@Scraggy_74