As the dust begins to settle on Liverpool's outstanding 2021/22 campaign in which they went so close to a historic and unprecedented quadruple, talk has already started to look at the Ballon d'Or favourites..
Liverpool winger Mohamed Salah has enjoyed another tremendous season, with both club and country strengthening talk that he could become the first Liverpool player to win the prestigious award since Michael Owen's 2001 success.
Trophies and Near-Misses
Salah enjoyed a tremendous season with Liverpool, who enjoyed two trophy wins at home and went perilously close to a clean-sweep home and abroad.
Double success in the League Cup and FA Cup finals, both times against Chelsea, would have constituted a highly successful campaign in any case. However, missing out on a historic quadruple by wafer-thin margins as Manchester City pipped them to the Premier League title and Real Madrid's heroic rearguard in Paris edging The Reds in the Champions League has only strengthened Salah's credentials.
In the African Cup of Nations at the start of the year, Salah was the catalyst for Egypt's run to the final. They were edged out on penalties after taking Liverpool team-mate Sadio Mane's Senegal into extra-time. Salah's attacking thrust was crucial for the Pharoah's near-success in a side set-up to defend.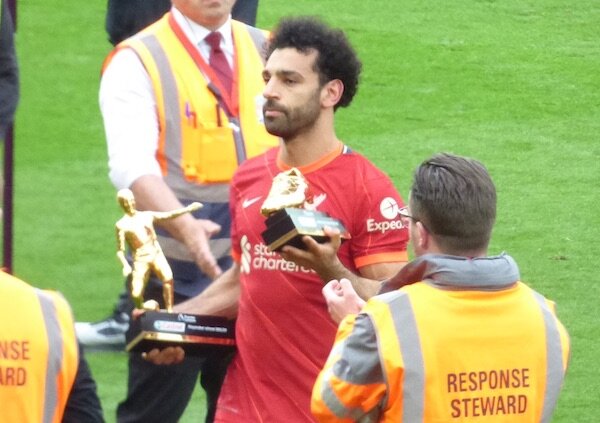 Salah's Numbers
The 2021/22 season has seen Salah achieve numbers of staggering consistency for Liverpool. In the Premier League, he averaged better than one goal contribution every match with 23 goals and 13 assists in 35 games, while eight goals in just 13 Champions League matches were instrumental in taking the Reds to another continental final.
His goal haul in the Premier League was enough to give him a third Premier League Golden Boot, an award shared with Tottenham's Heung-min Son, while his number of assists was a league-high, bringing him the Playmaker of the Year award.
His record of 31 goals in 51 Liverpool appearances in all competitions matched his record in the 2020/21 season, taking him beyond the 30-goal mark in a Liverpool shirt for the third time in his five seasons with the club.
Indeed, such was Salah's impact on Liverpool this season, he was awarded the Men's Player of the Season, just ahead of Alison Becker.
Voting Changes
Something that could benefit Salah, given the season he has enjoyed during 2021/22, both with Egypt and Liverpool, are changes to the way voting for the Ballon d'Or takes place.
In previous years, voters have considered a full calendar year when casting their vote. So, for example, the 2021 award was awarded to the player deemed to have had the most successful calendar year. This year, the voting is based on an entire season instead so that the panel will consider an individual's impact across the 2021/22 season.
In addition, previous awards have been voted for by jurors from every FIFA-member nation. This year, France Football has announced that they will be limiting the panel to jurors from the top 100 FIFA-ranked countries to increase the level of expertise reflected in the vote.
Finally, a three-point criterion has been introduced. Firstly individual performance and how decisive they have been to their team; secondly, the collective performance of the player's team and thirdly, the player's class and fair play.
These changes could play into Salah's hands come October, with him becoming only the second African winner of Football's most prestigious individual prize, backing up Andy Robertson's recent assertion that Mo Salah is currently the best player in World Football.